Excellence in Work & Play
Displaying more content, resolving sharper images, and featuring advanced display technologies, Samsung high resolution monitors are the great choice. From professional applications to multitasking and gaming, let high resolution improve your performance.
High resolution is a new minimum
4k contents are ubiquitous. Pictures and videos taken with smartphones are all in UHD, andinternet services like Netflix streams movies in UHD. Many of the games we play are in UHD. Enjoy all these contents better on a high resolution monitor, and better still on a Samsung high resolution monitor.
Excellence in Innovation
Samsung high-resolution monitors feature innovations including new quantum dot technology. Supporting a wider range of colours than conventional imaging technologies, Samsung Quantum Dot screens let you enjoy natural images.
Excellence in Comfort
Our Eye Saver Mode reduces eye fatigue and create a more comfortable viewing experience. And height-adjustable, pivot, tilt and swivel stand options let you position monitors optimally to minimize neck strain when sitting at your screen for long periods.
Excellence in Multitasking
Providing more screen space than Full HD screens, high-resolution monitors are the ideal choice for multitasking. And Samsung's Picture-By-Picture, Picture-In-Picture and Easy Setting Box software lets you view and manage multiple workspaces in an instant.
21:9 Widescreen
Ultra-wide curved display allows more on-screen space for the big ideas without the hassle of dual-monitor setups. You can experience truly seamless single-monitor multitasking.
Picture-By-Picture
Your multi-tasking gets ever smoother with the Picture-By-Picture function that connects two different input sources.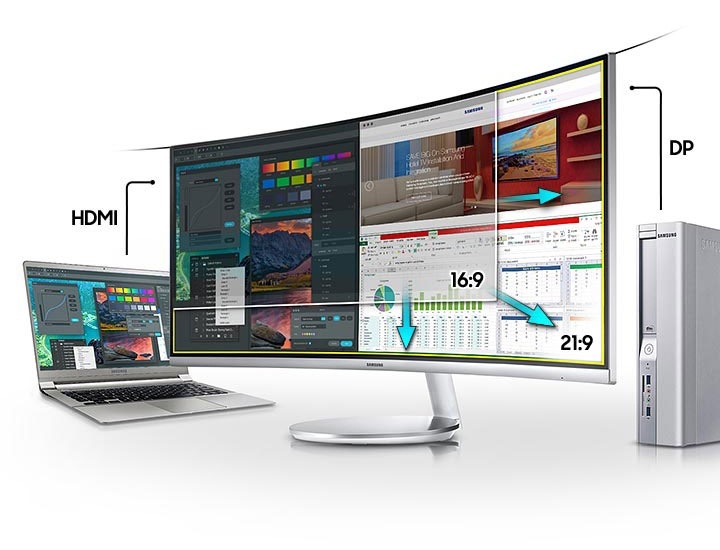 Easy Setting Box
Arrange windows with Easy Setting Box by spl itting your screen into smaller partitions.
High resolution monitors product line up