BRF365200AP 36" Built-in Chef Collection Refrigerator
BRF365200AP/AA
Keep food fresher longer
Keeps different foods fresher for longer
See inside your fridge from anywhere!
Chef Collection
Introducing the Samsung Chef Collection.
Samsung Chef Collection's premium line of home appliances is an elegantly thoughtful combination of cutting-edge technology and truly useful, chef-influenced features that are coupled with a sleek, seamless design for ultimate flexibility that caters to how people cook and live today. Chef Collection understands that everyone is a "chef" in their own kitchen – regardless of what they do or how they do it. The Chef Collection French Door Built-in Refrigerator is designed for how YOU live and cook, and with its integrated flush mount and counter height design, it brings elegance to any kitchen.
Modern Design
Integrated flush mount, counter height, panel ready design, seamlessly blends in with existing cabinetry, and aligns perfectly with countertop. The stainless steel interior back panel with Metal Cooling helps maintain consistent temperature and absorbs odor. The 21.3 cu. ft. capacity and seamlessly integrated electronic touch controls are designed for the way you live.
See inside your fridge from anywhere
View Inside Camera
Wi-Fi enabled, with remote view cameras. Allows you to view what's inside your refrigerator directly from your mobile device.*
* Available on iPhones and Android devices. A Wi-Fi connection is required.
Panel ready
To finalize the look of your refrigerator, use one of Samsung's Accessory Kits to complete your design. Accessory Kits are available in Matte Black Stainless or Stainless Steel finish and include finished door panels, handles and kick plate.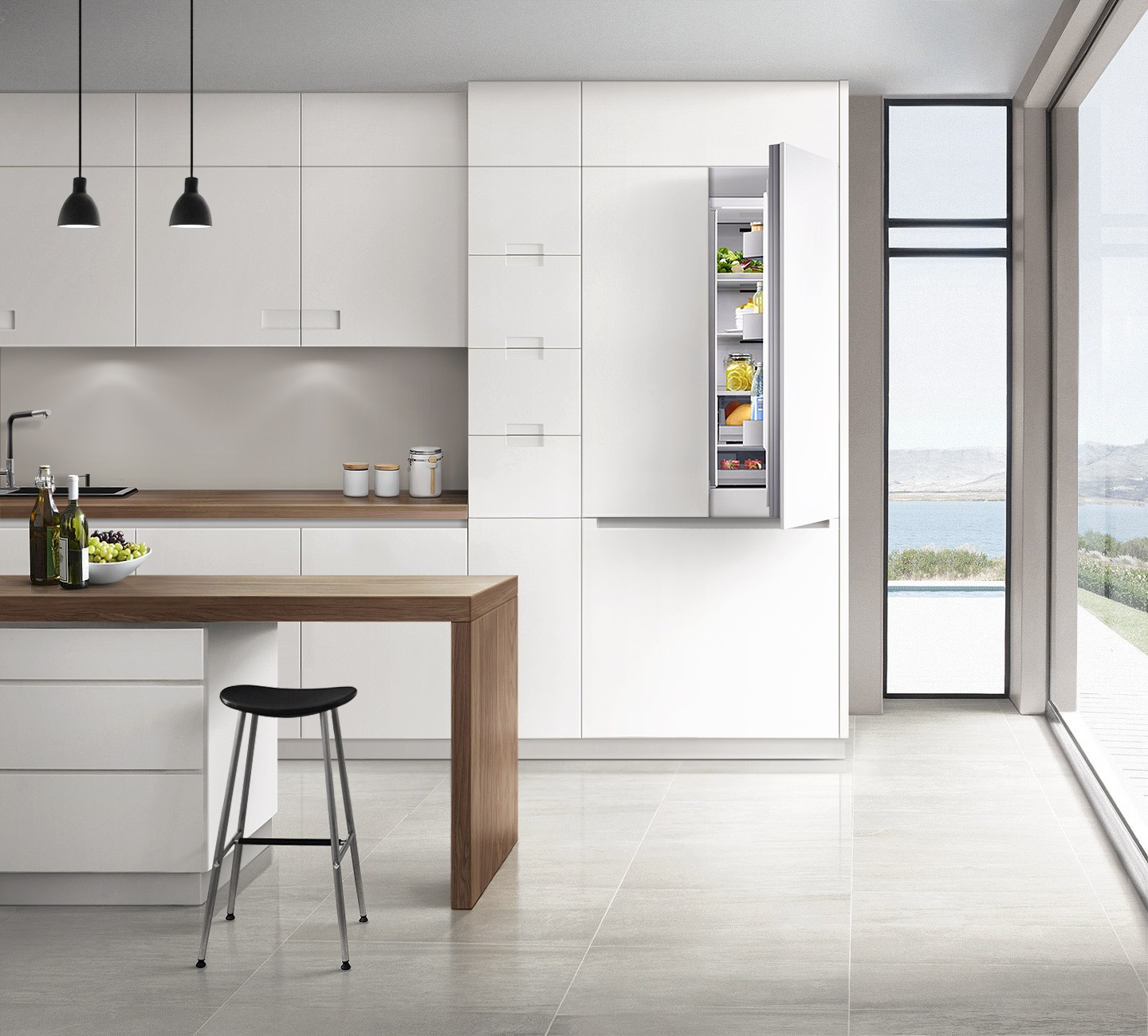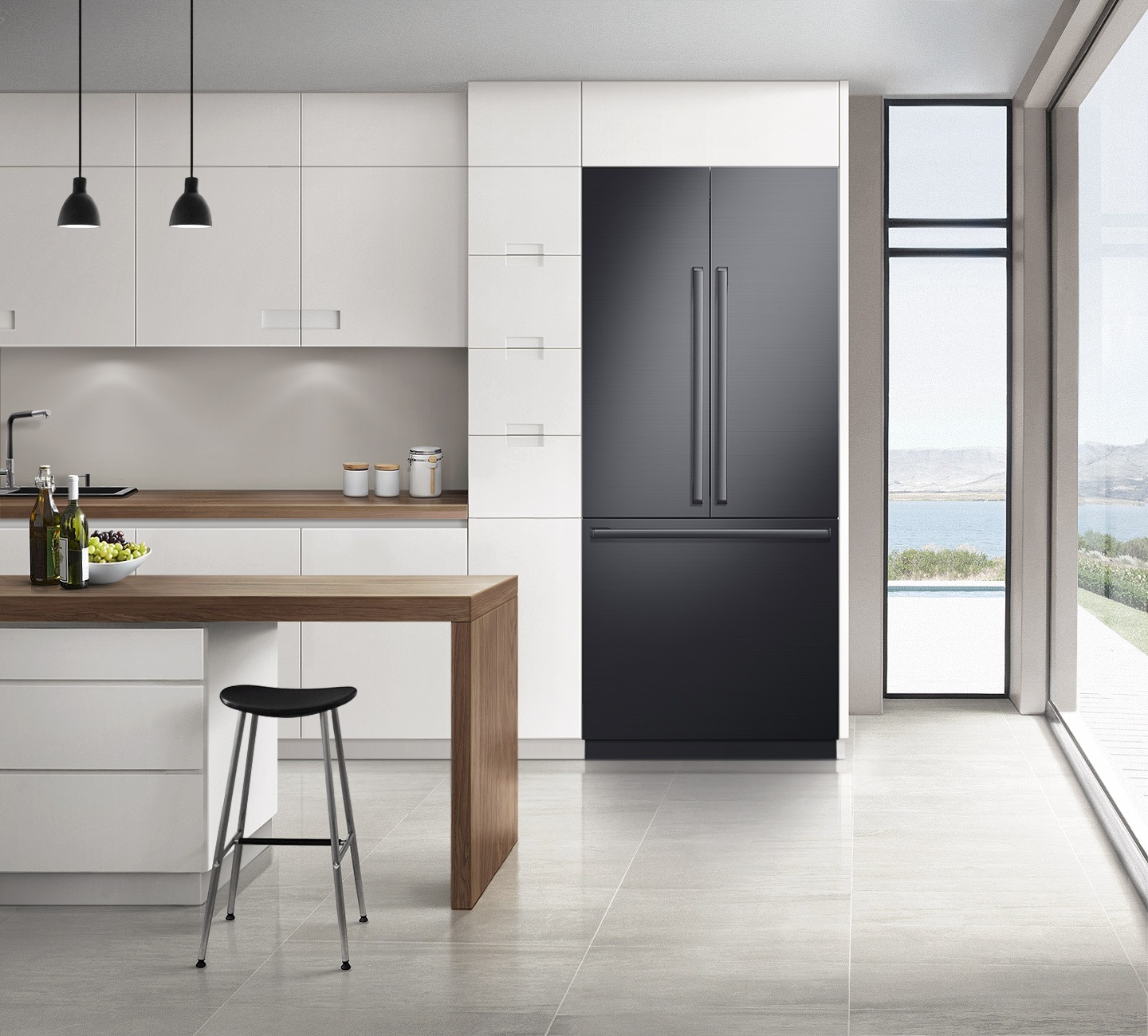 Precise cooling for ultimate freshness
Precise Chef Cooling
Precise Chef Cooling helps to minimize temperature fluctuation within 0.9°F to maintain your food's freshness.
Helps keep your food fresher longer
Two dedicated digital inverter compressors with two evaporators create two indenpendent cooling systems to maintain optimal storage conditions for the refrigerator and freezer compartments, ensuring dry freezer conditions for less freezer burn and better-tasting frozen foods, while high levels of refrigerator humidity keep perishable fruits and vegetables fresher longer. This eliminates odor transfer from one compartment to another so that the original flavor of your foods is fully preserved.
Chef Pantry Drawer
Chef Pantry
With adjustable temperature settings and the capacity to accommodate dishes of every size, the full-width stainless steel storage drawer provides optimal temperature control for storing everything from meat and fish, chilled drinks or deli, while also offering the option of safely defrosting items within a controlled space.
Chef Pantry Drawer
Chef Pantry
Keep different foods deliciously fresh in the Chef Pantry. This independently controlled fridge drawer provides an extremely flexible storage space. With just one touch it can be converted to three pre-set temperature settings. These are ideal for cheese, cold drinks and chilled food or meats.
Easily switch between 3 cooling modes
Chef Pantry
The Chef Pantry provides the ultimate in food storage flexibility, so everything stays fresher. With one touch this independently controlled fridge drawer can be converted to preserve specific items with three pre-set temperature settings: Deli at 37℉, Beverage at 33℉ and Fish/Meat at 29.℉
Filtered Water at your fingertips
Internal Water Dispenser
Internal filtered water dispenser for easy access and fresh tasting water whenever you want it.
3 Sided LED Lighting
Beautiful frame LED lighting is energy efficient, and allows you to easily see everything in your refrigerator.
Find everything you need and save money on your bills with the 3 Sided LED Lighting. It is slimmer, softer and more energy efficient than conventional lighting. So it creates more space and lights up every corner of the fridge. The brighter and softer lighting is also more comfortable on your eyes.
Hidden Control Panel
Give your home a neat, modern look with a Hidden Control Panel that preserves the minimalist design. This digital display is discretely hidden on the bottom shelf, where it's easy to reach. Simply hold the †Control Lock† key for 3 seconds to light all of the functions, so they're easy to select.
21.3 

Net Total(cu.ft)

235 

Net Weight (kg)

Twin Cooling Plus™

Twin Cooling Plus™
How It Stacks Up
Keep food fresher longer

Keeps different foods fresher for longer

See inside your fridge from anywhere!

Net Total (cu.ft)

21.3 
Large Capacity

Twin Cooling Plus

CoolSelect Pantry

Net Weight (kg)

136.5 kg
Features and specifications are subject to change without prior notification.
Panel Ready products require an Accessory Kit or a carpenter for final door finish, handles and kick plate.
Product shown with Accessory kit RAF36ACAAS4/AA. Accessory kit sold separately.
RAF36ACAAMS/AA– Black Stainless Steel Door Panel Kit
RAF36ACAAS4/AA– Stainless Steel Door Panel Kit