RH22H9010SR Side-by-Side Refrigerator with Food Showcase, 21.5 cu.ft
RH22H9010SR/AA
RH22H9010SR Side-by-Side Refrigerator with Food Showcase, 21.5 cu.ft
is rated out of
5
by
4
.
Water Dispenser
Food Showcase
912 x 1774 x 721 
Net Dimension (WxHxD)(mm)
Get closer to the foods you love
A "fridge within a fridge" design optimizes the use of space and provides faster access to all the food your family needs. The family-friendly ShowCase provides clearly defined zones for frequently used foods, while large and longer-lasting item scan be kept fresher in the InnerCase.
The food you love at your fingertips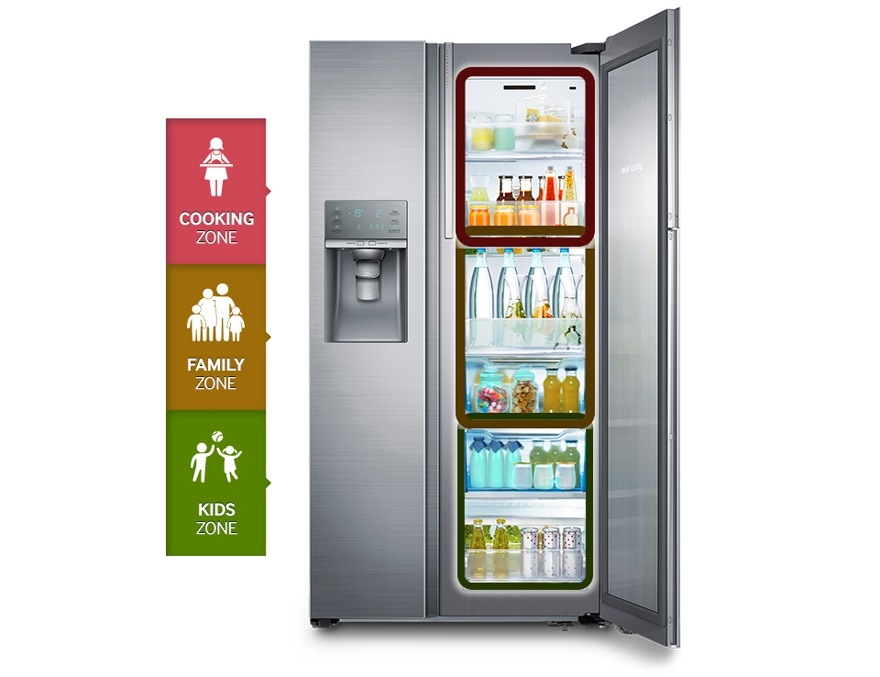 The Samsung Food Showcase Refrigerator's ShowCase is a "fridge within a fridge", located at the front, for quick and easy access to all of your family's favorite and frequently used foods. It includes 6 generous cases to store specific types of food (cheese, sauces, drinks, snacks, kids, and multi items) and is divided into 3 zones for different family members, so it's really easy for everyone to find what they want.
Capturing cold air
The Samsung Food Showcase Refrigerator's Metal Cooling guard on the inside of the front door helps maintain the optimal temperature within the fridge, so food stays fresh, even if you frequently open and close the ShowCase door. The metal retains the cold from the air, and its good thermal conductivity quickly helps to restore any heat loss when the door is shut again, so foods are preserved better.
Timeless chic design
The Samsung Food Showcase Refrigerator's refined, premium style brings refined elegance to any modern kitchen. A timeless solid metal finish incorporates a stainless steel Ice & Water Dispenser and is accentuated with the clear, ice blue text of the display. Its counter-depth design works in harmony with your kitchen and doesn't stick out, so there's no need for any special installation.
Cools every corner
The Samsung Food Showcase Refrigerator's cooling process includes the All-around Cooling system that cools every inch of the fridge evenly from corner to corner. Cold air is blown out through multiple outlets at every shelf level, so it maintains an even and constant temperature from top to bottom and front to back and food stays fresher.
Adjustable storage
The Samsung Food Showcase Refrigerator's Slide & Fold Shelf adds extra flexibility to your storage. It slides in and out and can be easily folded up or raised and lowered to fit in any sized items, including larger bottles and tall or bulky containers. So there's no wasted space and you can enjoy a smarter and more convenient way to organize and store your food.
Instant ice & water
With its elegant stainless steel finish and clear, ice blue display, the Samsung Food Showcase Refrigerator's Ice & Water Dispenser offers a simple way to stay cool. At the touch of a button you can enjoy a refreshing glass of chilled filtered water or fill a pitcher with cubed or crushed ice.
Less space, more ice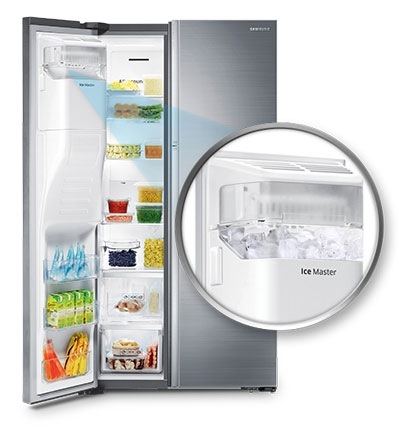 The Samsung Food Showcase Refrigerator's Ice Master is built into the door, so it gives you valuable extra space by freeing up two additional shelves in the freezer. But you won't go short on ice as it can still store up to 2 kg, and its transparent compartment means you can easily see exactly how much ice you have left.
Simply more space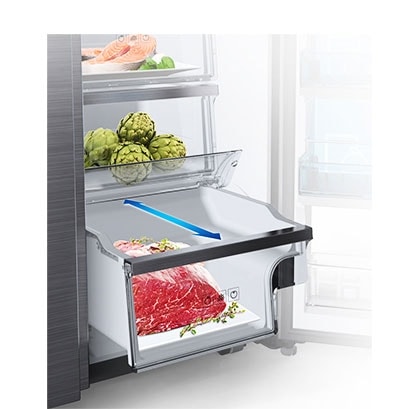 The Samsung Food Showcase Refrigerator's Deep Drawers provide much more storage space in both the fridge and freezer areas. Their overall size is simply deeper and bigger, so it's much easier to put in and take out food, even when it's in the corners, and you can also store much larger sized items. Perfect for busy families that like having fun with friends!
Showcase your Imagination
Fingerprint resistant finish
Fingerprint resistant
Helps reduce smudges for an everyday great appearance.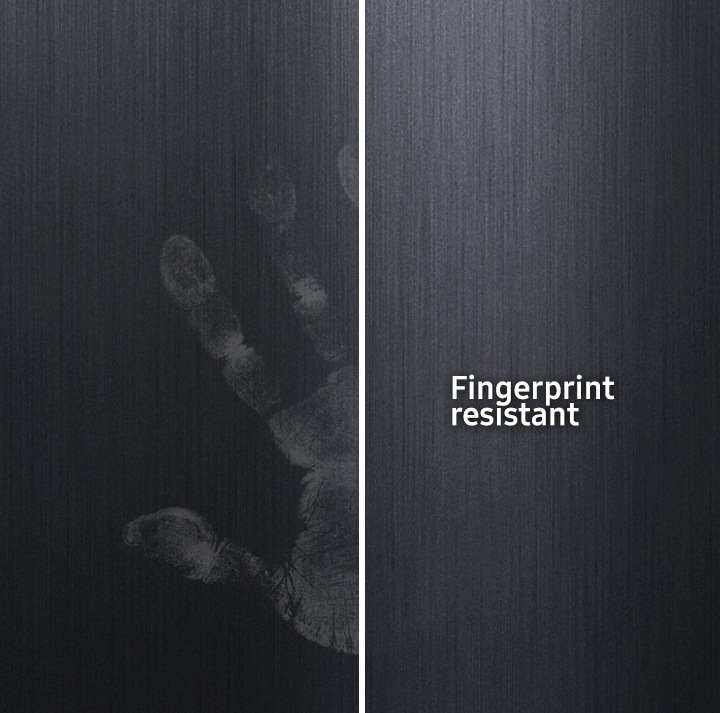 161 

Net Weight(kg)

912 x 1774 x 721 

Net Dimension (WxHxD)(mm)
Rated

5

out of

5
by
Rachel
from
High Intelligence, Simple Design But Its Elegance
It's my first look that we like it all. Even we got another modern of Samsung design being introduced by the salesman. No matter what the exterior, interior design, and prices. Mat look, colour, energy saver, and fingerprints' free is my favourite. My mother loves the interior design of the individual and separated storage for the frozen and fresh foods. The ice/cool water function for my children is so excited that the light of it look the night guard on my kitchen. Anyway, it's so cool!
Date published: 2017-04-28
Rated

5

out of

5
by
Diana
from
You need this fridge!
This is the one appliance to which both of us were instantly drawn. The design of the fridge is so sleek and modern. We constantly receive compliments on how good it looks it our kitchen. The drawers are spacious, as is the shelf space. The freezer has several shelves, but it takes some organizing to fit larger items. We didn't initially want a water and ice dispenser because they typically look bulky, but this design is sleek. Having the ability to choose between crushed or cubed ice is great. It is simple to turn off when you have enough ice, and visually easy to see your ice levels. I love this fridge!
Date published: 2016-04-14
Rated

4

out of

5
by
Pulsar459
from
Works well - double door
Very good refrigerator, freezes well, cools well. Counterdepth means it fits very nicely and doesnt become the centerpiece of the kitchen. Show case door is a nice feature which takes some getting used to, but very effective. Only complaint is that Smart Home doesnt work well - somehow it cannot connect to my network (unlike all my other Samsung appliances). Still chasing this with Samsung.
Date published: 2017-10-10
Rated

1

out of

5
by
Larry
from
Stay away!!!
I bought this fridge not yet three years ago and the compressor just went out. Ottawa based technician diagnosed the compressor issue and advised not to repair it as "the Samsung parts are not good quality".
Date published: 2018-09-19
Features and specifications are subject to change without prior notification.