NE58K9500SG - Electric Range with Slide-in Design, 5.8 cu.ft - Steam cleaning (NE58K9500SG)
Last Update date :
Oct 01. 2020
Steam cleaning
For light cleaning, the steam-cleaning function saves time and energy. For heavier-duty cleaning of debris and grease, use the self-cleaning function.
Note: The provided information refers to the electric ranges sold in Canada.
How to set the oven for steam cleaning
1.
Remove all accessories from the oven.
2.
Pour approximately 300 ml (10 oz.) of water onto the bottom of the empty oven and close the oven door.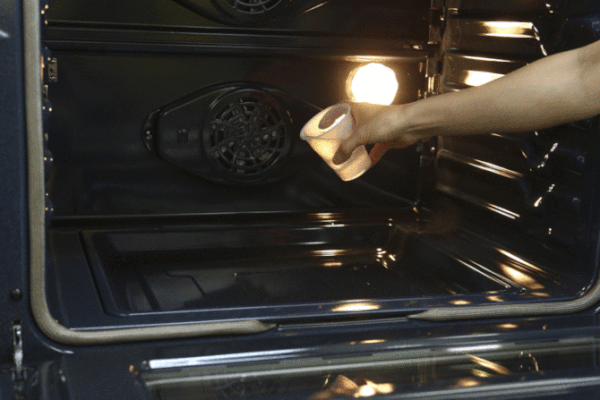 Important: Use tap water only, not distilled water. Also, use exactly 300 ml (10 oz.) of water since this produces the best results.
3.
Touch
Steam Clean
.

Note: If you touch Steam Clean when the oven temperature is above 37 °C (100 ˚F), Hot will appear in the display. Because these functions produce the best results when started while the oven is cool, we recommend that you wait until the oven has cooled down and Hot disappears from the display.
4.
Press
START/SET
to start steam cleaning.

5.
When the operation is complete, the display will blink and a beep will sound. Touch
OVEN OFF
.
6.
Clean the oven's interior. There will be a significant amount of water remaining on the bottom of the oven after a steam-cleaning cycle. Remove the residual water with a sponge or soft dry cloth.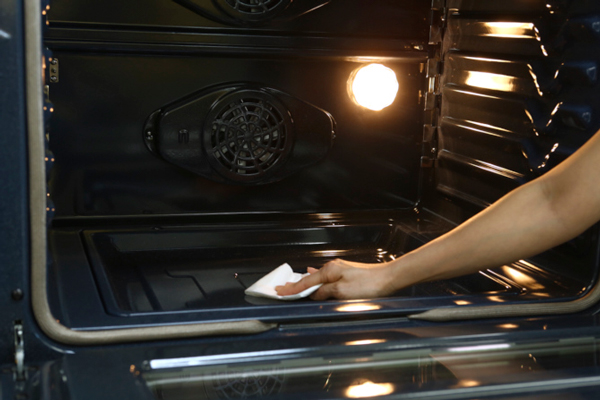 After a steam cleaning cycle
• Take care when opening the door before a steam-cleaning procedure has ended. The water on the bottom is hot.
• Open the oven door and remove the remaining water with a sponge. Do not leave the residual water in the oven for any length of time. Wipe the oven clean and dry with a soft cloth. Do not forget to wipe under the oven door seal.
• Use a detergent-soaked sponge, a soft brush, or a nylon scrubber to wipe the oven interior. Remove stubborn residue with a nylon scourer. You can remove lime deposits with a cloth soaked in vinegar.
• If the oven remains dirty, you can repeat the procedure once the oven has cooled.
• For heavy residue, such as grease left over from roasting, we recommend that you rub detergent into the residue before activating the steam-cleaning function.
• After cleaning, leave the oven door ajar at a 15° angle to allow the interior enamel surface to dry thoroughly.