Galaxy Note10 - Use a magnetic car mount (SM-N970W, SM-N975W & SM-N976W)
Last Update date :
Oct 07. 2020
Here are Samsung, we always recommend that you do NOT use your phone while driving. You should be focused on what's happening in front of you, not distracted by texts or apps. The only exception is when you're using your phone as a GPS. However, be sure to enter the address before your car starts moving. And for your own safety, you should use a (magnetic) car mount, so you can keep your eyes on the road.
Information provided applies to devices sold in Canada. Available screens and settings may vary for smartphones sold in other countries.
Use a magnetic car mount
Magnetic car mounts are your best bet because you can place when right on your car's dashboard. That way, you can quickly glance at the GPS on your phone but still pay attention to driving.
Many of these mounts, if not all, use small magnets that won't damage your phone's circuits or functions. All modern phones already have several magnets inside them because their speakers and cameras require them. So, you have no reason to worry.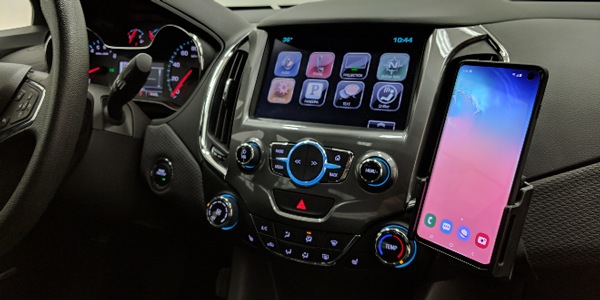 Most magnetic mounts come with a metal plate that you stick to the back of your phone or slide between the phone and the case. We recommend the second option. You can also stick the metal plate to the back of the case. This is a recommendation, not an obligation, so you are free to use it as it please you.
On most of the Galaxy phones, the location of the metal plate doesn't really matter. But if you have a Galaxy Note10, you have to be more careful because it has the Wireless PowerShare feature. The wireless charging coil is located in the middle of the device, so you should avoid to covering that area with a metal plate. We recommend sticking the metal plate to the lower part of the device. Another possibility is to use a magnetic car mount specifically designed for devices with Qi technology (wireless charging).