Galaxy Note10 - Set up and use the ultrasonic fingerprint sensor (SM-N970W, SM-N975W & SM-N976W)
Last Update date :
Oct 07. 2020
No one in the world is quite like you, and no two fingerprints are exactly the same. That's why fingerprint security on Galaxy phones are safe and secure. The Note10 series have improved recognition to unlock your phone even faster than before.
Information provided applies to devices sold in Canada. Available screens and settings may vary for smartphones sold in other countries.
Set up fingerprint security
The Galaxy Note10, and Note10+ don't have a physical button like other phones. The fingerprint scanner is actually inside the phone's screen, just above where the Home key is located. Cool, right?
1
From Settings, search for and select Fingerprints (under Biometrics and security).
2
Tap Fingerprints again.
3
Tap Continue, and then set up a secure screen lock if you don't have one already.
4
Place your finger on the sensor, then lift it off when you feel a vibration. Change the position of your finger slightly each time to get a full scan, until the progress bar reaches 80 percent.
5
Tap Continue and reposition your finger each time to capture the edge of your fingerprint.
6
When you're finished, you can tap Add to add another one, or tap Done. Adding a fingerprint will turn on the Fingerprint unlock feature by default.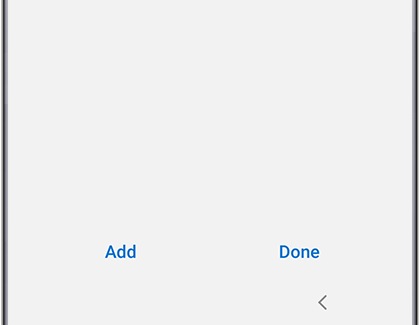 Use fingerprint security
To unlock your phone, tap the screen or press the Power key. Then, place your finger you used during setup on the fingerprint icon. The phone will automatically unlock if it recognizes your fingerprint.

Remove a fingerprint
From Settings, search for and select Fingerprints (under Biometrics and security). Tap Fingerprints and enter your security credentials. Tap the fingerprint you want to delete (i.e. Fingerprint 1, or Fingerprint 2), and then tap Remove. Next, tap Remove again to confirm.

Removing all remaining fingerprints will turn off the Fingerprint unlock feature.