Galaxy Note10 - Use the Dex for PC feature (SM-N970W, SM-N975W & SM-N976W)
Last Update date :
Oct 07. 2020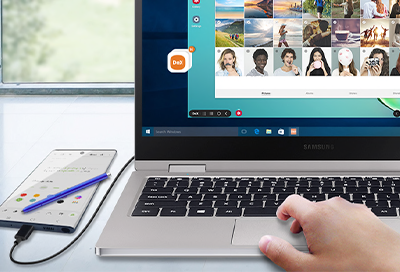 When you think of the term "DeX," you probably think of a DeX cable or Station that connects your phone to a monitor and lets you perform simple functions. While this feature is still available, your Note10 has helped DeX step it up a notch. Say hello to DeX for PC. This new version of DeX connects your phone directly to your computer and gives you even more control over everything. For example, you can transfer files between the phone and computer!
Information provided applies to devices sold in Canada. Available screens and settings may vary for smartphones sold in other countries.
Before you get started
Before you try to use DeX for PC, make sure you have all the right requirements on your computer:
The computer will need to have the DeX for PC app installed.
Make sure your device's USB settings are set to Transferring files.
For Macs, Samsung DeX supports Mojave and High Sierra.
For Microsoft computers, Samsung DeX supports Windows 7 and 10.
DeX for PC requires a USB-C connection on the computer. However, if it doesn't have this connection, you can use a USB-C to USB-A cable.
Set up and use Samsung DeX for PC
Having to switch between devices when you're in the zone is bothersome. But with DeX for PC, you won't have to because you can control your phone through your computer! First, you'll need to download the DeX for PC app. On your computer, go to the Samsung Dex website, and then download the version you need. Next, navigate to and open the download file, and follow the on-screen prompts to complete the setup process.
When the software is set up, open up the Samsung DeX app on your computer. Then, connect your Note10 to the computer using a USB-C cable. Wait a few seconds for the phone to connect; when it does, a DeX window will appear on your monitor! Use your computer's mouse to control things on your connected phone, such as opening the phone's app.
Here is also a list of the cool things you can do only with DeX for PC:
Click and drag a file from your PC to the Samsung Dex window to transfer a PC file to your phone.
Text your phone's contacts from your PC. You can copy and paste text from Note10 to PC and vice versa.
Simultaneously run up to 5 apps from your Note10 on the computer. Apps on your PC will be resized for a desktop experience.