Galaxy S10 - Lock your screen (SM-G970W, SM-G973W & SM-G975W)
Last Update date :
Oct 03. 2020
Nowadays, we keep everything on your phones - our contacts, our email, and even our credit cards. But if you set up a screen lock on your Galaxy S10, you'll never need to worry about your personal information falling into the wrong hands, especially with the new in-screen fingerprint scanner!
Information provided applies to devices sold in Canada. Available screens and settings may vary for smartphones sold in other countries.
Set up a regular screen lock
With no Screen lock, anyone can access your personal information. Make sure to set up one up, so your information stays safe and sound. From Settings, swipe to and tap Lock screen. Then, tap Screen lock type and select your desired type of lock. Follow the on-screen instructions to set it up.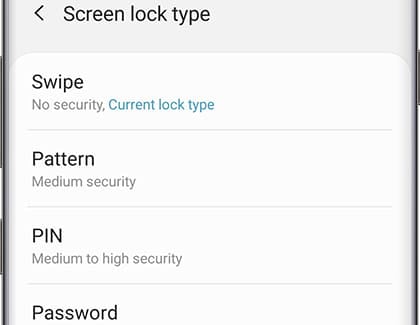 Here are the basic screen lock types:

Swipe: Swipe the screen to unlock it.

Pattern: Create a pattern that you draw on the screen to unlock.
PIN: Select a PIN to unlock the screen.
Password: Create a password for unlocking the screen.
Use your fingerprints or your face to unlock your phone
If a regular lock screen is boring, you can spice things up by setting up biometric security. To make a biometric screen lock, follow the steps below. From Settings, swipe to and tap Lock screen. Then, tap Screen lock type. Finally, tap the switch next to your desired option, and then follow the on-screen instructions.

Fingerprints: If you have a Galaxy S10, or S10+, you can use the new ultrasonic fingerprint scanner as an extra layer of security. The Ultrasonic fingerprint scanner is not available on Galaxy S10e. It uses a regular fingerprint scanner, located on the Power key.

Secure lock settings
Still worried someone might try to nab your phone? You can set up Secure lock settings to be extra safe. But these settings won't show up until after you've already made a Lock screen. Once you've made one, from Settings, search for and select Secure lock settings. Tap Secure lock settings and if prompted, enter your current lock screen credentials. Then, turn your desired settings on or off by tapping the switches.

Make pattern visible: Choose whether or not the pattern appears on the screen when you draw it.

Lock automatically: Choose when your phone will lock the screen after the display turns off automatically.

Lock instantly with power key: Set your phone to lock instantly when you press the Power key.

Auto factory reset: After 15 incorrect attempts to unlock your phone, it will be reset to factory default settings, and all data will be erased, including files and downloaded apps.

Lock network and security: Keep network and security-related functions locked while your phone is locked, making it easier to locate and protect if it's lost or stolen.

Show Lockdown option: Display a Power button option that turns off Smart Lock, biometrics unlock, and notifications on the Lock screen.