Galaxy S8+ - Secure lock settings (SM-G955W)
Last Update date :
Oct 01. 2020
Lock screen
The lock screen can be adjusted to provide even greater security for your device.
Note: Screens and settings available may vary depending on your Canadian wireless service provider and your software version.
Manage secure lock settings
1.
From the Home screen, swipe up or down to access the Apps screen.
2.
Touch
Settings
.
3.
Touch
Lock screen and security
.
4.
Touch
Secure lock settings
.
5.
The following settings are available: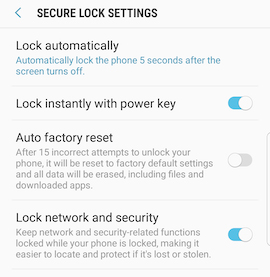 •
Lock automatically
: When the screen is turned off, it will lock after a set period of time.
•
Lock instantly with power key
: When you turn off the screen by pressing the Power key, the screen will be locked.
•
Auto factory reset
: The device will automatically reset to factory default settings after 15 incorrect attempts to unlock your device.
•
Lock network and security
: While your device is locked, the network and security-related functions will also be locked. This will make it easier to locate and protect your device in case it is lost or stolen.