Galaxy Watch - Music and Your Watch (SM-R800 & SM-R810)
Last Update date :
Oct 07. 2020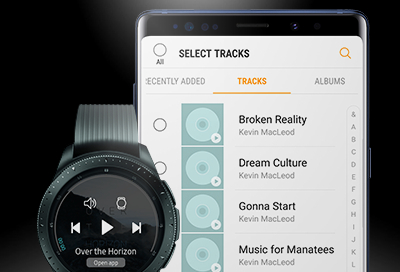 It's time to experience the freedom of a wireless, phoneless, and practically weightless workout! To accomplish this, all you need to do is transfer music to your watch and then play it right from your wrist. No more phone clunking around in your pocket as you jog.
Available screens and settings may vary by provider, phone, or watch.
Control the Music Player
Get pumped up at the gym by playing music straight from your watch. You can control the music that's playing directly through your watch or through your phone. Whichever way you prefer, we make it a cinch.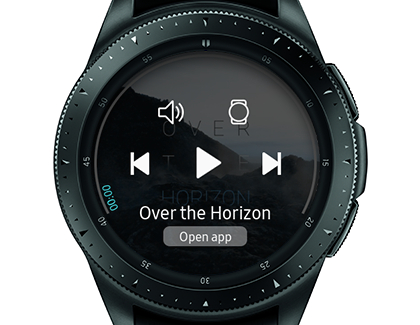 You can also stream music on Spotify by downloading the app from Galaxy Apps. You've got several ways to tune in while you stay on track with your workout.


Here are the different controls of the music player:

• Volume Control: Set the volume level.

• Previous Track or Restart: Go back to the previous track or restart the current song.

• Play or Pause: Start or pause the track that is playing.

• Switch Device: Alternate between your phone's or watch's playlist.

• Next Track: Skip to the next track.

• Open app: Open the Music app.
Export Music From Phone to Watch
Got a killer new playlist? We make it easy to transfer music to your watch. On your phone, open Galaxy Wearable, touch the SETTINGS tab, and then touch Add content to your watch. Next, touch Add tracks, select the songs you want to export, and then touch DONE.

To select all songs, select All.

Delete Music From Your Watch
Deleting music from your watch is easy like Sunday morning. Open the Music app, swipe up from the bottom of the screen, and then locate the song you want to delete. To delete the song from your watch, touch and hold the song, and then touch REMOVE.

After one song is selected to be removed, swipe up or down and touch another song to be removed.