Gear 360 (2017) - Connect your Gear 360 (SM-R210) to your PC
Last Update date :
Oct 06. 2020
Connection to a PC
After you have taken the perfect photo or video, it's time to edit it into a masterpiece on a PC. Connect your Gear 360 to a PC, transfer your media files, and then begin working using an editor program.
Important:
Make sure that your Gear 360 is powered on before you connect it to a PC.
Note: The provided information refers to camera sold in Canada. The available settings and options may differ from devices sold in other countries.
Connect the Gear 360 to a PC
Note:
Use the supplied USB cable to connect your Gear 360 to a PC.
1.
Connect the smaller end of the cable to the multipurpose port on the Gear 360.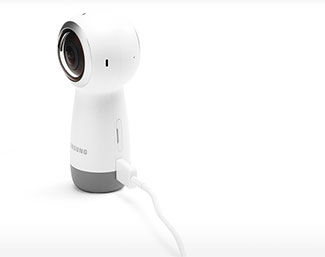 2.
Connect the larger end of the cable to a USB port on your PC.
3.
If this is your first time connecting the Gear 360, additional drivers will be automatically downloaded and installed.
Transfer files
Note:
Transferring files from the Gear 360 is just like transferring files from a USB flash drive.
1.
Connect your Gear 360 to a PC.
2.
AutoPlay will appear on the screen. Click on
Open device to view files
.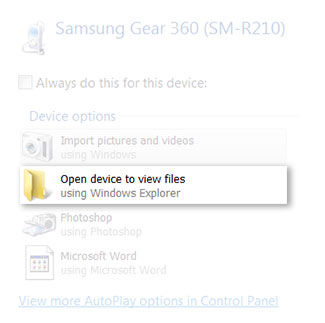 3.
Navigate to
Card
>
DCIM
>
100PHOTO
.

4.
All of your captured photos and videos will be saved to this folder. Click and drag the file(s) you want to move to the desired location.
Note: You can also use the copy and paste functions to move the files.