Gear Sport - Keep your watch running great (SM-R600)
Last Update date :
Oct 06. 2020
You've got yourself a durable device there with your Gear Sport, but there are steps you can take to make sure you're giving it the very best care. Follow these tips to keep your Gear Sport running in top shape.
Screens and settings available may vary by wireless service provider and software version. The Samsung Gear app must be downloaded on the mobile device.
Let's learn more about your Gear Sport. From your phone, navigate to Samsung Gear > SETTINGS > About Gear. Next, touch the icons at the top of the screen to view Battery, Storage, and RAM information.
To increase the battery life on your Gear Sport, you can enable Power saving mode or Watch only mode. Using Power saving mode will use a grayscale Home screen, turn off all functions except calls, messages, and notification, turn off Wi-Fi, and limit your Gear's performance.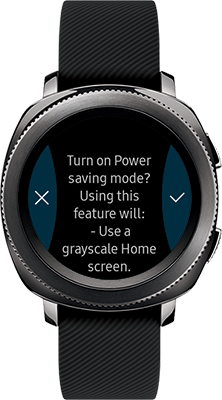 Using Watch only mode will only show you the watch and disable all other functions. To access these features, touch SETTINGS > Battery management.
Got too much junk cluttering up your Gear? Time to clean it up. From your phone, launch the Samsung Gear app, and then touch Storage > CLEAN NOW.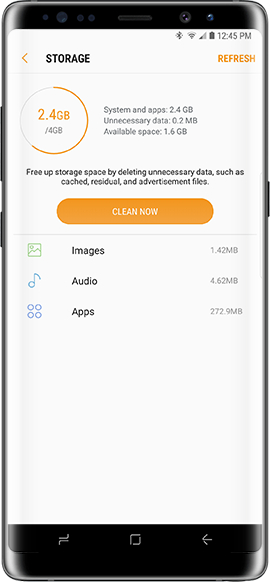 You can also see how much space images, audio files, and apps are taking up on your Gear.
Clear out some space so your Gear has room to breathe. You can free up memory by stopping certain apps from running. From your phone, launch the Samsung Gear app, and then touch RAM.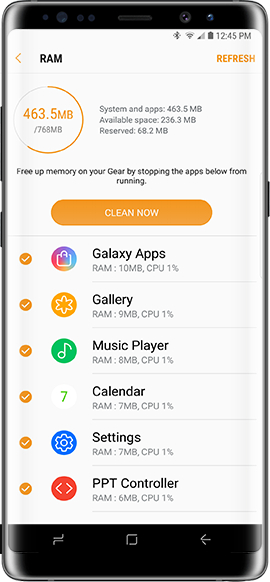 Touch the Check icon next to apps you want to stop from running, and then touch CLEAN NOW.