Gear VR - Manage Battery Consumption on the Gear VR with Controller (SM-R325)
Last Update date :
Oct 06. 2020
Your phone uses more power when it is connected to Gear VR. That's why you always want to start with a fully charged battery. Here are some suggestions we put together for maximizing your battery life.
The provided information refers to Gear VR sold in Canada. The available settings and options may differ for devices sold in other countries.
Charging the Gear VR
The Gear VR does not require charging as it is powered using the mobile device's battery.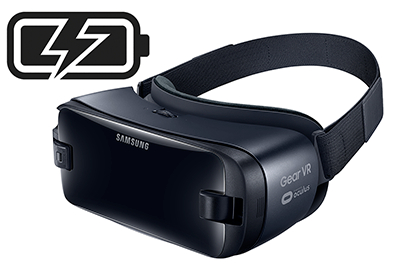 You can charge your mobile device by connecting a charger to the Gear VR's multipurpose jack. Use only Samsung-approved chargers. Unapproved chargers can cause the mobile device's battery to explode or damage your devices.
Reduce Battery Consumption
Your mobile device provides options that help you conserve battery power. By customizing these options and turning off features in the background, you can use the device and your Gear VR longer between charges:


• Do not use live wallpapers (live wallpapers are richer, animated, interactive backgrounds).

• Turn off the Bluetooth feature.

• Turn off Wi-Fi.

• Turn off the GPS service.

• Turn off the mobile data connection.

• Turn off auto-syncing of accounts.

• Turn off the Smart features.

• Decrease the backlight time (timeout settings).

• Decrease the brightness of the display, or use automatic brightness.

• Turn off haptic feedback.
Best Practices for Battery Charging
The following guidelines can help you charge your battery properly and safely:


• Verify that you are using the supplied Samsung USB/charging cable and wall charger, not third-party accessories.

• Make sure the USB/charging cable is connected securely and is not being blocked by a cover or a case.

• Check whether a battery or charging indicator appears on the device's display when the USB/charging cable is plugged in.

• Charge using a wall outlet, not a computer.

• When the battery is fully charged, disconnect the device from the USB/charging cable.