Gear VR - Use Oculus 360 Photos on the Gear VR with Controller (SM-R325)
Last Update date :
Oct 04. 2020
The Oculus 360 Photos app on your Gear VR delivers a 360-degree immersion into panoramic scenes. You'll swear you're there!
The provided information refers to Gear VR sold in Canada. The available settings and options may differ for devices sold in other countries.
Using Oculus 360 Photos
1. From the Oculus Home screen, navigate to the Library.
2. Select Oculus 360 photos.
If Oculus 360 Photos is not in your Library, head over to the Store to download and install it.
3. Select the photo you want to view.
4. You can browse the available photos using the menu on the left: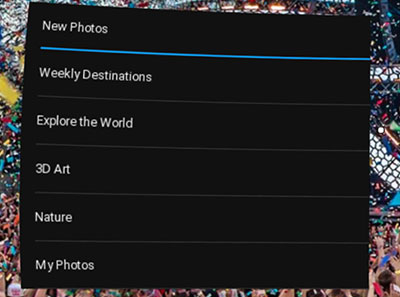 New Photos: View the latest 360 photos.
Weekly Destinations: View panoramic photos of the popular tourist attractions. Updated weekly for your pleasure.
Explore the World: View panoramic photos from locations all around the world. Select the continent and country you want to see.
3D Art: View 3D panoramic artwork. Content is added monthly.
Nature: View panoramic photos of nature. The photos are categorized by settings.
My Photos: View your photos stored on your mobile device. You can also view screenshots you take on your Gear VR here.
Oculus 360 Photos Controls
Swipe the touchpad up or down to zoom in or out.
Swipe the touchpad from the front to back or select Previous to go to the previous photo.
Swipe the touchpad from the back to front or select Next to go to the next photo.
Select Play/Pause to pause or resume the slideshow.
Select Back to close the photo and go back to Oculus 360 Photos.