Galaxy Note8 - Encrypt files on your microSD card (SM-N950W)
Last Update date :
Mar 09. 2021
Encryption
Protect the data on your microSD card by encrypting it. Encryption is a mean to protect any data stored on your SD card. Once encrypted, only your smartphone can read the data stored on your SD card.
Note: Screens and settings available may vary depending on your Canadian wireless service provider and your software version.
Encrypt your microSD card
1.
From the Home screen, swipe up or down to access the Apps screen.
2.
Touch
Settings
.
3.
Touch
Lock screen and security
.
4.
Scroll to and touch
Encrypt SD card
.
5.
Review the information on encrypting your microSD card and then touch
ENCRYPT SD CARD
.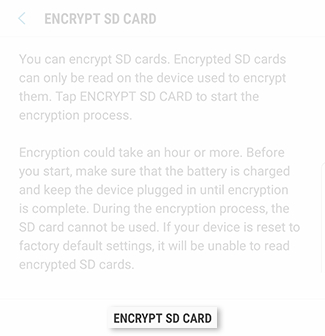 Note:
If you have a screen lock set up, you will need to enter your credentials.
Important:
If you reset your device to the factory defaults with this setting enabled, the device will not be able to read your encrypted files. Disable this setting before resetting the device (follow the same path and touch "Decrypt SD card").