Galaxy Note8 - Presentation of Air Command (SM-N950W)
Last Update date :
Oct 05. 2020
Air command
You're flipping through that new fashion magazine and see the most beautiful dress. Snatch it up quick with Bixby Vision on your S Pen. You can find styles and even buy them today if available on Amazon. That's just one of the features you have access to with Air command. To get started, simply remove the S Pen from your mobile device. If your S Pen is already out, hover the S Pen over the screen and press the S Pen button. You can thank us later when you're rocking that new dress.
Note: Screens and settings available may vary depending on your Canadian wireless service provider and your software version.
Air Command
Note:
Draw a heart around that cute picture you took of your dog or create your own emoji: just two fun things you can do with Air command. Read on for more features.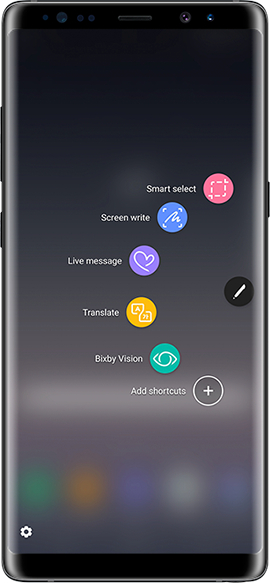 •
Smart select:
Collect content quickly.
•
Screen write:
Write and draw on the current screen.
•
Live message:
Draw your own emojis, make animated GIFs, or write handwritten messages on photos. Live message allows you to express your feelings and send them to people you care about.
•
Translate:
Hover the S Pen over a word to translate it.
•
Bixby Vision:
Identify landmarks, translate foreign languages, and shop for products online. The option will vary depending on the image.
•
Add shortcuts:
Add shortcuts to frequently used apps to the Air command panel.
•
Settings icon:
Change the Air command settings.
Air Command Settings
Note:
We knew you'd love Air Command. You can add your favorite apps to your shortcuts, turn on the floating icon that signifies you're in Air Command, or turn it off if you'd rather. Read on to learn how to customize your settings.
1.
With Air Command open, touch the
Settings
icon.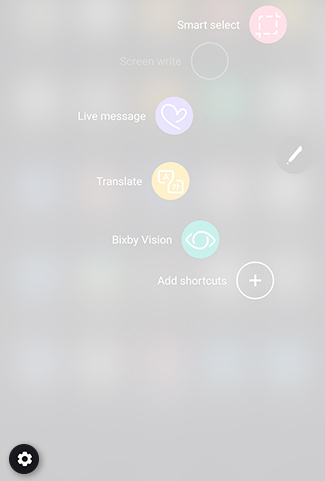 2.
The following options are available: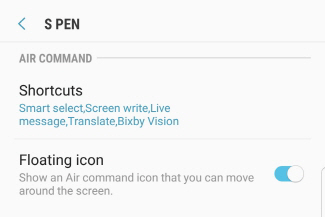 •
Shortcuts:
Add or remove shortcuts for apps.
•
Floating icon:
Minimize the Air command menu into a floating icon that can be moved around the screen.
Add app shortcuts
Note:
Are you always using Glance to have the grocery list in front of you while you're texting it to your significant other? Add all your favorite apps to Air command shortcuts for quick and easy access.
1.
With the Air command menu open, touch
Add shortcuts
.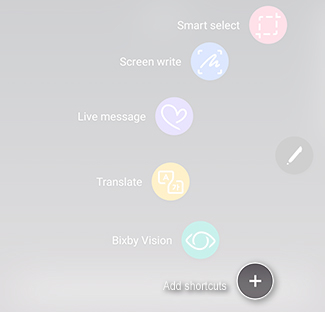 2.
Touch the
app
you would like to add to your Air command menu.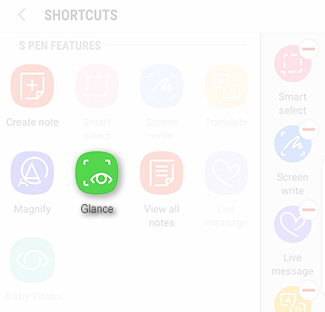 Remove app shortcuts
Note:
Got a little ahead of yourselves adding all those apps? Hey, no worries—just remove the ones you don't want shortcuts for anymore.
1.
With the Air command menu open, touch and hold the
app shortcut
you would like to remove.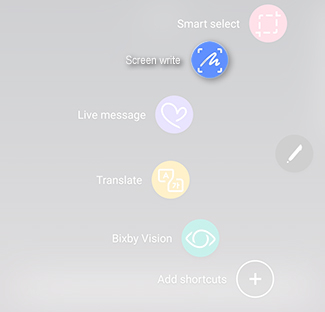 2.
While holding, drag the app to
Remove
.