Pie update - Set Up and Use Kids Home (SM-G960W, SM-G965W & SM-N960W)
Last Update Date :
Feb 16. 2019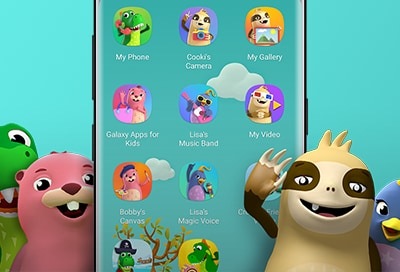 With the Pie update, your phone will be able to use Kids Home, which is like a digital playground for your child. It's not just fun and kid-friendly; it's also an educational experience. Your child will be able to learn through entertaining games like block coding, drawing, creating music, and a lot more. With Kids Home, you can also set a time limit, control permissions, and see usage reports so you'll know what your child is learning. Keep reading to learn how to set and use Kids Home on with the Pie One UI.
Information provided applies to devices sold in Canada and updated with Android 9.0 Pie. Available screens and settings may vary for smartphones sold in other countries.
First Time Setup and Use
Kids Home is only available on Pie OS. To use this feature with the Oreo OS, you will need to download the Kids Mode app.

Kids Home is simple to set up and is located in your phone's Quick Settings Panel.
Using two fingers, swipe down from the top of the screen to access the Quick Settings panel. Touch the Kids Home icon, and then touch Next. From there, enter a Kids Home PIN (the default pin is 0000). The Kids Home PIN allows you to set parental controls and check usage reports, but most importantly, kids cannot exit Kids Home without it.

After you've set a PIN, the Kids Home screen will display. To exit Kids Home, touch More Options, and then touch Close Kids Home. Enter your PIN and Kids Home will automatically close.
If you set up a secure screen lock for your phone, you can use it to exit Kids Home.

Kids Home Screen
Now that you've set up Kids Home, you can explore all of its fun features.


• My Phone: Kids can call specific contacts allowed by parents.

• My Camera: A safe camera for kids to take pictures and add stickers.

• My Gallery: Stores pictures or drawings that are created in Kids Home or allowed by parents.

• My Browser: Allows safe browsing on the internet that is easily controlled and monitored by parents.

• My Magic Voice: Kids can change their voice and play along with Kids Home's characters.

• Bobby's Canvas: Kids drawing, coloring, painting, and other artistic activities.

• Lisa's Music Band: A place where kids can play various musical instruments.

• Cooki's Video: Stores videos that are created in Kids Home or allowed by parents.

• Crocro's Friends Village: Play mini games with the cute characters of Kids Home.

• Crocro Adventure: Block coding game that teaches creative and logical thinking.

• Bobby's Art Studio: Use silly stickers in the camera.
Parental Controls
Here is where you can access settings, create children's profiles, set daily playtimes, and check your child's usage.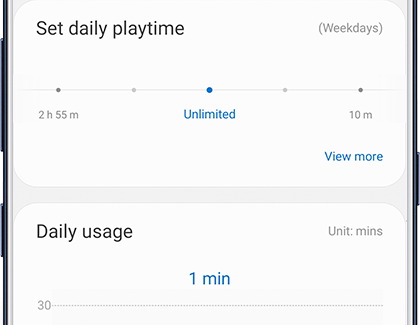 To access the parental settings, open Kids Home, and then touch More Options. Touch Parental control, and then enter your Kids Home PIN.

The following options will be available:

• Set Daily Playtime: Use this setting to create a daily playtime schedule.

• Daily Usage: Displays the daily usage for each profile based on the date.

• Activity: Displays apps used in Kids Home, such as Camera, games, etc.

• Allowed Content: Displays content allowed by parents.

• Galaxy Store for Kids: An app store where you can download free or paid-for apps meant for children. It can only be accessed from the Parental controls screen.
You can create up to 6 children's profiles.

Kids Home Most Used Settings
The Kids Home settings allow you to change the PIN, reset the app, and also check for updates.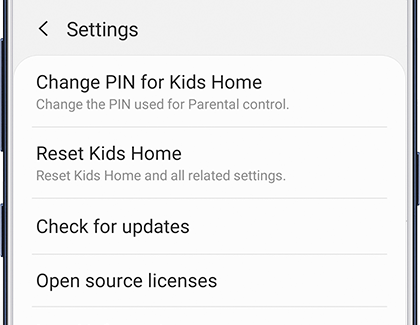 From the Kids Home Screen, touch More Options, touch Parental Control, and then enter your PIN. Touch More Options, and then touch Settings.


The following options will be available:

• Change PIN for Kids Home: Use this setting to change your pin.

• Reset Kids Home: Use this setting to reset the Kids Home app and all related information.

• Check for Updates: Use this setting to check for updates and keep Kids Home and its apps up to date.
Exit Kids Home Without a PIN
If you have forgotten your PIN and cannot exit Kids Home, follow the steps below to reset the app. All information, profiles, and settings will be erased.
1
Press and hold the Power button until the power off options appear.
2
Touch and hold the Power off icon until the Safe mode icons appear. Touch the Safe mode icon; the phone will reboot.
3
If you were successful, "Safe Mode" will display on the bottom of your phone screen. If it doesn't display, try the steps above again.
4
When Safe Mode is enabled, go to Settings and then search for Kids Home. Select Kids Home and then touch Uninstall. Touch OK to confirm.
5
Press and hold the Power button again, and then touch Restart to exit Safe Mode.
6
Your phone will no longer be in Kids Home mode and the app will have to be set up again. You can access the Kids Home icon from the Quick Start panel.
Not finding what you're looking for? We're here to help.
Call

* For any printer related enquiries please visit the HP website .
Contact Us