Galaxy Note9 - A Camera Mode for Every Moment (SM-N960W)
Last Update date :
Oct 07. 2020
Whether you're exploring a beautiful place you've never been before, or you are enjoying everyday fun, your phone has a brilliant camera to help you capture every moment. And its special camera modes, like Panorama or Hyperlapse, give you the power to make those memories even more epic. Learn about the different modes, so you can unleash your camera's full potential.
Screens and settings available may vary depending on your Canadian wireless service provider and your software version.
Next Level Slow-Motion: Super Slow-Mo
Take a funny moment and slow it down. As the name suggests, the Slow Motion or Super Slow-Mo mode on your phone lets you record in slow motion. That hilarious moment will transform from the blink of an eye to an extended, slow motion masterpiece.
Super Slow-mo only supports HD resolution. Limited to 20 shots per video with 6 seconds of playback per each super slow-mo shot.
Augmented Reality Emoji
Spice up your shots with fun frames, stickers, and emojis. Choose a filter and the camera will work its magic. Record yourself doing something funny and become the star of the next animated hit!
Capture It All with Panorama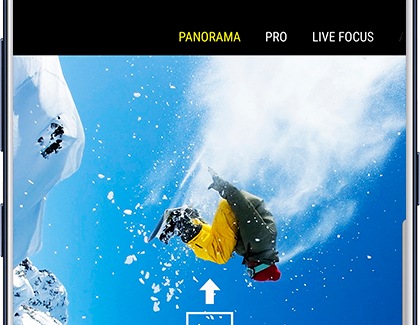 Create a linear image by taking pictures in either a horizontal or vertical direction. Perfect for catching a sunset or rainbow, or when you want to look extra tall! All you need is a great landscape that extends to the edges of the horizon or amazing architecture with great details that you want to capture.

Start a Food Blog
Don't hide a stunning dish from the camera. Make food look even tastier simply by switching to Food mode on the Camera app. Add radial blurs around your food or even add warmth to your photo by adjusting the color temperature.

Food mode is not one of the default camera modes on Galaxy Note9. You can add it from Camera settings > Edit camera modes.

Fasten Slow Events
Create your own time lapse video by setting your phone on Hyperlapse. The camera alternates the number of shots per second by slowing them down and then speeding them up again—also known as the frame rate. It does all the work for you! The frame rate is automatically adjusted depending on the scene being recorded and the phone's movement. Perfect for catching those ocean waves at the beach or starry nights.

Pro Mode
Are you a professional photographer in the making? If so, you can use Pro mode to manually adjust the camera's settings, such as shutter speed, exposure levels, filters and white balance. Just navigate to Pro mode and touch the different icons at the bottom of the screen. From there, choose or adjust your desired settings. You'll be a pro at Pro mode in no time.