Galaxy Note9 - Bixby Vision and How to Use It (SM-N960W)
Last Update date :
Oct 07. 2020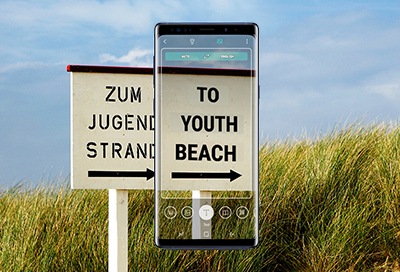 Sometimes, there's more than what meets the eye. If you need some help understanding a picture or image, Bixby Vision is here to help. It can translate text, find similar images, or give you more information about a picture. Become a visual learner with Bixby Vision.
Screens and settings available may vary depending on your Canadian wireless service provider and your software version.
Use Bixby Vision
To help you discover more, Bixby's built into your Camera, Gallery, and Samsung Internet. Read below to learn how to use Bixby Vision in these apps:


• Camera: Bixby suggests information based on what's live in the viewfinder. From the Camera app, touch the Bixby Vision icon to use it.

• Gallery: If you've already taken or downloaded a photo, Bixby can analyze what's inside it. From the Gallery app, touch your desired image, and then touch the Bixby Vision icon.

• Samsung Internet: Learn more about pictures by having Bixby analyze what you're looking at. From the Internet app, touch and hold the image you want to view with Bixby vision, and then touch Bixby Vision.
Bixby Vision Features
With Bixby, you can look at the world in a new way. The possibilities are endless. Here are the features that Bixby Vision has available:


• Makeup: Choose from dozens of beauty products and give yourself an instant makeover.

• Text: Translate foreign languages, so you can read important signs and travel with ease.

• Image: Discover hundreds of images that relate to the same topic or look similar.

• Shopping: Find what you see in person, online; so you can buy it or similar items.

• Place: Identify landmarks or businesses to learn more about them.

• Food: Keep track of calories so every meal fits your goals. This is only an estimate and may not be accurate.

• Wine: See the bottle's rating or learn more about the vineyard it came from.

• QR Code: Scan a QR code to quickly open up the corresponding link. Or, scan a barcode to be directed to the shopping website.