Galaxy Note9 - Use the Notification Panel (SM-N960W)
Last Update date :
Oct 01. 2020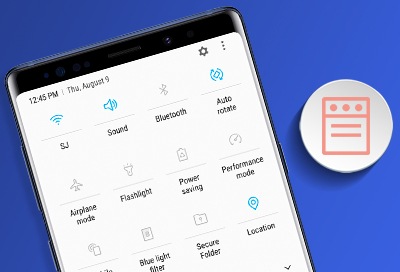 With the Notification Panel, you'll never miss a text, call, or an app notification and you can view recent messages and access certain functions on your phone. To make things even better, you can snooze notifications or access app's notification settings from the Lock screen.
Screens and settings available may vary depending on your Canadian wireless service provider and your software version.
View Notifications
What's the status on that app you downloaded from the Play Store? Oh, it was successfully installed. Awesome! To view your notifications, swipe down from the top of a screen. Notifications will be displayed under Quick settings.

The following actions are available:

• To open a notification, touch it.

• To clear a notification, swipe to the left or right.

• To clear all notifications, touch CLEAR.

• To close the notification panel, swipe up or touch Back.
Fun Trick with Fingerprint Sensor
Here's a fun way to open or close the Notification panel: just swipe your finger up and down on your phone's fingerprint sensor. Yep, your fingerprint can make the Notification panel appear.
1. Navigate to Apps, and then touch Settings.
2. Touch Advanced features.
3. Touch the slider next to Finger sensor gestures to turn this feature on.

4. After the feature is turned on, give it a try by swiping your finger up and on the fingerprint sensor. Neat, right?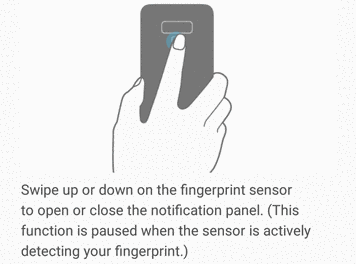 Snooze Notifications
Want to save that notification for later? You can now snooze notifications with Oreo.

1. Swipe down to open the Notification Panel.

2. Swipe the desired notification slightly to the left or right. Be very careful, if you swipe too fast or too far, you might miss the icons.


3. Touch the Snooze notification icon (the one on the left).

4. Select the desired time to snooze and then touch DONE. Ahh, peace and quiet.

Notifications Settings
You can choose which apps are allowed to send you notifications, so you only get alerts you want to see.

1. Swipe down to open the Notification Panel.

2. Touch NOTIFICATION SETTINGS.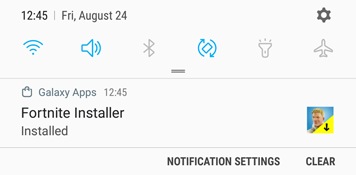 3. All of your apps will be listed. Here are all the options available to you:

To enable or disable notifications for all apps, touch the slider next to All apps.

To enable or disable an app's notifications, touch the slider next to the desired app.
Quick Settings
Certain settings on your phone have shortcuts built in. Let's say the plane's captain is preparing for take-off and a flight attendant just told you to use Airplane mode. With a few swipes, you'll be good to go. To access Quick settings, swipe down from the top of a Home screen using two fingers. To turn on or off a Quick setting, touch the desired setting. You can also swipe left to view more Quick settings.