Smart Switch - General troubleshooting for Smart Switch Mobile
Last Update Date :
Sep 20. 2019
Whether your old phone is an Android, iOS, BlackBerry or Windows Mobile device, upgrading to a Galaxy smartphone or tablet is done in one seamless move with Smart Switch. From your contacts to messages, your photos and videos to your music, your calendar events to your apps. Even the device settings. They're all there on your new Galaxy phone for you to pick up right where you left off.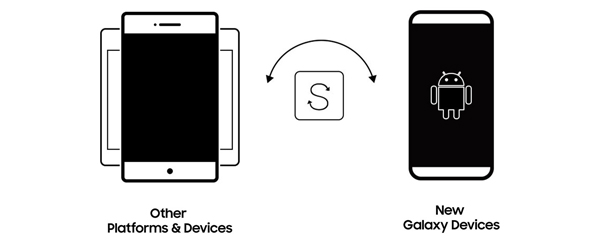 The provided information refers to the devices sold in Canada. Screens and settings available may vary depending on your Canadian wireless service provider and your software version.
Does my old content get overwritten by Smart Switch Mobile?
No, the existing data will not disappear. After the transfer, the data will remain on the sending device.
I don't want to transfer a certain type of content. What can I do?
On Smart Switch Mobile app's screen where you select the items to be transferred, deselect any item that you do not wish to export.
I transferred pictures to my new device but they are now displayed in a different order than they were on my old device. What causes this issue?
Pictures that were not taken with your new device will be displayed according to the time they were saved on your new device during the transfer using Smart Switch Mobile.
There is not enough storage space on the device to continue. What should I do?
You need free space available on both of your devices to back up or restore data. If a 'not enough space available' message pops up, delete some of the items on your devices to free up space and try again. Alternatively, deselect some items on your transfer list and then try transferring data again.
Why can't I transfer music using Smart Switch Mobile with my old iOS device via iCloud?
You cannot back up music using iCloud. But ff you use a USB cable, you can transfer music saved on an iOS device.
Is my personal iOS device content, such as contacts and photos, safe with Smart Switch Mobile?
With Smart Switch Mobile, your personal data is always safe. All the data sent to iCloud's backup server will be encrypted and will not be exposed to any other devices.
Smart Switch Mobile asked for my Apple ID and password. Is that safe?
Security and privacy are our highest priorities. The Apple ID and password you enter will only be used for you to log into iCloud's backup server. Your password will not be stored anywhere, including your smartphone.
Why can't I play videos transferred from an iOS device?
Videos recorded using iOS devices, or attached via MMS or Notes, are .mov files which are not supported by Samsung's default video player. To watch these videos, you need to download a video player app that supports .mov files from the Google Play Store.
Why can't I transfer My Knox and Secure Folder data using Smart Switch Mobile?
My Knox and Secure Folder data cannot be transferred due to security reasons.
Not finding what you're looking for? We're here to help.
Call

* For any printer related enquiries please visit the HP website .
Contact Us