Can I Connect My Audio Dock Using JukeBlox?
Last Update Date :
Apr 09. 2018
Connecting My Audio Dock Using JukeBlox
JukeBlox™ is a connectivity platform used to connect tablets, Smart phones, PC's, Mac's, and many other consumer electronics to audio devices such as A/V receivers, audio docks, and wireless speakers.
In simple terms, the audio dock will use your Wi-Fi device as a screen to access your wireless network.
You will need:


• Wireless Network Name (SSID) and Network key (password)

• A pointed object such as a paperclip

• A Wi-Fi device such as a Smart Phone, Tab, or PC.


Follow the steps below to connect existing wireless network:
1.Press the Function button (F) on the remote or front panel of the audio dock until either the AirPlay or AllShare Play icon is selected.

2. Next look on the back of the audio dock. Use a
paperclip
(or other pointed object) to press the groove in under the
WPS/Reset
button for more than 5 seconds. The LED will turn white and blink once, and then blinkn twice.
Release the button when the white LED blinks twice.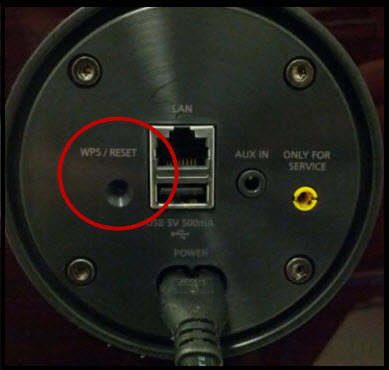 3. The LED will then blink red for 5-10 seconds. When the LED turns a solid red proceed to step 4 below.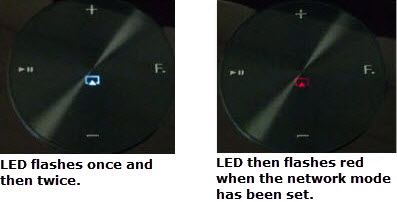 4. Now on your
Smart Phone
(or other WiFi device) go to the
Settings
menu and access the
Wi-Fi settings
. Search for available wireless networks (just like you would if you were connecting your phone to a wireless network) and then select the 'Samsung W_Audio E670', depending on your model this may read 'Samsung W_Audio E750'. The last three digits vary based on model number. The image below is for the Samsung Galaxy Nexus, your Wi-Fi device may differ.
• If you are repeating this step and you have previously connected to the Samsung audio dock, select it and touch 'forget device' on your phone, you will be required to select and establish a connection again.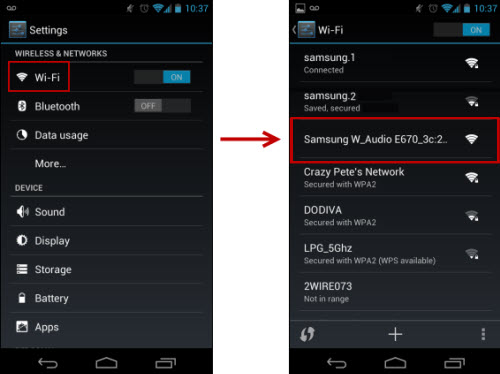 5. On your Smart Phone open up the
Web browser
and then type
'http://192.168.1.1'
into the
address bar
of the web browser and press
Enter.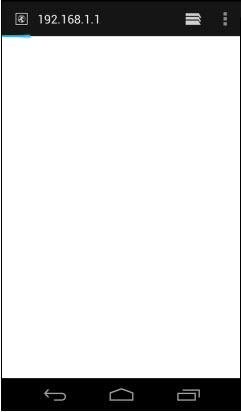 6.
Select
your
Network
name (SSID) from the network configuration tab and then
Enter
the
network key
(password) and touch
Apply
. A warning appears, touch
OK
.
• The phone then disconnects from the audio dock and allows the dock to connect to your network. The browser page on your Smart phone (or other Wi-Fi device) will display an error since the phone is no longer connected to the dock. This is normal.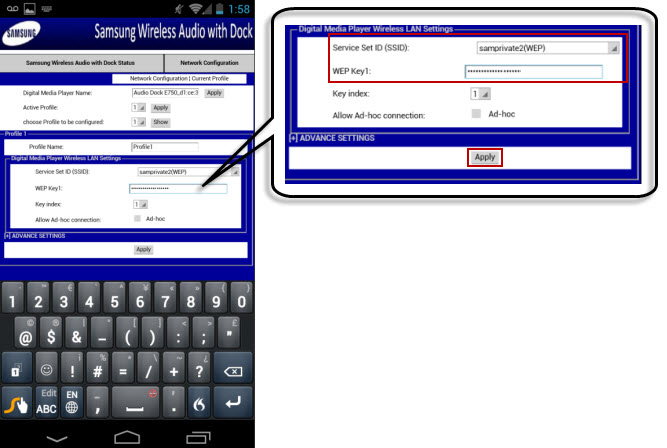 7.The LED will then flash red for about 15-30 seconds and then turn solid white when a connection has been established.
• If the connection fails, verify you are entering the correct key in step 6.
• If you are unable to find your network, verify your router is set to broadcast it's SSID (network name).
NOTES:
• The wireless audio dock supports the following security protocols:
WEP__>Open. WPA-PSK __>TKIP. WPA2-PSK__>AES.
• If your wireless router supports DHCP, this wireless audio dock can use a DHCP or static IP address to connect to the wireless network.
• If you select the Pure High-throughput (Greenfield) 802.11n mode and set the encryption type on your router to ERP or TKIP, the wireless audio dock will not support a connection in compliance with the new Wi-Fi certification specifications.
Not finding what you're looking for? We're here to help.
Call

1-800-726-78641-800-SAMSUNG
Mon - Sun : 8:30 AM -12 AM (EST)
7 days a week, 365 days a year
* For any printer related enquiries please visit the HP website .
Contact Us