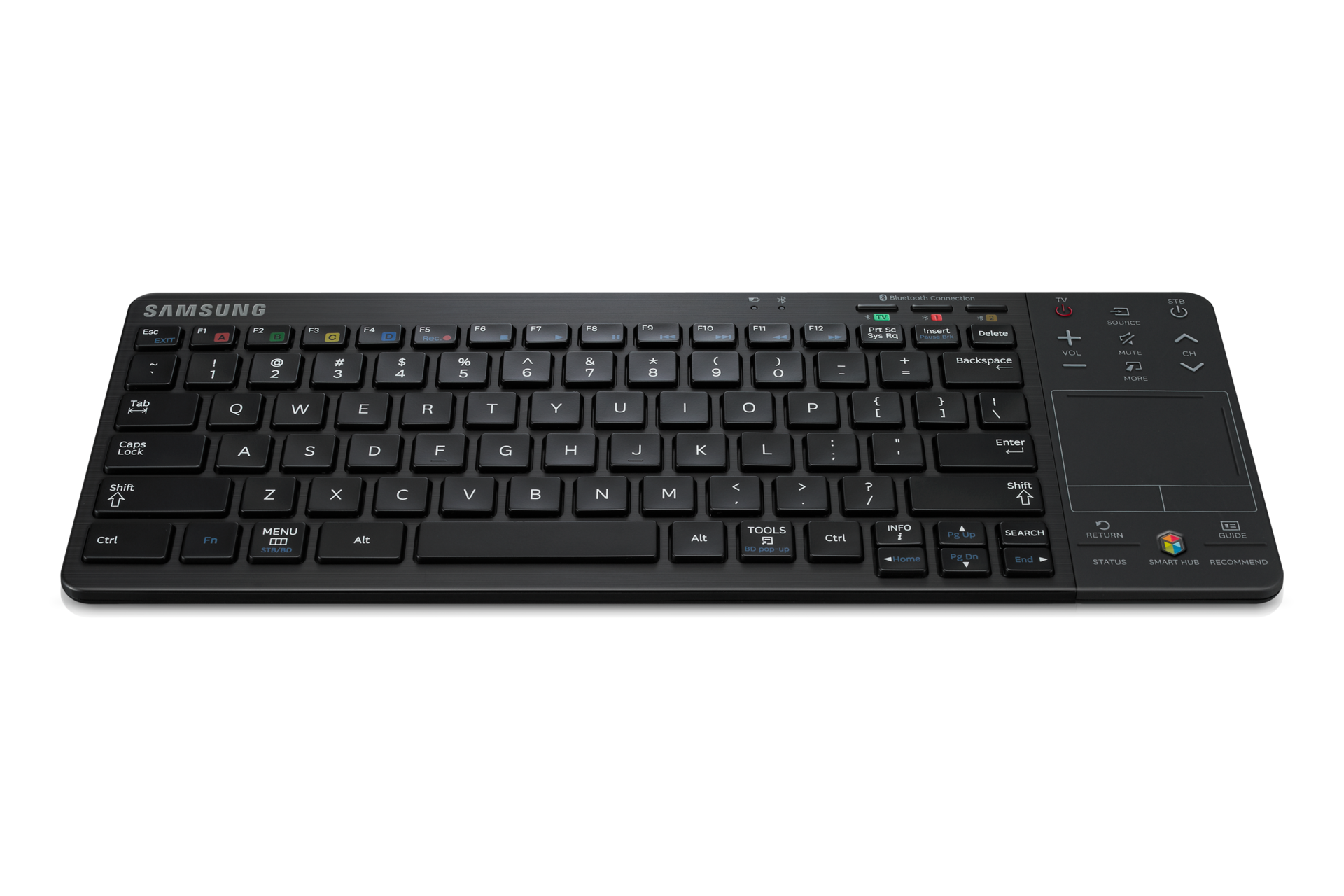 Smart TV Keyboard
VG-KBD2000/ZC
Smart TV Keyboard
is rated out of
5
by
13
.
Optimised wireless solutions for Smart TV
This sleek and Smart Wireless Keyboard is the ultimate solution for your Samsung Smart TV. Use the multi-touch pad function to navigate, zoom in and out and scroll with hand swipes, without any need for a mouse. It also makes using the Smart Hub Panel easy and enjoyable. The keyboard gives access to easy access to browse and navigate through whatever you want, making life enjoyable and simple.
Control multiple devices easily with keyboard
Control your Smart TV and other Samsung Smart devices with the sleek and stylish multiple device control Smart Wireless Keyboard. Its multi-pairing functionality comes with hotkey access, which with just one click lets you pair devices, instead of doing it multiple times. It also lets you change channels and adjust the volume easily. With its aesthetic features and keys, this versatile and attractive keyboard makes using your Smart devices even more enjoyable and effortless.
Enjoy a wireless and user-friendly keyboard
Enhance your Smart TV experience with the Smart Wireless Keyboard. Accessing the internet with Smart Hub has never been easier. You can write social network messages and emails or enter web addresses quickly, easily and comfortably. Bluetooth 2.1 connectivity lets you get connected with no hassle and type from wherever you want, whether you need to be at your desk or relaxing on the sofa. Free yourself from cables with wireless typing.
Rated

5

out of

5
by
Murway
from
Love This Keyboard for Smart TV
This keyboard was the answer to internet browsing etc., on my SmartTV It was so easy to pair with the TV and perfectly compatible. If you have a Samsung SmartTV, you definitely need this keyboard and you won't be disappointed!
Date published: 2013-12-12
Rated

4

out of

5
by
tamerisk
from
VG-KBD2000 Wireless Keyboard
I like it because it easy-to-use and full-size keyboard without bothering with any wires
Date published: 2013-12-11
Rated

1

out of

5
by
ToddC
from
Ridiculously difficult to get a working Keyboard.
I bought a new Samsung UHD TV. Absolutely love the TV itself - picture is stunning, price & value are excellent. But.. when I go to add a keyboard, the Samsung Keyboard is $179 CAD$... for a simple wireless keyboard? So, instead I buy a $25 Logitech keyboard and find that it works fine in some applications, but not in others, such as the YouTube app. I report this (that it works well in some apps and not in others) and I'm told that only the Samsung Brand keyboard is guaranteed compatibility. That seems strange to me... the Logitech and Microsoft Keyboards I tried have a USB dongle, so why would the TV know or care if it was wired or wireless? Anyway - I guess I'll go ahead and spend nearly 1/3 of the cost of the TV on a Samsung Brand Keyboard.. and guess what? It's the worst of the bunch. When it's recognized at all, it's then so slow for operation that it's almost non-functional. The mouse/pad operation especially... I'd be better to put it down, pick up the included remote, and tap the arrow keys to get the pointer to eventually get where it's going. I went to try it on my downstairs 50" Samsung, but it apparently only works on a small subset of Samsung TV's and it's not recognized at all. At least the LogiTech and Microsoft keyboards work great in the applications they work in.. and then not at all in other apps. The Samsung keyboard kinda/maybe/sorta doesn't work well enough in anything, certainly not for 8 times the money of the Logitech. So - literally WEEKS of screwing around and a pile of Wireless Keyboards later, I'm still screwing around with this. Ridiculously difficult to get a working solution. I (incorrectly) assumed I'd be able to add a Keyboard to my Smart TV and be able to type into applications which accept key'd input... but apparently that's a tough thing to figure out for Samsung. Color me disappointed... Again - the TV is awesome, as is my Samsung S7 Edge Phone, as is my Samsung kitchen appliances. I'm just glad I didn't have to buy a Samsung Keyboard for my Fridge... ;)
Date published: 2018-12-18
Rated

1

out of

5
by
Stonepath
from
The mousepad is awful!
I bought this keyboard because I thought it would make using our SmartTV easier, but it hasn't worked out that way. The mousepad is awful! It is almost like it has a mind of its own--slow, unresponsive, erratic, and totally frustrating. Usually I wind up shutting off the TV and using my computer. A total waste of money.
Date published: 2014-03-24
Rated

1

out of

5
by
ruchflat
from
Product is useless for real use with Smart TV applications
We have a UN46ES6500 (North America region) Smart TV and use few applications: YouTube, Netflix, Amazon Videos etc. very frequently. Having a full keyboard (like this one) to use with these applications will be awesome and extremely useful (think: searching for videos). But this *none* of these applications work with this keyboard (the manual for this keyboard says that ES6500 is compatible). Searching on the internet reveals that lot of these applications need to be updated to support external keyboard. But Samsung has not taken any time attempting to upgrade these apps to allow external keyboard (like this one) to work, rending this keyboard useless for any practical use on the Smart TV. I am amazed how can Samsung deliver such a bad product to market without appropriate testing. I would not recommend any one to buy this keyboard and go thru the hassle of attempting to get it working with these apps (it wont). Hopefully someone in Samsung looks at this report and upgrades either the Smart TV software (if thats required) and/or updates these applications to work with this keyboard. And make this product really useful and a worthy buy. Thanks!
Date published: 2013-06-17
Rated

1

out of

5
by
SheWolf
from
Product does not work with Apps on the Samsung Smart TV
I bought the keyboard to make it easier to find shows that I want to watch on Hula Plus so I would not have to enter the information one letter at a time using the remote. Well after I bought the keyboard I find it's useless with these apps. What a waste of money!
Date published: 2013-07-04
Rated

1

out of

5
by
OlSarge
from
It just doesn't work. Useless.
I just bought a new Samsung F8000 series TV, a Samsung 5.1 HTIB system, and also purchased this keyboard to go with Them. I upgraded to the latest version of software (July 2013 release). This keyboard is useless. The mouse on it is even more useless. The TV is slow to respond to the keyboard - if it responds at all. I have to slowly type each character. The TV rarely, if ever, responds to the swipes on the mouse pad. The cursor just stops being responsive. I am a principal product manager for one of the world's largest software companies. There is NO WAY I would ever let a product that performs as bad as this keyboard out the door. Where is your QA at? Did you test this before it was released? I am a Samsung fab. The TV is great! The HTIB is pretty good. But this keyboard is awful.
Date published: 2013-07-21
Rated

1

out of

5
by
Dissapointed Customer
from
Unusable track pad
For a Smart TV, it is all quite dumb. The keyboard works well, but the vast majority of apps do not recognize the keyboard so it becomes useless. Worse still is the track pad. It requires multiple swipes of the finger to move across the screen. No hint of any accuracy at all. Another negative, while Samsung allows you to register its products, there is no registration for their keyboards, and now I know why. While a great company, Samsung should learn what their competitors are doing and offer us the same.
Date published: 2014-03-29
* Key feature may different from Key Spec