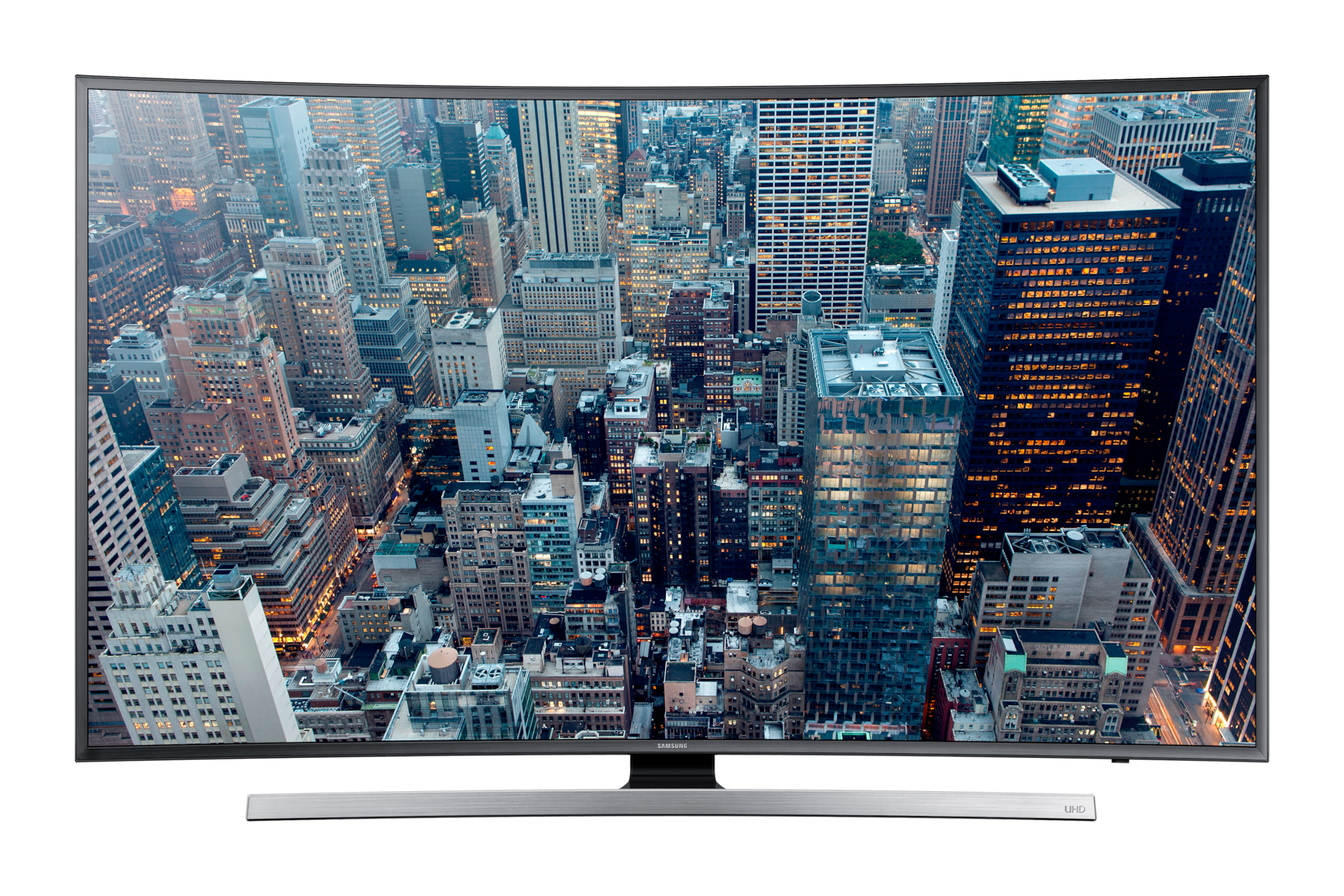 78" UHD 4K Curved Smart TV JU7500 Series 7
UN78JU7500FXZC
BUNDLE
UHD 4K
Series 7
Surround your senses and be part of the action
Samsung's revolutionary Curved TV takes you into the new world of immersive viewing and makes you feel as though you are right in the middle of the action. The screen is curved at the right angle to provide the best viewing distance for your living room. Also, the gently curved screen gives you uniform and balanced viewing from all areas of the screen. See the finest picture quality, depth and detail a screen has to offer.
Auto Depth Enhancer
Flat images come to life for a surreal viewing experience with Samsung's Auto Depth Enhancer. Your Samsung Curved TV will give you a greater feeling of depth by applying different levels of contrast enhancement to different areas and objects of the screen, making your entertainment more immersive and enjoyable. Cinematic shots of deep majestic valleys or mountain tops with sweeping panoramas seem even more breathtaking. You truly have to see it to believe it.
Experience more accurate and natural colours
Samsung developed a special colour technology for our Curved UHD TV called PurColour, which expresses a wider range of colours and shades that are as close to real life as it gets, bringing you closer to what nature intended. With all the 8 million pixels that come with a UHD display—four times more than a Full HD display—you need more colour adjustment points to create detailed images. Conventional UHD TVs have about 27 colour adjustment points, but PurColour dramatically increases that by more than 7 times, resulting in colours and shades that are much richer and more refined.
Precision Black
Precision Black technology enhances contrast by optimizing light emission, making everything you see more vivid and dramatic. With a PQI 2x that of conventional Samsung models, you get deeper black and purer white shades with more definition.
See amazing brightness in the darkest scenes
Peak Illuminator heightens luminosity by boosting the LED backlights in bright areas of the screen. So when light appears in dark areas, like streetlights illuminating a cityscape, the moment is even more enchanting.
Superbly minimal yet powerfully attractive
Imagine a TV with the power to transform your space. Now imagine a TV designed to subtly yet powerfully draw your vision into the action on the screen. Both effects are courtesy of a unique dark silver bezel with an inwardly sloped chamfer. The contrasting lines supply a beautifully minimalist touch, while the inwardly cut chamfered bezel provides the depth needed to intensify the immersive viewing experience. A U-beam stand elevates the sense of immersion further, while adding a distinct touch of class
4 times the Full HD resolution
Ultra HD viewing means you can see every intricate detail on the screen clearer than ever. Your Samsung UHD TV offers a resolution four times higher than Full HD, with accurate true-to-life colour. Enjoy a picture that's optimised for even greater clarity and detail than you've ever seen before.
Your TV and mobile devices in perfect sync
Samsung Easy Sharing makes it easy to share content between your TV and mobile effortlessly. Whether it's a fun video on your smartphone you want to share with family, or that must-see TV show you were watching on the way home that just has to get on the big screen so you can free your hands. Samsung Smart TV picks up the signal when your device is close and seamlessly plays the content in the optimal resolution for the big screen. It works the other way around, too, letting you go mobile right away so you can freely move about your house while viewing your favourite content on your device. Perfectly seamless and perfectly in sync.
*Function compatibility limited to certain television models and mobile devices. Please speak to a sales representative for details.
Get your TV to brief you every morning
Do you reach for your smartphone every morning to check the time and your schedule, and then turn your TV on to check the weather and news? Now, you can start the day with a personalized daily brief on your Samsung TV that takes care of all of them, on a big screen. Working in sync with the alarm set on your smartphone, your Samsung TV will automatically turn on and give you all the information you need to get your day started fresh. Meeting? Umbrella? Anniversary? Check, check and check.
Content that suits your lifestyle
Samsung Smart TVs are designed to give you what you really want and match your lifestyle, with smart apps that make life at home more fun and full of great experiences. Chefs will love the food app, while sports fans will cheer the dynamic new sport app. It also has a fitness app for those who want to stay in shape, an art education app that's great for kids, and a next-level gaming app that gamers will rave about, with a wide range of titles to choose from and easy pairing with your mobile or wearable as a controller. This is just the beginning of the amazing customized contents and services you can expect.
*Requires Internet access. May not be available in all languages and areas. **Screen image seen here is a representation only. Actual user interface may differ. ***Content, TV services and capabilities pictured may not be available in all regions and territories.
Creates deeper blacks, purer whites, and enhanced colour and detail in every image
Creates deeper blacks, purer whites, and enhanced colour and detail in every image Samsung raises the bar even higher with a special technology called UHD Dimming. UHD's higher resolution also means that the picture needs more processing for reproducing all the details. For that, this amazing picture technology separates the screen into sections and then calculates all the precise contrast, colour, and detail levels needed for each part to perfect the image overall. That's why Samsung UHD dimming technology has been developed to process black and white as optimally as possible and produce colours that are far more vivid.
UHD upscaling enhances the quality of all of your viewing
Thanks to the Samsung UHD Picture Engine, you can enjoy various kinds of content with near UHD-level picture quality, even if it's not from a UHD source. Samsung's innovative 4-step Super Resolution Scaling technology enhances broadcast TV shows and movies as well as video on demand and more. That means not only does it process UHD sources at crisp 4K resolution, it even converts lower-resolution content to a level of clarity that's almost like Ultra High Definition.
Tons of sensational games to keep you at the edge of your seat
Samsung Smart TV takes gaming to the next level with a much wider selection of sensational, dynamic games and support for all your devices. From family-friendly to racing and even action packed shooters, you can now enjoy titles that cater to all your gaming tastes. Gaming on the big screen is more fun than ever with support for multiple devices, including game pads, mobile apps and even wearables. You can also explore spotlighted game content right from the games service menu. Game on.
Instantly switch back and play right from where you left off
What's the point of having all those apps and features on a smart TV if they are hard to use? With Samsung Smart TVs, switching between various kinds of content is now as easy as changing your TV channel. Instantly and seamlessly switch to live TV while watching a video online, and the other way around. And when you return to your video, Samsung Smart TV remembers your activity and picks up and plays your video from right where you left off. It's time to enjoy a truly smart home entertainment experience.
Powerful Quad Core processor for faster performance
Thanks to a powerful Quad Core processor, your Samsung Smart TV offers enhanced performance. You'll notice the difference straight away, with faster multitasking and switching between content and web browsing, as well as smoother interaction. With this extra power, your entertainment experience will be so much more enjoyable, with less waiting and more viewing.
Get easy access to Netflix with built-in support
Every Samsung TV comes with quick and easy access to Netflix. In fact, it's right there on the very first screen you see. Whether you're a movie buff or addicted to TV shows, there's plenty of entertainment on Netflix for everyone. Explore one of the largest online video libraries in the world, and stream your favourite TV shows and blockbuster movies on demand, right on your new Samsung TV. It's just a click away.
Motion Rate minimizes motion blur
Samsung is introducing Motion Rate, a new measurement that takes into account the importance of video processing, panel speed and backlight technology. Thanks to Samsung's Motion Rate (MR), even fast moving scenes are delivered with clarity. Experience remarkable picture clarity with any Samsung TV that highlights the Motion Rate value (MR240, MR120 , MR60A). The higher Motion Rate means clearer viewing and less motion blur, so you can enjoy action films, sports and other entertainment at their very best.
Immersive realism with Samsung Full HD 3D technology
Prepare to see entertainment in a whole new way. Samsung's sophisticated Full HD 3D technology means you can even enjoy 3D movies and TV shows at stunning Full HD resolution. It also enhances your 3D picture quality and cuts out ghost images to give you clearer and more immersive viewing. With such a high level of realism, you've never experience 3D like this before.
Watch movies from your USB
With ConnectShare Movie, simply plug your USB memory drive or HDD into the TV and instantaneously enjoy movies, photos or music. Now, you can experience a wide variety of content in the comfort of your living room on your TV.
3840 x 2160

Resolution

4200 R

Screen Curvature

7

Series

PurColor

PurColor

4

HDMI

3

USB
* Key feature may different from Key Spec
* This feature is based on current UHD connectivity, broadcasting standards and Blu-ray standardization initiatives. These standards are subject to change which may require the purchase of a replacement UHD Evolution Kit to remain current.

** Some restrictions may apply. UHD Evolution Kit sold separately. UHD Evolution Kit improvement levels are limited to year of launch and application availability. Actual performance may vary and is subject to model specifications and hardware limitations. UHD Evolution Kit may not support certain applications, TV resolutions and functions previously installed or available on your TV. Availability of UHD Evolution Kit for your specific model is not guaranteed. Please check www.samsung.com for more details before installing Evolution Kit.