See the picture, not the TV
Our design philosophy is to keep distractions hidden for you to see only pictures. So we got rid of the common things that distract us most such as messy cables and even Black screen will no more distraction to your home.
Freedom of space, freedom of pure enjoyment.

One is more
than
enough
One Invisible Connection
One invisible connection is all you need.

Now, with all those messy cables even
including power cable, all merged into one
and out of sight, the TV blends
perfectly with your space?
Best of all,
you also have the space you need to
design your room the way you want.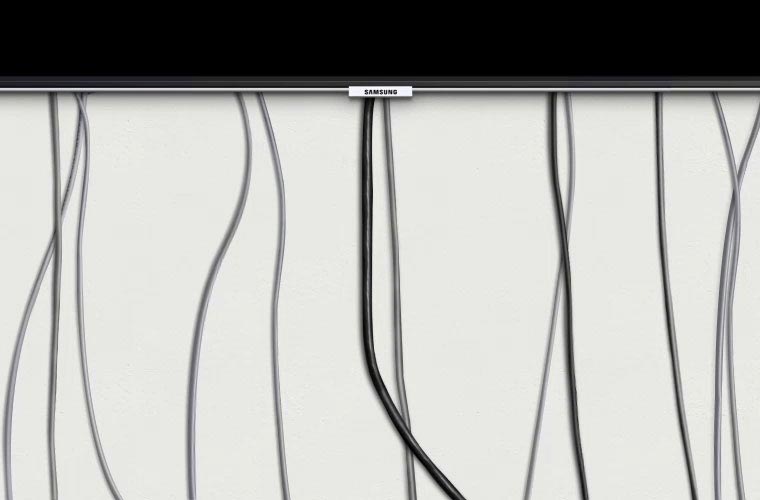 Finally!

Your space
is free
One Connect
Now a range of devices can be connected
in one place. The One Connect Box
gathers all your connections, and the One
Invisible Connection responds to your remote
control. Hide the One Connect Box off to the
side and design your space how you like it.
Signal
Receiver
Infographics for Integrated and Signal Receiver feature of One Invisible Cable.
No more
black screen
Ambient Mode
With our new Ambient Mode, you can
elevate your living room with decorative
content,
useful information, and your own photos.
You won't notice the TV on the wall as it blends
perfectly with your decor,
and it can
even play a bit of light background music.

Décor
Give your living room a splash of colour.
Apply an interactive background
that harmonizes perfectly with your
environment with Ambient Mode.

Info
Get the daily information such as the weather,
outdoor temperature, and major headlines with
an interactive background giving
QLED a translucent effect.

Photo
Relive all your memories.
Turn your living room into a personal gallery
by displaying photos from your mobile
and Samsung Cloud.
Music
Enjoy background music in every day life.
Simply play the music with voice command
or from your smart phone connected via BT*.
*Service specifications vary by region
So close,
it's barely there
No Gap Wall-Mount
With our specially designed wall mount, your QLED TV fits naturally into your living room design and leaves nothing to distract you from the amazing picture quality on screen.

Installation simplified
It's never been easier to mount your TV on the wall by yourself. Attach. Hang. Adjust.
Allez au plus profond de chaque scène
Design à 360° sans bordures
Avec son design à 360° sans bordures épuré et innovant, le téléviseur QLED élimine tout ce qui pourrait diminuer votre plaisir télévisuel. Évoquant le minimalisme sous tous ses angles, elle aspire votre regard dans des expériences cinématiques incroyablement immersives.

More choice for your space
The One Mount solution makes it easy to hang your TV or change it to the stand that fits your room the best.
There are various stands to choose from, including the Tower Stand and the Studio Stand.
No Gap
Wall-Mount
Avec notre support mural spécialement conçu, votre QLED TV s'accorde naturellement au style de votre séjour. Il ne reste plus rien qui puisse vous distraire de l'incroyable qualité de l'image sur l'écran.
Pied Gravity
Le design moderne du pied Gravity possède d'autres fonctions que celle de simplement soutenir votre TV. C'est une toute nouvelle façon de rehausser votre espace. (127)
Pied Studio
Pensez autrement. Placez votre TV où bon vous semble. Le pied Studio transforme votre TV en une œuvre d'art où que vous la placiez.
* Le concept « One Invisible Connection » se réfère à un câble optique unique et transparent connecté au boîtier One Connect qui intègre les fils d'accessoires externes, mais ne concerne pas le fil d'alimentation de la TV ni les autres fils connectés à d'autres accessoires tels que la barre de son.
* Les accessoires doivent être connectés au boîtier One Connect via un fil HDMI.
* Support mural ultrafin : mesuré depuis la face arrière de la TV, l'écart peut varier selon le type de mur et de montage.
* Le support sans jour et les pieds Studio et Gravity sont vendus séparément.
* Les pieds Studio et Gravity sont compatibles avec les téléviseurs QLED de 55/65 pouces.
* Les images sont simulées et fournies uniquement à titre indicatif. L'apparence et les caractéristiques de design qui n'affectent pas la performance du produit sont susceptibles de changer sans préavis.
* Veuillez vous référer à la page de caractéristiques techniques du produit pour chaque modèle.