Enterprise Wireless LAN
Enterprise Wireless LAN Solutions
Designed with mobility in mind, Samsung Enterprise Wireless LAN delivers security, quality and a seamless voice and data experience.
Samsung Wireless LAN is an enterprise grade solution, developed from the ground up to address the needs of the new mobile generation. Offering best-in-class performance, ease of installation and network management.
With the increasing popularity of mobile devices in the enterprise, such as smartphones and tablets, demands on the WLAN are growing more complex due to the number of separate devices competing for service on the move. The Samsung WLAN solution uses the industry standard IEEE802.11 a, b, g, n and ac whilst incorporating technology adopted from the recent Samsung investment in LTE, to address the specific needs of voice and video without impacting data throughput. Seamless automatic handover when moving between Access Points (APs) removes the burden on devices and risk of disruption, while the application of Crystal HD Voice ensures the best possible speech quality and wireless service regardless of the type or number of devices in use.
Intelligent Beam Selectable Antenna (IBSA)
Samsung APs has a total of 15 antennas. Three antennas are used for monitoring, and the remaining 12 provide optimized RF patterns, selecting a beam for each environment. As a result, dead zones are minimized, service coverage is extended, and the receiving sensitivity is 2dB higher than competitors. This means that the antenna can accurately receive signal from a mobile device with weak Tx power even from long distances.
AirMove
In legacy Wi-Fi handover, a device scans for other APs and connects to the appropriate AP when the AP signal detected by the device is below a certain threshold. This technology basically requires a long scan time and degrades service quality. Samsung AirMove uses LTE Handover technology that allows the AP controller to determine the best timing and target AP for the handover. This way, users enjoy seamless service during voice calls and video, and a greater throughput that is double than what legacy Wi-Fi handover guarantees.
AirEqualizer
Samsung's Traffic Schedule technology ensures the most optimized Wi-Fi service by allocating equal airtime to multiple devices. Ideally suited for environments such as classrooms and lecture halls, this technology guarantees airtime fairness where multiple users need to simultaneously connect to the network. It also allows seamless service even in an environment with multiple devices with different traffic types, without compromising service quality. In addition, it can maximize the AP's total cell throughput by more than 50% over competitor products, providing the best performance that adapts to the Wi-Fi connection specifications (11 a/b/g/n/ac) and signal intensity characteristics.
Self-Organizing Network (SON)
By adding LTE technology to the existing Tx power and channel optimization technology through wireless resource management, cell configuration and coverage are automatically optimized to suit specific network requirements. This allows a high level of quality management during operations, dramatically shortening design schedule as well as reducing design cost.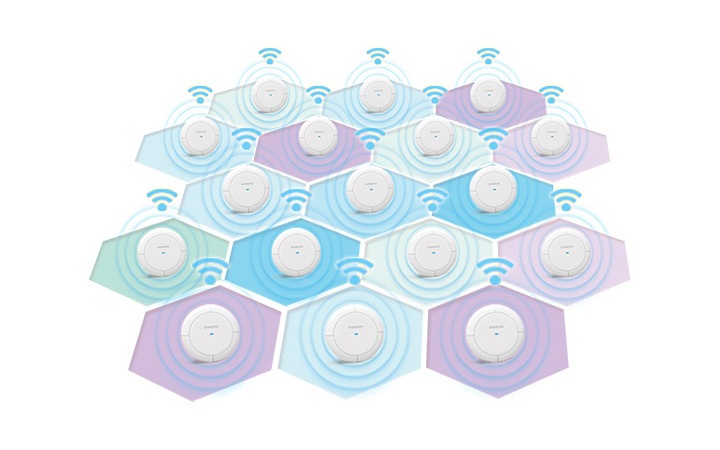 Voice Aware Traffic Scheduling (VaTS)
VaTS, a Samsung's patented technology, efficiently sends voice frames to multiple devices using mobile communication traffic scheduling technology. This means that there is no voice quality degradation due to an increase of devices in concurrent calls. This technology enhances the concurrent call.
Dedicated Security Monitoring Module
Samsung access points combine the advantages of the overlay and time slice split configurations and implements a dedicated security RF monitoring chip embedded independently of the RF service chip for continuous real-time monitoring of data service. This maximizes the RF sensing performance of the infrastructure and reduces the need of additional security equipment.