Solutions
Cloud & NFV (AdaptiV)
Accompanying operators in their journey to build the network of 2020
Mobile operators face a range of challenges including explosive demand for data and new sources of competition that pressure their revenue and profitability. At the same time, the telecom ecosystem constantly reinvents itself with the introduction of new technologies and innovations. In order to keep pace and remain competitive while keeping costs manageable, operators have to transform their network in depth.
The growing importance of software and the increasingly popular concept of virtualization are changing the whole industry paradigm, introducing challenges but also huge opportunities to operators.
Introducing AdaptiV
Virtualization is the promise of more flexibility, improved efficiency and significant cost reduction without making sacrifices in the areas of performance and quality of end-user experience.

After careful consideration of each component of an operator's network and suitability for virtualization, our engineers can advise an operator's network team to define an appropriate strategy, ensure feasibility and determine the best course of action.

Samsung's network virtualization solutions are built on the AdaptiV platform, which runs a powerful and flexible KVM-based hypervisor on top of hardware custom-tuned by Samsung to provide maximum performance and efficiency to operators. Optionally, AdaptiV can be run on general-purpose, Commercial Off-the-Shelf (COTS) hardware to ensure maximum compatibility where needed. AdaptiV solutions are also supported by Samsung's CognitiV Cloud Manager system for flexible and scalable management of processing, storage and network resources.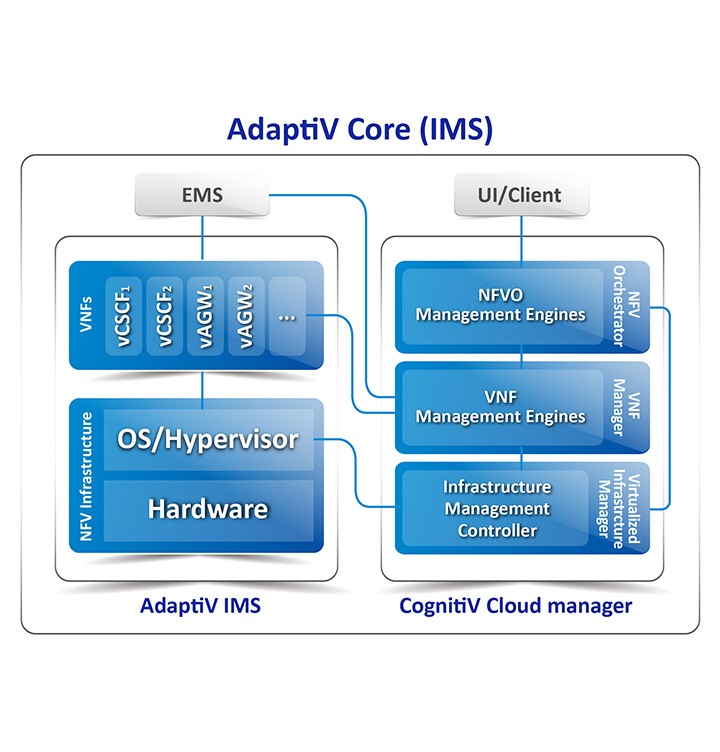 Gain in Scalability, Simplicity and Agility
Data traffic is not always predictable. Users travel different routes, popular content changes daily and events that draw crowds of thousands have an enormous impact on where and when peak demand occurs. The ability to scale capacity and functionality up or down easily, without the addition or removal of physical hardware and without service disruption, becomes possible with AdaptiV's Network Functions Virtualization. It is now possible to dynamically and easily allocate incremental capacity to cope with temporary peaks of traffic, or shut down unneeded resources at night to save on electricity and maintenance.

In AdaptiV's virtualized environment, new applications and services can be tested, deployed or upgraded quickly, with virtually no impact to network service. Time-to-market is reduced and first movers enjoy a considerable advantage over their competitors. Services can also be targeted to specific geographies or customers. The network becomes truly agile.
Reduce Costs
AdaptiV's virtualization of network functions allows a higher utilization rate of the elements in an operator's network. Large upgrade projects and localized over-provisioning, both common practices in the past, are now replaced by a pay-as-you-grow model where incremental additions become both viable and conducive to healthy long-term network growth.

Automation and a higher utilization rate also generate significant savings in labour for operations and maintenance, electricity and real estate. As networks grow and new functionality is added, these saving compound upon themselves.

Making the most of network resources and increasing their efficiency will lead to considerable reductions in capital and operational expenditures. Ultimately, operators enjoy a better return on infrastructure investments.
Open and Future-Ready
We have developed the key elements of our AdaptiV virtualization portfolio in collaboration with recognized industry partners with the objective of making operators' networks more efficient, more flexible and more open.

Samsung AdaptiV virtualization solution includes the CognitiV Cloud Manager System and begins the network virtualization transition with an emphasis on the Core Network: with the AdaptiV vEPC and AdaptiV vIMS operators can transition LTE core networks to a virtualized architecture at a flexible pace.

Samsung believes in an open world and the hypervisor and management stack we have developed are based on open-source solutions and optimized for maximum performance in demanding mobile network environments. Our systems are designed to be integrated with existing operations and with other vendors' open-source solutions to ensure maximum deployment and operational flexibility.