Resource Efficiency
Conserve, use longer, and reuse
Since the Industrial Revolution, economic growth accompanied the reckless excavation and exploitation of natural resources. Experts have warned of the environmental problems from such excavation and future resource depletion. Samsung Electronics is aware of these warnings and implementing a wide range of response measures.
In the process of product development and manufacturing, we efficiently use resources by technology innovation and find ways for inevitable waste and end-of-life products to use again. We will keep effort in making better products with fewer resources and to convert e-waste into usable resources.
Resource Efficiency KPI
We aim for a circular economy in which resources are continuously reused
To protect an environment in crisis and use resources more efficiently, Samsung Electronics is engaged in efforts to focus on a circular economy. Going beyond the conventional practice of using resources once and discarding them, Samsung is working to ensure that resources can be reused by recovering, reusing and recycling after the product's lifespan. By minimizing the type of materials used and optimizing the assembly method, we have developed production methods that minimize the use of resources. By collecting products that have reached the end of their life span we recover valuable materials. Through this circular economy, Samsung is lowering the amount of natural resources required for production, reducing greenhouse gas and pollutants from the incineration of waste, and preventing soil and underground water contamination caused by landfills.

Above all, the best way to conserve resources is by making quality, long-lasting products. By strengthening the durability of our products before release through a series of strict reliability tests and by providing convenient repair services through its global service locations, including continuous software updates, Samsung is expanding the lifespan of our products to further contribute to the circular economy and conserving resources.
Circular economy structure adopted by Samsung Electronics
We breathe new life into end-of-life products
Establishing a circular economy system is an essential and fundamental factor in minimizing waste and using resources efficiently.
Therefore, Samsung Electronics globally operates the Re+ Program, e-waste collection program. End-of-life products are collected through our service centers or recycling cooperatives, and the collected e-waste are recycled using an environmentally friendly method and reused as useful resources. We were able to collect a total of 4.03 million tons of waste products between 2009 and 2019.
Once a resource is used, it is recovered, recycled and reused.
Samsung Electronics is moving away from the previous resource consuming structure, where resources were disposed after a single use, and pursuing various activities that consider closed-loop recycling, which recovers, recycles, and then reuses used resources. As part of our effort to establish a resource recycling social structure, we first analyze the composition of our major products and re-analyze from different angles the impact that each substance has on supply chain safety, the environment, society, and the economy
One of the representative cases of Samsung's recycling efforts is the Asan Recycling Centre, which is established and operated by Samsung. All major metal and plastic that comes out of the recycling centre are re-used to make electronics. Since it was established in 1998, The Asan Recycling Centre has been recycling waste electronics. In 2019 alone, it has processed 338,000 units of refrigerators, washing machines, air conditioners, and IT devices, separating 24,524 tons of major metals (steel, copper, aluminium, etc.) and plastic to be recycled. The plastic from waste electronics, sorted at the Asan Recycling Centre, are supplied to plastic manufacturers who reformulate them for reuse. Using a jointly-developed technology, Asan Recycling Centre has established a closed-loop recycling system that makes it possible to use the renewed plastic in Samsung products. The 1,882 tons of renewed plastic produced through this closed-loop recycling system in 2019 were used in Samsung refrigerators, air conditioners and washing machines. And when you consider the renewed plastic acquired from other channels, approximately 30,753 tons were used in making appliances, TVs, monitors and mobile phone chargers. Copper is separated from major components (wires, compressors, etc.), recycled and used to make other electronics. Another example is cobalt, which is one of the major resources used in mobile phone batteries.
We promote zero waste to landfill and Resource recirculation
According to the goal of vitalizing the resource circulation system, Samsung Electronics is working on the development of waste processing technologies and expansion of waste separation in order to ensure that zero waste goes to landfill. In 2019, we increased the level of recycling by recycling copper using the technology for producing crude copper (97% copper) with copper extracted from waste sludge and by separately discarding waste synthetic resin, which used to be incinerated. In recognition of such efforts, the Hwaseong worksite was granted the "Presidential Citation at Leading Companies in Resource recirculation" in September, 2019 by the Korean Ministry of Environment. Furthermore, we are currently working on earning the "Zero Waste to Landfill" certification for worksites in Korea and the efforts will soon be expanded to worksites outside of Korea.
We have replaced single-use plastic packaging materials with eco-friendly materials.
Since establishing environmentally conscious packaging materials policy in 2018, Samsung Electronics has replaced single-use plastic packaging materials with eco-friendly materials such as paper and bioplastic materials and plans to replace 100% of the paper used in our packages and manuals with the paper that obtained the sustainable forest certification by 2020. Furthermore, for our lifestyle TV products, "The Frame," "The Serif," and "The Sero," we introduced "eco-package" by applying the concept of upcycling in the packaging materials. Corrugated cardboard is usually used in TV packaging to protect the product. Samsung Electronics completely reinterpreted the value of packaging materials by developing corrugated cardboard with a dot matrix design. As a result, customers can easily break them down and reassemble them for other uses with the help of a manual demonstrating how to create various things such as pet items and small furniture.
Applications of Eco-friendly Packaging Materials
Extended product lifespan through customer services and improved durability.
Samsung Electronics strives to improve the durability of its products by conducting various tests such as strength, drop, and lifespan tests in the product development stage so that our customers can enjoy consistent performance longer. Going beyond meeting international standards, we also conduct threshold tests such as free fall tests by different angles and floor material, and waterproof tests under various conditions.
Samsung also strives to minimize parts replacement and repairs due to product failure. Furthermore, we are focusing our efforts to extend the lifespan of products by providing quick product diagnostics and fixes by repair experts. To this end, we are providing convenient product pick-up and walk-in service options for repair and are continuously expanding Samsung's authorized network of Care Repair Centers to provide more accurate and faster diagnostics and repair services.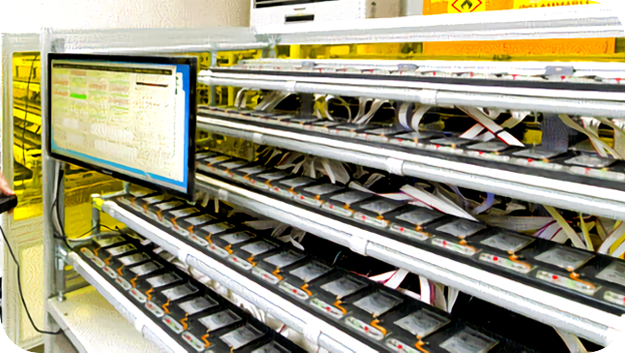 Reduce, reuse and recycle valuable water resources
For sustainable business operation, Samsung Electronics is focusing efforts on the 3R (Reduce, Reuse, Recycle) strategy for water resources based on the belief that environmental protection begins with strict management of water resources. We are trying to reuse water as much as possible through routine conservation efforts such as optimizing worksite operation, replacing decrepit facilities, and improving operational guidelines and through structural improvement efforts such as improving manufacturing processes and establishing recycling systems. As a result, in 2019 the total amount of reused water increased by 10% compared to the year before to 68,555,000 ton. In particular, the semiconductor worksite, which uses large amount of water resources, overachieved its water conservation target by modifying process control variables, changing wastewater processing method, and optimizing operation. Furthermore, the Pyeongtaek worksite, which newly installed large water facilities over the last few years, established mid- to long-term water conservation targets that reflect existing conservation targets and efficient facility operation. Samsung Electronics was granted "Water Footprint" certification by the globally accredited Carbon Trust in UK for the first time in the semiconductor industry in recognition of our sustainable water management and conservation efforts.
Our Environmentally Conscious worksites coexist with nature