External Engagement
Efforts to build a sustainable supply chain
Samsung Electronics strives to fulfill its social and ethical responsibilities as expected from various stakeholders and the international community.
Child Labor Prohibition Policy
Child Labor shall not be used in any stage of manufacturing and according to our policy, we would focus on the best interest of the child if child labour is found. Samsung Electronics and its suppliers have a zero-tolerance policy against Child Labor as prohibited by international standards and applicable local laws and regulations.
Samsung Electronics enacted the Child Labor Prohibition Policy describing our strong will to prevent child labor in partnership with The Centre for Child Rights and Corporate Social Responsibility (CCR CSR), a social enterprise established by Save the Children Sweden. Child Labor Prohibition Policy is based on the 'UN Convention on the Rights of the Child', 'UNICEF Children's Rights and Business Principles', and 'ILO Convention'.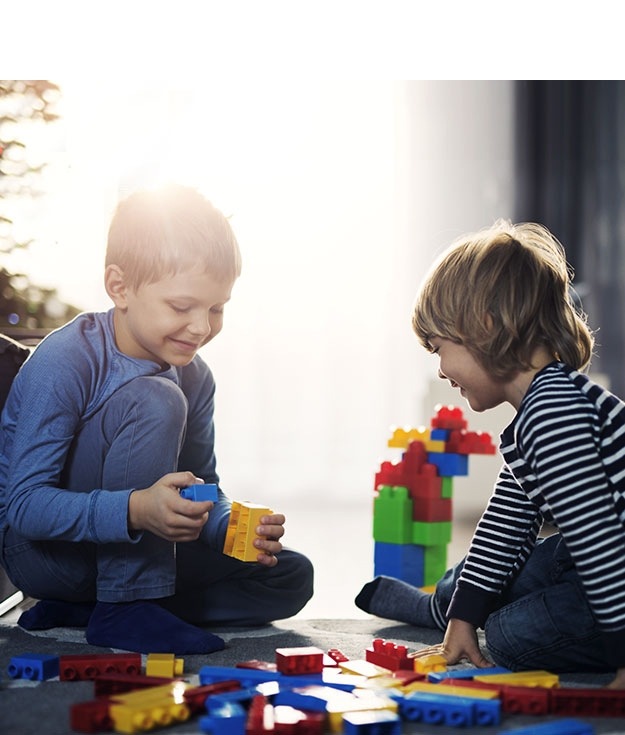 Migrant Worker Guidelines
At Samsung Electronics in Malaysia , employees from different countries such as Indonesia, Nepal, or Pakistan, etc. work together in harmony. Therefore, respect for cultural diversity and smooth communication between employees are of paramount importance.
In addition, to help and support mutual understanding between different cultures, there are various activities/events such as 'Cross-Cultural Experience', 'Great Work Place', 'Return Home Event for Migrant Workers', etc. In 2016, we have developed and published Migrant Worker Guidelines in cooperation with Business for Social Responsibility (BSR) that includes commitment to eradicate forced labor, excessive commissions for employment and any discriminatory treatment which may occur while migrant workers are working in foreign countries.
Guidelines for Apprenticeship Training
In 2016, Samsung Electronics has developed its Guidelines for Apprenticeship Training in India in association with Business for Social Responsibility (BSR) and the Indian NGO, Partners in Change (PIC) as a way to ensure transparency and compliance in Apprenticeship engagement and training.
The Guidelines include the standard for working age, minimum wage and the period of apprenticeship as stipulated in the Indian Apprentice Act 1961 and other Acts and Rules pertaining to apprentices. It also includes information on how to handle apprentice grievances, job training, and prior opportunity of employment for employees who trained as an apprentice at company's workplace. The Guidelines are strengthened by commitments to non-discrimination and other human rights. A key feature of the Guidelines is that their application is extended not only to Samsung Electronics in India, but also to its suppliers.
Grievance Resolution Guidelines
In order to protect the human rights of employees and create a positive working environment, Samsung has established communication channels with management to listen to the opinions of employees. Furthermore, we operate online and offline grievance channels at each worksite to take the voice of the employee (VoE) into account and to resolve any lingering issues promptly.

We prepared Grievance Resolution Guidelines, in order to fairly and timely solve the grievances that emerge while working. It goes through the steps of Opening of Grievance Resolution Channel – Submitting of Grievance - Resolution of Grievance – Feedback. There are four channels; online, off-line, hotline and via employee committee, that are operating which could be suitable for the characteristic of subsidiaries.
Grievance Channel
HERhealth Training Programme
In order to empower our employees in manufacturing to achieve better health we operate a project called Health Enables Returns (HERhealth), which provides health information for female workers and pursues awareness improvement, which is operating in Vietnam.
The specialized CSR institution, referred to as Business Social Responsibility (BSR), has conducted this project for 250,000 women in 10 countries since 2007 with the aim of not only providing basic health-related knowledge for female production workers, such as information about healthy diets and the prevention of diseases like HIV/AIDS, hepatitis, and tuberculosis, but also raising awareness regarding the importance of women's health.

In 2016~2017, Samsung has carried out training for female workers across the country through a partnership with Life Centre, a local NGO established in 2005 that specializes in health education. Also, we plan to pursue the same programme with excellent educational outcomes.
Main Improvements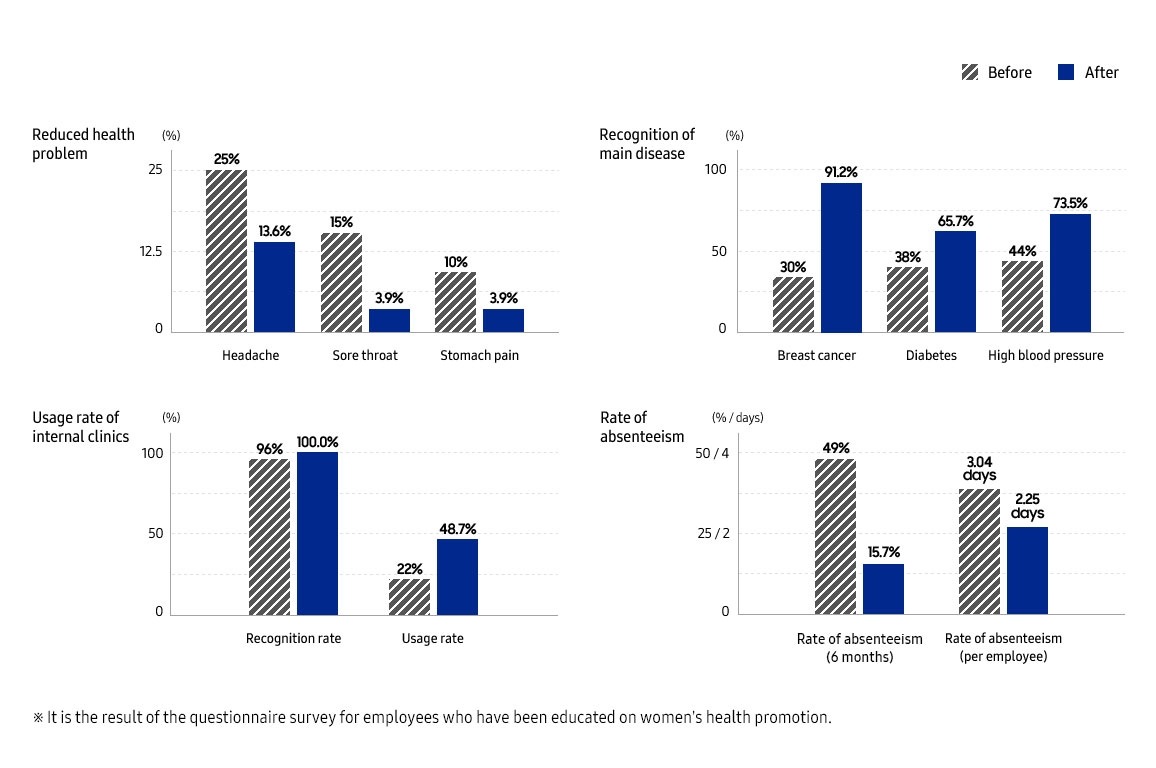 Improvement graphs of the HERhealth Training Programme indicating reduced health problem, increased recognition of main disease, increased usage rate of internal clinics, and reduced rate of absenteeism. 1. reduced health problem: headache(25% to 13.6%), sore throat(15% to 3.9%), stomach pain (10% to 3.9%) 2. increased recognition of main disease: breast caner(30% to 91.2%), diabetes(38% to 65.7%), high blood pressure(44% to 73.5%) 3. increased usage rate of internal clinics: recognition rate(96% to 100%), usage rate(22% to 48.7%) 4. reduced rate of absenteeism : rate of absenteeism(49% to 15.7%), rate of absenteeism per employee(3.04 days to 2.25 days)
Peer Educators Training
HERfinance Training Programme
Samsung jointly has launched a workers' financial competency reinforcement project with BSR and Sanchayan (India) from 2015. Starting with India the same year, we have conducted financial training alongside local NGOs in Brazil (Positive Planet) and Mexico (Yo quiero Yo puedo).

The project not only aims at providing basic information related to savings, interest rates, loans, and banking, but also at teaching financial planning techniques to the family members of our employees according to their income so that they can have confidence in realizing financial independence. We are planning to carry out the next level of the financial competency programme in 2018 in select countries.
Training Feedback
Arti Sharma shared her training experience and said: "HERfinance training is very important for us. These type of trainings are very helpful to understand the importance of budgeting and to improve saving habits."

Seema shared her training experience and said: "Before the HERfinance training I had not realized the importance of short-term, mid-term and long-term savings plan but after receiving this training, now I understand the importance of savings in our life. I know how important it is for all of us to acheive our goal with our income."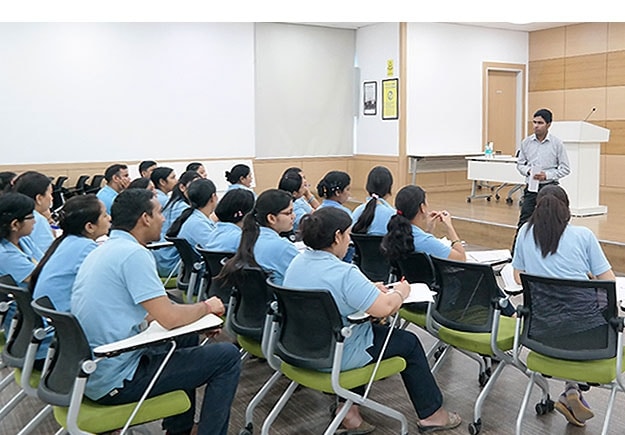 RBA Labor & Ethics Auditors
Samsung is a member of the Responsible Business Alliance(RBA) and we conform to the RBA Code of Conduct and its implementation methods across the company and our suppliers. The RBA Code draws upon internationally recognized standards, in order to advance social and environmental responsibility and business ethics.
We strive to constantly improve our management systems and spread best practices internally. In order to cultivate qualified internal auditors who can supervise the working environments all times, we invite domestic and overseas employees to the process of RBA Labor & Ethics training programme, and acquire related certification.
Qualified auditors conduct on-site inspection activities such as the management system of the corporation and suppliers, environmental safety, etc. in accordance with RBA standards.
Status of RBA Labor & Ethics Auditors