Voice Guide
Voice Guide enables the television to read on-screen text back to you and provides verbal feedback about the selected volume, current channel and programme information. It also reads aloud all the text displayed in the Electronic Programme Guide (EPG). Voice Guide works for every menu on the TV, you can also adjust the pitch and tone of the Voice Guide to suit your preferences.
High Contrast
High Contrast mode configures the TV to display all menus with an opaque black background and a white or yellow font. This provides you with maximum contrast and visibility of the text, and is extremely useful if you have any form of visual impairment.
Enlarge
Enlarge enables you to see important on the screen with a larger or zoomed-in effect.

Grayscale
You can change the colour of the TV screen to a black and white tone to sharpen blurred edges caused by colours.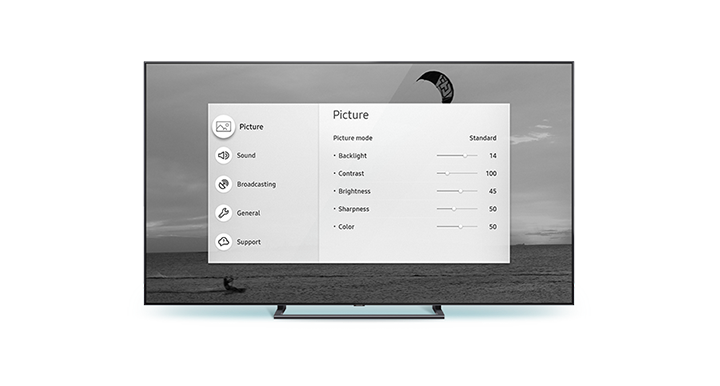 Color Inversion
You can invert the colours of the text and background displayed on the TV screen to make it easier to read them.
Remote Button Repeat Settings
Press and hold one button on the remote control to perform a continuous operation and lower the speed. This is useful for slowing down the continuous operation of channel/volume, or for slowing down the movement of items in a horizontal or vertical list.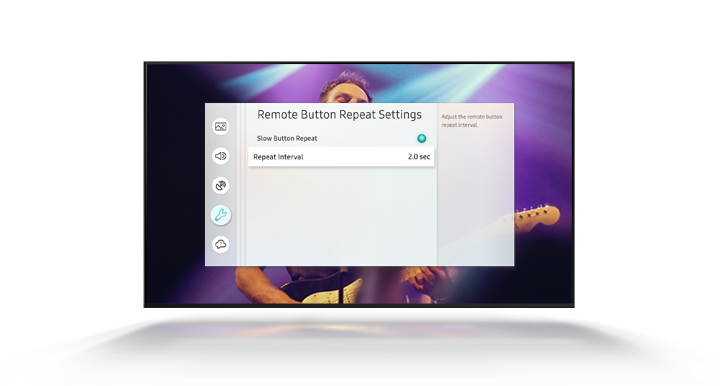 Accessibility Shortcuts
Accessibility Shortcuts is an easy, one-touch route to an on-screen menu which allows you to view or adjust the status of the TV's Accessibility features. You can activate most TV accessibility features on the Smart Remote or from the Accessibility Menu within System Settings.