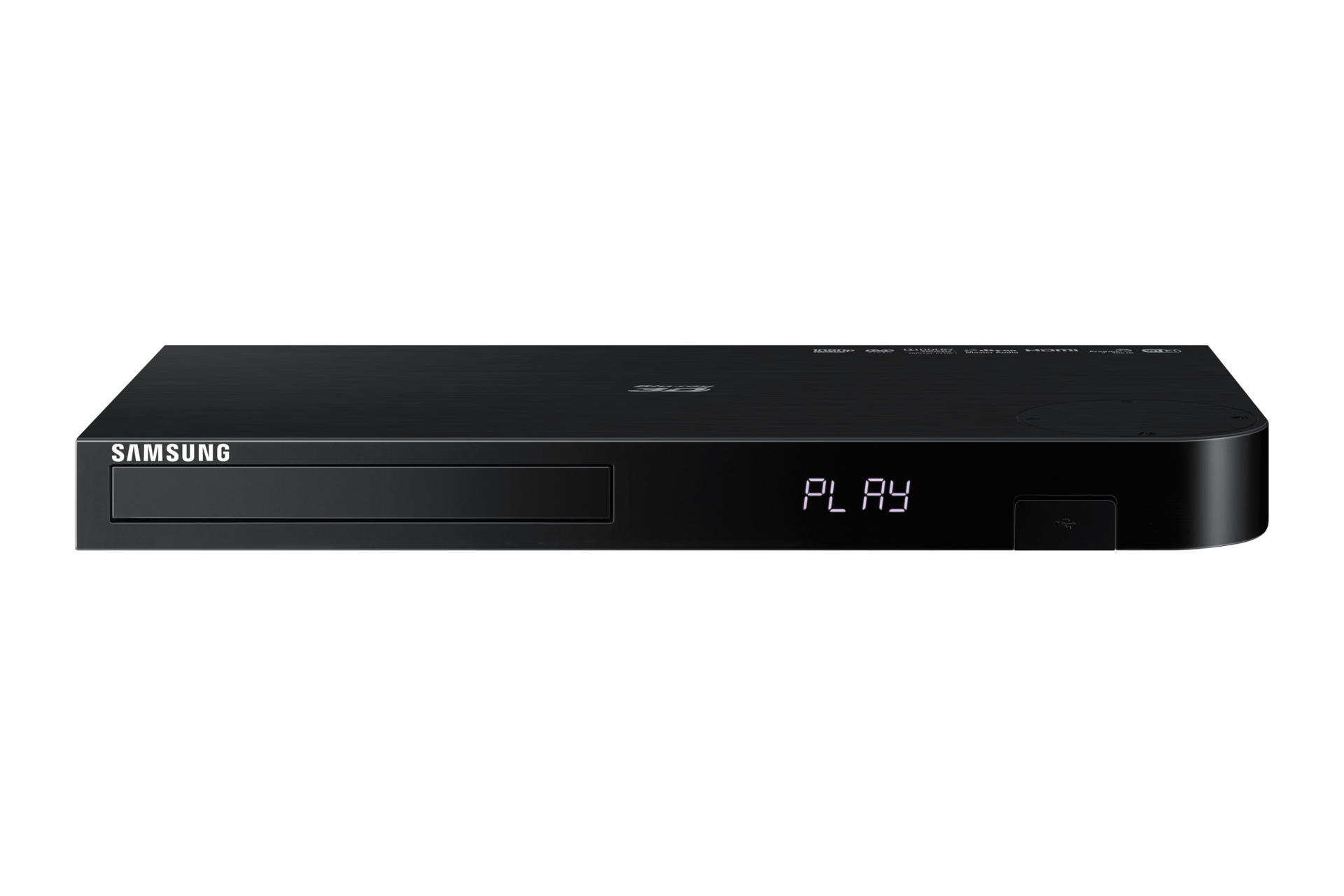 Blu-ray Disc Players BD-H5900
BD-H5900/ZK
Sorry! This product is no longer available
2.0Ch
Dolby Decoding Channel
Quick Start Mode (0.5 Sec)
Quick Start Mode (0.5 Sec)
Access your content with a much wider range of codecs
Support for the largest number of codec and file formats means you can access and enjoy a wider range of video, image and audio content than ever before. Many popular video formats such as RMVB and MKV are supported, as well as VOB files from DVDs. In addition to MP3 audio, you can listen to lossless FLAC files as well as .WMA, .OGG, .WAV and more. Pictures can be viewed in the popular JPEG picture format, as well as PNG files, GIF files and more.
Connect your worlds with TV Apps
Connect to your online content with absolute ease thanks to the built-in TV Apps available through the Samsung BD-H5500 Blu-ray player. Featuring popular apps like YouTube and Facebook, your Blu-ray player experience will keep you entertained and connected. This is an obvious choice for those who love their content ready to go.
Enjoy content from USB memory drive or external HDD
Access all your multimedia with great connectivity. Sync and enjoy movies, photos and music on from your USB memory drive or external hard drive. External HDD Connectivity allows you to connect your external storage directly to your Blu-ray player via USB and quickly access video, audio or images. It's designed to handle a wide range of content, so you can enjoy all your home movies, downloaded music and holiday photographs all in the comfort of your living room. Just connect, sync and enjoy.
Experience the next level of Full HD 3D entertainment
Bring home a more immersive and spectacular 3D experience. With Full HD 3D, your 3D home entertainment will be more exciting and vivid than you had imagined, with powerful features to maximize your enjoyment. Thanks to 3D Auto Contrast, you'll have a crisper image with sharper and more dramatic contrast. Samsung's superior 3D technology uses sophisticated algorithms to minimise image layers and maximise response speed, for more fluid and clear viewing. Make sure you immerse your senses in a new reality of 3D HD.
2.0Ch

Dolby Decoding Channel

3D Blu-ray

3D Blu-ray

1

HDMI Out

Quick Start Mode (0.5 Sec)

Quick Start Mode (0.5 Sec)
Smart Simulator
User manual & Downloads
Live Chat
Features and specifications are subject to change without prior notification.
Each of the following remarks is only applicable to the corresponding product features or specifications which are related to such remark on this page.

-Images are for reference only, please subject to the actual product. In the case of disputes arise, the decision of Samsung Electronics H.K. Co., Ltd. shall be final.
-Certain Samsung Smart TV features may not be available without express consent to the collection and use of personal information.
-Mirroring function is optimized for use with the latest Samsung smart phones and tablets. Compatibility may be limited by model, version and support of mirroring functions such as AllShare Cast or Screen Mirroring; please contact a Samsung service representative for assistance regarding compability at the time of purchase.