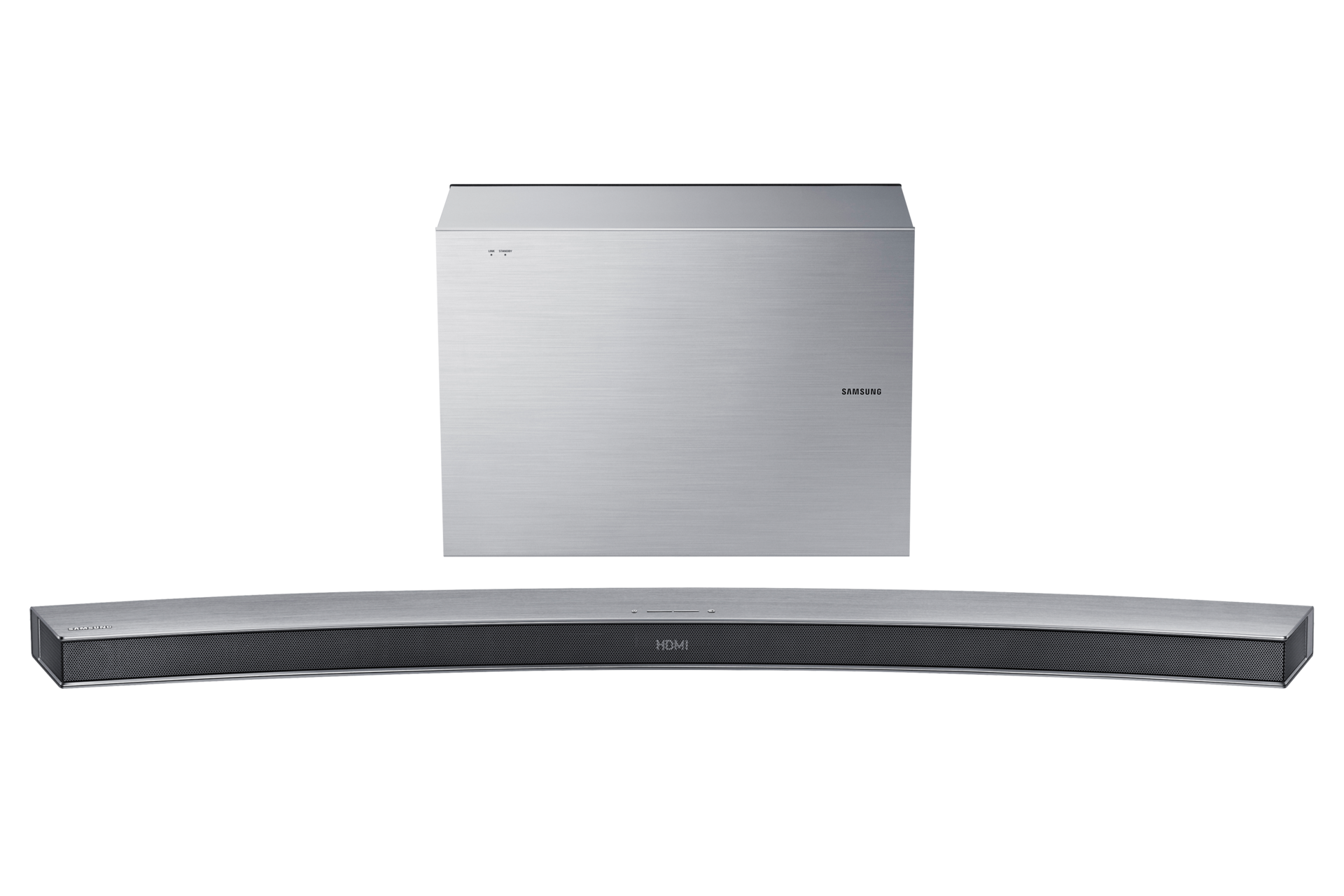 300W 2.1Ch Curved Soundbar HW-J6501R
HW-J6501R/ZK
Sorry! This product is no longer available
HD Audio (High Resolution Audio)
HD Audio (High Resolution Audio)
Bluetooth Power On
Bluetooth Power On
The perfect match for your curved TV
The Curved Soundbar accentuates the beautiful curve of your Samsung TV with an elegant metal grill finish and outstandingly immersive sound that takes your viewing enjoying to the next level*.
*J6500/J6501 models are compatible with SUHD/UHD TV ranging from 49" to 55" starting from 6 Series.
Clear sound from 6 built-in speakers
The Soundbar was designed with 6 separate speakers, each with its own dedicated amplifier, to provide clear and accurate sound. Speaker configuration and alignment was engineered and tuned by the Samsung Audio Lab.
Stream your music service wirelessly with ease
The Soundbar lets you enjoy a variety of streaming music services with ease and high quality using the Samsung Multiroom app.*
*Subscription streaming music service providers available in The Samsung Multiroom App may vary depending on your region.
Use TV SoundConnect to link components
TV SoundConnect helps bring your home entertainment system together with your TV* with ease and without the clutter of wires. You'll be able to enjoy all your content instantly with clearer, more impactful sound.
*only available on selected Samsung TVs
Enhanced surround sound from a wider range of listening positions
Surround Sound Expansion expands the listening area sideways and up so it is more realistic and coming directly from the screen. Now you can enjoy great sound with truly immersive surround effects.
Easy and fun way to control your music
Make the most of your Multiroom audio setup with the beautifully designed Multiroom App for your mobile and smartwatch. The intuitive touch wheel makes it even easier to access and control your music.
* PC app to be released during the second quarter of the year. * Samsung Multiroom App is available for Android and iOS.
* PC app to be released during the second quarter of the year. * Samsung Multiroom App is available for Android and iOS.
Bluetooth® Power On
Now you can power on your audio system and control it from your smartphone with Bluetooth. After an initial pairing, you can quickly find the devices you want, wake them up, and stream your music.
Get real, with HD Audio
Feel the sound and get into the action with stunningly realistic HD Audio. It preserves the quality and richness of the original sound using 192 kHz/24-bit sampling.
2.1 Ch

Number of Channel

HD Audio (High Resolution Audio)

HD Audio (High Resolution Audio)

Bluetooth Power On

Bluetooth Power On

300W

Total Power
Features and specifications are subject to change without prior notification.

Each of the following remarks is only applicable to the corresponding product features or specifications which are related to such remark on this page.



- Certain Samsung Smart TV features may not be available without express consent to the collection and use of personal information.

- Images are for reference only.