NP270E5J-K02HK
Notebook 2 (270E5J-K02)
The Samsung ATIV Book 2 notebook has an outstandingly stylish design, plus everything you need to handle everyday tasks effortlessly.
More Space, More To Enjoy
Enjoy all your favorite music, pictures and movies anytime and anywhere with an ultra large capacity HDD that can store up to 500GB of data. Unlike other slim notebooks the Samsung ATIV Book 2 has a huge amount of space for your files. So having an ultra-portable notebook no longer means having to meant sacrifice storage.
Immersive Visual Performance
Enjoy the very latest high-powered entertainment with bright, vibrant images and lively and dynamic motion thanks. A powerful, next generation NVIDIA Geforce 710M graphics card * with up to 2 GB of dedicated memory provides advanced image processing for an exceptional high definition video and gaming experience. * Factory option.
Clear Images, Inside And Out
Enjoy images that are fine-tuned with the sharpest images and boldest colors, even when you're outdoors in the sunshine or indoors under bright lights. The anti-reflective LED screen's matt surface has no mirror effect, so you can use it for longer without your eyes getting tired.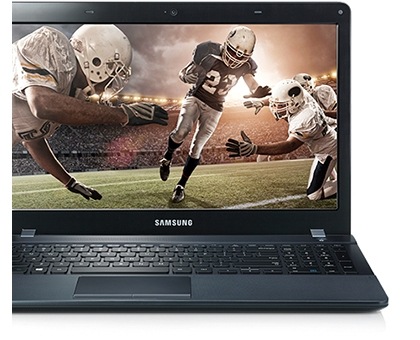 Fully Integrated Optical Drive
Easily install applications, play games, watch movies and create your own DVDs with a super-multi, dual-layer DVD drive. So there are no messy cables and expensive add-on accessories, as the Samsung ATIV Book 2 includes everything you need to enjoy a great multimedia experience and safely store your own data.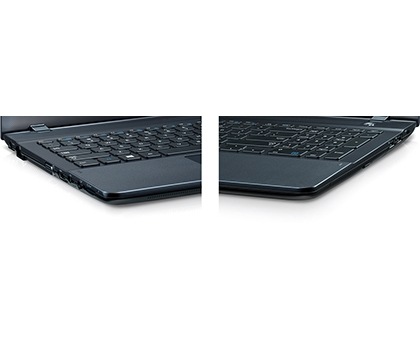 A Complete Choice Of Built-In Ports
Save time and quickly exchanging data with external devices using its USB 2.0 and LAN ports and a 3-in-1 multi-card reader. HDMI and VGA ports also allow you to connect easily to any modern TV or large screen monitor, so you can watch movies, look at pictures or enjoy a larger viewing area.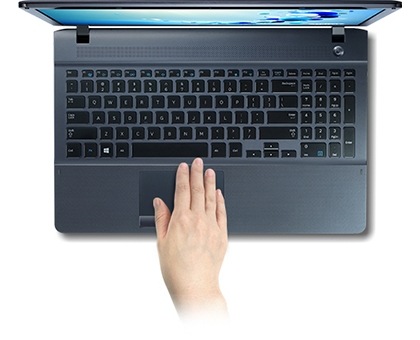 Smarter Keyboard & Touchpad
Experience easier typing, with maximum comfort and cleanliness, using a high quality, full-size island keyboard with numeric keypad. Its ergonomic, premium-style design features isolated keys with optimized spacing. A Windows 8 optimized touchpad also provides rapid access to key functions, like the Task bar/Screen switch, App bar and Charm Bar, with a simple swipe.
Ports Infomation
Features and specifications are subject to change without prior notification. + For reference only, please check with our staff for details. ▲ Actual available memory for end user usage may vary due to pre-configuration. The pre-configuration includes preloaded operating system and applications. - Images are for reference only - Storage capacity representation: The capacity of the storage device (HDD, SSD) of the manufacturer is calculated assuming that 1KB=1,000 Bytes. However, the operating system (Windows) calculates the storage device capacity assuming that 1KB=1,024 Bytes, and therefore the capacity representation of the HDD in Windows is smaller than the actual capacity due to the difference in capacity calculation. For example, for a 80GB HDD, Windows represents the capacity as 74.5GB, 80x1,000x1,000x1,000 byte/(1,024x1,024x1,024)byte=74.505GB. In addition, the capacity representation in Windows may be even smaller because some programs such as Recovery may reside in a hidden area of the HDD. Memory capacity representation: The memory capacity reported in Windows is less than the actual capacity of memory. This is because BIOS or a video adapter uses a portion of memory or claims it for further use. For example, for 1GB(=1,024MB) memory installed, Windows may report the capacity as 1,022MB or less. - Actual battery life may vary depending on application usage, settings, features or tasks selected, network configuration, operating temperature and many other factors. - Windows is either registered trademark or trademark of Microsoft Corporation in the United States and/or other countries. All other products and services mentioned may belong to their respective trademark owners.
Specification
Operating System

Windows 8.1 Pro (64-bit)
(available through downgrade rights from
Windows 10 Pro)

Processor / Chipset

Intel® Core™ i3 Processor 4005U (1.70 GHz, 3 MB L3 Cache)

Graphic
Display

15.6" HD LED Display (1366 x 768), Anti-Reflective

Memory

1 SODIMM
4GB DDR3L System Memory at 1600MHz (4GB x 1)

Hard Drive

500GB S-ATA Ⅲ Hard Drive (5400RPM)

Optical Drive
Color
Multimedia

Internal Digital Mic
Stereo Speakers ( 1.5 W x 2 )
SoundAlive™
720p HD Web Camera

Network

Fast Ethernet [10/100]
802.11 bg/n 1X1
Bluetooth v4.0

Ports

1 Headphone out/Mic-in Combo
1 DC-in
1 HDMI
1 RJ45 (LAN)
1 VGA
3 USB2.0
3-in-1 (SD, SDHC, SDXC) Multi-media Card Reader

Input

Touchpad
Island-type keyboard with Numeric key

Security
Power

* Adapter is different depend on system
40 W / 60 W AC Adapter*
6 Cell (48Wh)

Dimension (W x D x H)

376 x 248 x 25.2 ~ 31.8mm (14.80" x 9.76" x 0.99" ~ 1.25")

Weight
Bundle
Software

※ Software can be changed without notice.
Microsoft Office Trial
Norton Internet Security (60 days trial)
Recovery
Samsung HomeSync Lite
Samsung SideSync
Settings
Support Center
SW Update
Manual Download
Notebook 2 (270E5J-K02) (NP270E5J-K02HK)
Manuals

2015.11.11

User Manual (Windows8.1) ver 2.6

(ENGLISH)

2015.11.11

Trouble Shooting Guide ver 2.0

(ENGLISH)

2015.11.11

User Manual (Windows 7) ver 1.1

(ENGLISH)

2015.11.11

User Manual (Windows 7) ver 1.1

(CHINESE(Simplified))

2015.11.11

Trouble Shooting Guide ver 2.0

(CHINESE(Simplified))

2015.11.11

User Manual (Windows8.1) ver 2.6

(CHINESE(Simplified))

2015.11.11

User Manual (Windows8.1) ver 1.2

(CHINESE(Traditional))