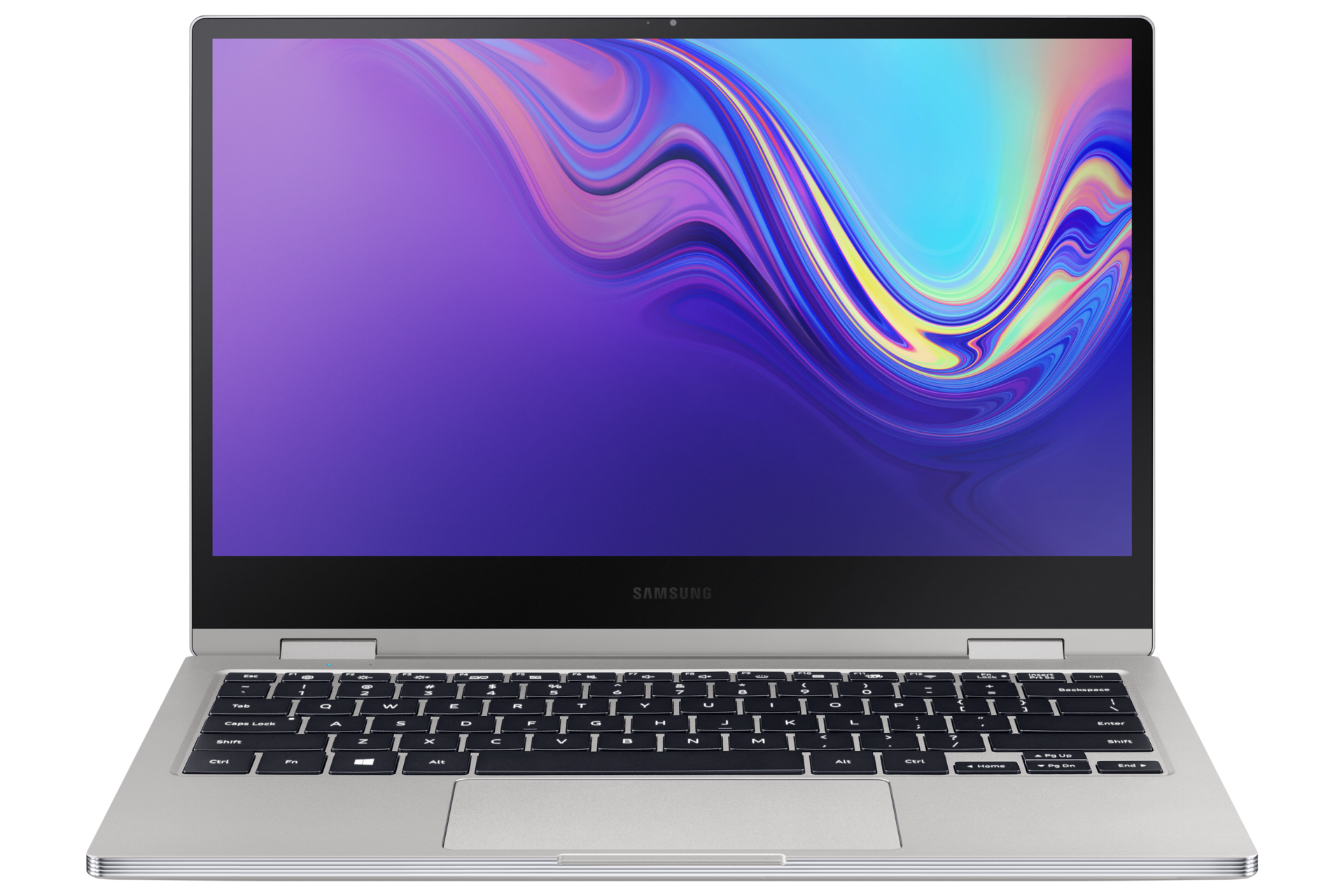 NP930MBE-K02HK
Notebook 9 Pro
(NP930MBE-K02)
Windows 10 Pro
Intel® Core™ i5 8265U (1.60 GHz) / 8 GB LPDDR3 RAM
1920 x 1080 / 256 GB SSD
At the cutting edge. Inside and out.
Solidity design
With a super-strong, full aluminum body for a solid look and feel, the Notebook 9 Pro represents a brand new dawn in optimal convertible device design. Its diamond-cut edges are sharp and refined – further enhancing its overall solidity.
Bright, minimal-bezel display
Enjoy Full HD resolution with maximum 350nit brightness – for exceptional viewing clarity wherever you are. With minimized top and side bezels measuring a mere 0.27" (6.9mm), get more out of the Notebook 9 Pro's stunning 13" display.
Lattice keyboard
The Lattice keyboard is a complete redesign of the keyboard as we know it, with clean-cut, spacious keycaps that complement the device's solidity design concept. Boost your typing accuracy, and leave no margin for error – with large, firm-feeling keycaps and a more durable keyboard.
Wide keycaps
We've boosted the size of the Notebook 9 Pro's keycaps, while maintaining a slim, portable build. Crafted using ultra-durable materials, the lattice keyboard is highly precise, and just as durable – with keycaps at least 10% bigger than those of previous Samsung models.
Backlight
Light up the night – with bold backlighting that helps you get the most out of the Notebook 9 Pro's wider, ergonomically curved keycaps.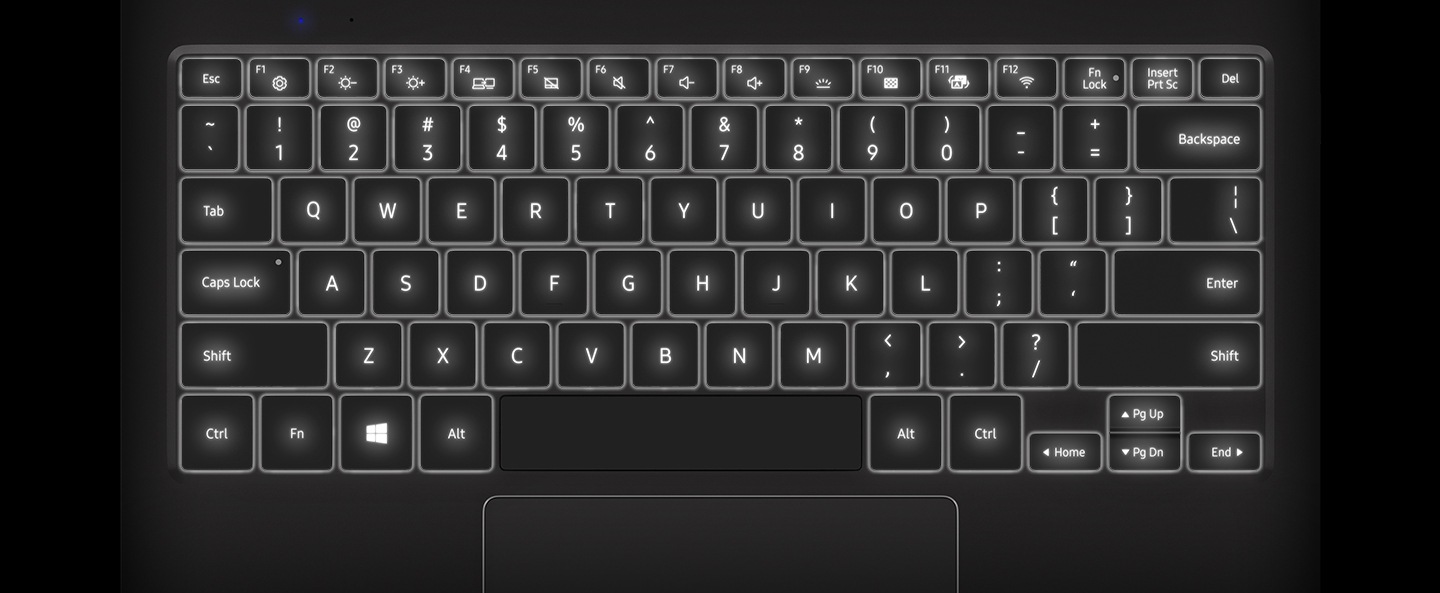 Smoother and more precise
The Active Pen offers drawing and writing precision, with 4,096 levels of pressure sensitivity, as well as convenient, customizable buttons. Access favorite apps in a jiffy and create handy shortcuts for key features. Improve tablet mode usage sessions, improve productivity and boost creativity.
Record audio and take notes
Voice Note with Pen
Capture clear audio, even from a distance – never miss key moments in meetings or lectures with Voice Note. Organize your notes with bookmarks, use the A Pen to annotate imported PDFs and export memos in PDF or Word format. Record content by chapter, adding notes as you go.
Expressive messaging
Live Message
Create and send instant gif images that show your loved ones exactly how you went about creating your latest masterpiece. Animated messages for friends and family have never been so much interactive fun!
Reach peak performance
The Samsung Notebook 9 Pro provides you with outstanding performance, with an 8th Generation Intel® Core™ (quad-core) processor, as well as Samsung dual-channel memory and Giga Wi-Fi. Enjoy seamless performance for all the important tasks you need to carry out.
High-speed connectivity
With high-performance Intel wireless hardware, you can make use of breathless gigabit network speeds. High network performance lets you stream videos and music seamlessly, or work online effectively – all interruption-free, no matter where you are.
Enjoy higher volumes
The Smart Amp provides sound output that is significantly louder than conventional amplifiers – with technology that detects speaker vibrations and temperature. Maximized current input technology delivers clear, crisp audio at volumes up to 178%* higher than many other models.
Fast, easy charging
The Samsung Notebook 9 Pro is fitted with a powerful 55Wh battery. When fully charged, it provides you with 14 (MM14) hours of usage time, granting you more freedom to work and play when on the move. Three USB-C ports let you recharge conveniently, using a battery pack or mobile charger.
Fast, versatile ports
Improve your connectivity with three USB-C ports, two of which provide Thunderbolt support – for connection speeds twice as high as conventional USB 3.0. Use your device with a wide range of hardware, including external storage devices and HDMI connections.
Easy smartphone connectivity
Samsung Flow
Connect your notebook to your smartphone with Samsung Flow. Wirelessly transfer files between devices, work with your phone via your PC or use your phone's hotspot function to set up an internet connection for your Samsung Notebook 9 Pro.
Get creative!
Studio Plus
Studio Plus is an easy-to-use editing toolkit that helps you do more with your videos and images. Edit footage, add captions and more. Use a range of fun, pre-loaded themes to make precious memories more special than ever!
Safeguard sensitive data
Privacy folder
Improved privacy options are now at your fingertips! The Privacy Folder function lets you create encrypted, password-locked folders. Store confidential work files, protect personal data – and keep prying eyes at bay..
Easier photo access
Samsung Gallery
Access all the photos you take with your Notebook 9 Pro and your smartphone at once with a single, handy function. Use Samsung Gallery to make simple edits, backup your smartphone pictures to your notebook – and organize images with tags and date/location info.
Simple content sharing with contacts
Link Sharing
Share files directly with contacts, or share straight from apps using the Windows 10 share feature. You can store a maximum of 2GB of data on the server for up to 48 hours, and individual files can be up to 1Gb in size.
Specification
Operating System
Processor / Chipset

Intel® Core™ i5 Processor 8265U (1.60 GHz up to 3.90 GHz 6 MB L3 Cache)

Graphic
Display

13.3" FHD LED Display (1920 x 1080) with Touch Screen Panel

Memory

8 GB LPDDR3 Memory (On BD 8 GB)

Storage
Color
Multimedia

Stereo Speakers ( Max 5 W x 2 )
Smart Amp
SoundAlive™
Internal Dual Array Digital Mic
720p HD Camera

Network

802.11ac wave2 2x2
Bluetooth v5.0

Ports

2 Thunderbolt™ 3
1 USB-C™
MicroSD Multi-media Card Reader
1 Headphone out/Mic-in Combo

Input

Island-type keyboard
(Backlit keyboard)
Touch screen
Clickpad

Security
Power

55 Wh
65 W USB-C™ Adapter

Dimension (W x D x H)

308.4 x 206.0 x 13.95 mm (12.14" x 8.11" x 0.55")

Weight
Software

Link Sharing
McAfee Live Safe (60 days trial)
Samsung Gallery
Samsung Recovery
Samsung Settings
Studio Plus
Samsung Update
teamPL
※ Software can be changed without notice.

Etc

Ambient Light Sensor
Accelerometer Sensor
Gyro Sensor

Comment

* Actual speed of USB can vary depending on user environment
* Weights vary depending on manufacturing process
Manual Download
Notebook 9 Pro
(NP930MBE-K02) (NP930MBE-K02HK)
Manuals

2019.05.07

User Manual(Windows 10) ver 1.1

(ENGLISH)

2019.02.27

User Manual(Windows 10) ver 1.0

(CHINESE(Simplified))