SBB-D32AX2/EN
Set Back Box SBB-A
With a set-back box that guarantees great performance with different products, a slim and sleek design, and low maintenance, this product is sure to enhance productivity
Compatibility Regardless Of Product Type
This set-back box guarantees high performance and is compatible with all the different types of products, including the UD, ME, UE and DE LFD Series. The box is in-built in the UD Series and is mounted on the rear in the ME, UE and DE LFD Series. It includes a slide-in module designed to satisfy your changing needs and local demands.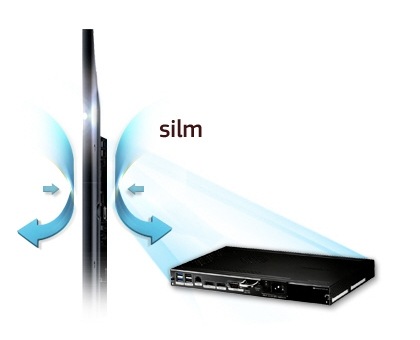 Slim Design
The slim and sleek design of this set-back box saves you space and allows you to keep your professional space tidy. Despite its elegant design, it is a powerful unit with particularly convenient connectivity and several USB ports that enhance connectivity, allowing for easier control and management of content and providing crisp and clear images.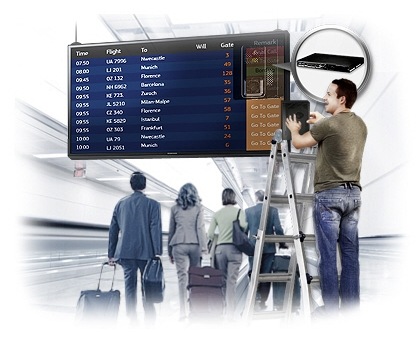 Easy Maintenance
The SBB-A Series benefit from the fact that they are extremely easy to maintain. The main difference that is highlighed is if PC embedded LFD products are damaged or can't be used, they need to be replaced completely. However, with the SBB-A series, they can be easily and conveniently fixed and maintened, guaranteeing higher performance for longer.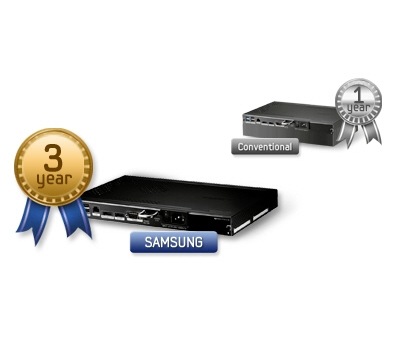 Reliable PC Module For Digital Signage
It is rare to have the Reliable Digital Signage Display Feature of other products on PC modules that have a 36-month warranty. However, you can rest assured that the Reliable PC Module for digital signage is sure to provide long-lasting quality.
Specification
Embedded PC

CPU

AMD A4-3300M series APU

N/B

Integrated on APU

S/B

Hudson M3

GPU

AMD Radeon HD 6400M series (Integrated)

FDM/HDD

mSATA SSD 32GB

Memory▲

2GB DDR3 SODIMM

Ethernet (LAN)

Realtek RTL8111DP

Connectivity

USB

USBs x 4 (3.0 x 2ports, 2.0 x 2ports)

Output

MagicInfo Out (DP) x 1, DP Out x 1

Others

RS-232 (Dsub 9p) x 1

Certain Samsung Smart TV features may not be available without express consent to the collection and use of personal information.
Manual Download
Set Back Box SBB-A (SBB-D32AX2/EN)
Manuals

2014.05.08

CE DoC ver 1.0

(ENGLISH)

2013.12.09

User Manual ver 1.0

(KOREAN, ENGLISH, CHINESE, CHINESE, FRENCH, GERMAN, HUNGARIAN, ITALIAN, JAPANESE, KAZAKH, POLISH, PORTUGUESE, RUSSIAN, SPANISH, SWEDISH, TURKISH)