Galaxy A70 Exclusive Offer
For Designated Galaxy A, C and J series customers who purchase Galaxy A70 from designated Hong Kong authorized resellers or distributors within the promotion period can get a Marvel Smart Cover (Iron Man) for free.
(Recommended Retail Price: HKD198)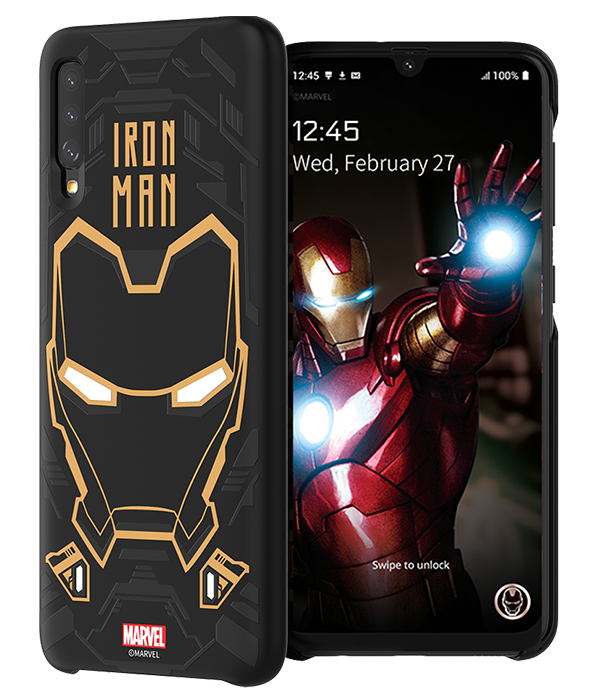 How to Redeem
Purchase the
Galaxy A70


Present the offer related email and your email address along with the Galaxy A70 and original sales receipt of the Galaxy A70


Visit our Customer Service Center for redemption
*Images are for reference only
This offer is only available to Designated Galaxy A, C and J series Mobile Device customer who purchased a genuine Samsung Galaxy A70 between 26 April 2019 and 31 May 2019 from any authorized dealer in Hong Kong. Availability may vary by authorized resellers, please check with our sales for details.
Customers have to redeem the gift at service centers between 8 May 2019 and 30 June 2019 and present the following for registration and verification, 1) the offer email notification with recipient email address (either e-copy or printed copy), 2) purchase invoice of Galaxy A70 and 3) Galaxy A70 device.
Each offer email notification can only be used to redeem for one gift.
Designated Galaxy A, C and J series Mobile Devices includes:Samsung Galaxy A8+, A8 Star, A6+, A9 2016, A7 2016, A5 2016, C9 Pro, C7 Pro, C5 Pro, C8, C7, C5, J6, J2 Pro, J7 Prime, J5 Prime, J7 2016 and J1 2016.
The gift model is Marvel Smart Cover (Iron Man)
Designated authorized resellers or authorized distributors: Samsung Partnershop, Fortress, Broadway, Wilson, Suning, CMK Electrical Store, Chung Yuen, 1O1O & csl, 3HK, SmarTone, SUN Mobile, CMHK, Kentech and Synergy.
Service Center locations:

- Causeway Bay Plaza Service Center (Address: Unit 1502, 15/F, Causeway Bay Plaza 1, 489 Hennessy Road, Causeway Bay)

- Langham Place Service Center (Address: Unit 09-12;15, 40/F, Office Tower, Langham Place, 8 Argyle Street, Mongkok)
Gifts are only available while stocks last.
After purchase of the Galaxy A70, if you wish to return or exchange for another product not included in this promotion, you must first return all gifts and giveaways gained from this promotion to their original redemption locations.
Samsung does not provide warranty services for the gift.
Samsung reserves the right to amend these Terms and Conditions at any time without prior notice. In the event of any dispute arising from this Promotion, the decision of Samsung shall be final.
Images are for reference only.
All other products and services mentioned may belong to their respective trademark owners.