Samsung Uses the Power of VR to Help Youngsters Reach their Potential
Dec 15. 2016
Fear Ends Where Courage Begins
#BeFearless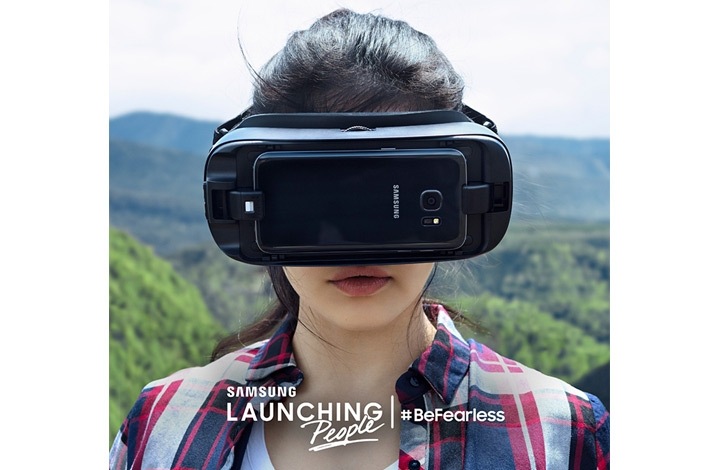 Hong Kong – December 15, 2016 – Samsung today announced that it will help young people unleash their potential through the power of VR under the new #BeFearless campaign. Building on last year's, this year's program will roll out to moreplaces, wishing to help more people overcome their fears and, as a result, achieve more.
#BeFearless is a program that is part of Samsung's Launching People campaign. MaximizingVirtual Reality technology and the Samsung Gear VR, it helps young people to tackle their fears head-on.The program focuses on two of the most common fears – fear of heights and fear of public speaking. Participants who embarked on the challenging adventure in the past years heralded #BeFearless a life-changing program. With highly immersive experiences, they were able to gradually face and overcome fears, accept challenges to break through limitations.
This year, Samsung will invite volunteers from 11 places to take part in #BeFearless, in which 8 places are joining for the first time, including Hong Kong, Taiwan, Canada, South Korea, Chile, Mexico, Brazil and Singapore. Also, United Arab Emirates, Russia and Austria will be taking part for a second consecutive year.
Samsung Hong Kong will launch #BeFearless campaign, allowing users to conquer fear and challenge oneself via Samsung Gear VR. Experience zones are set up at Samsung Galaxy Studio in Excelsior Plaza, Causeway Bay from now till December 18, 2016 and Samsung Partnershops from now till January 8, 2017. Customers can participate in related trainings under virtual environments to overcome common fears – fear of heights and fear of public speaking. Targeting acrophobics, Samsung Gear VR can lead users to see various city views and natural sceneries from different heights, as if they are actually standing at an elevated height, and helping them look fear in the face. For those who shy away from public speaking, Samsung Gear VR provides a series of scenarios, such as job interview, proposal presentation, daily conversation and business speaking.These highly realistic scenes provide a perfect opportunity for users to practise so as to overcome the anxieties. To start the journey, consumers can download related apps at Oculus Gear VR Store.
From now till January 8, 2017[1], users can also submit their real-life story of fears, for example how such fear affected their daily lives, or what they will do after overcoming such fears, etc., to Samsung. Samsung will select among participants[2] for a second-round face-to-face interview. 10 finalists will be gifted one set of Samsung Galaxy S7 edge, Samsung Gear S3 and Samsung Gear VR and participate in a 4-week VR training (January 23 to February 20, 2017) in order to help them break through their fears. For details about Launching People #BeFearless campaign, please visit https://www.samsung.com/hk_en/launchingpeople.
"We always meet young people that have huge potential in doing great things – not just for themselves but for wider communities. However, for some, their inner fears can get in the way of success. We believe that Samsung's Gear VR technology can help them find that courage, and it's always great to see peopleregain confidence with technology. We really want to spread around the world the message 'fear ends where courage begins', to help more people unleash their potential," said Yiyin Zhao, Vice President and Head of Information Technology and Mobile Communication Business, Samsung Electronics H.K. Co., Ltd.
#BeFearless VR app is now available – for free – to everybody with a Samsung Gear VR headset, and has already seen more than 300,000 downloads. Before the app was developed, Samsung teamed up with medical professionals to find out how an exposure to challenging situations through virtual experience can help people master their fears in real life. During a two-week study conducted by doctors at the Yonsei University Gangnam Severance Hospital in South Korea, the medical researchers achieved a success rate of nearly 90 percent in reducing 82 participants' anxiety of public speaking and heights through #BeFearless VR training. During last year's #BeFearless campaign, thousands of people used the BeFearless app at home, while Samsung selected 27 people to take part in a series of Virtual Reality training sessions using the Samsung Gear VR. The virtual but immersive exposure to challenging situations - like speaking in public or standing high up - helped them master these tasks in real life.
As a result of their VR experience, all participants have been freed from their fears of heights and public speaking. Some even celebrated their success by embarking on real life challenges in Dubai - speaking in front of a large crowd at the city's Courtyard Playhouse theatre, or by taking the zipline challenge at Dubai Mall. There are tasks that would previously have been impossible for them.
The #BeFearless campaign is yet another example that shows that Virtual Reality devices are much more than just delivering entertainment; VR technology can improve people's lives. Doctors around the world have started to use the Samsung Gear VR to treat anxieties, alleviate pain, help people with dementia, and support military veterans fighting post-traumatic stress disorder. Immersive VR experiences are being used by teachers to help their students learn better – for example in geometry, geography and biology lessons. Parents can now watch their unborn babies grow in VR. And finally, for families and friends who have to live far apart, there is nothing that connects them better than finding each other's company with the help of 360 videos experienced through Samsung Gear VR.
About Launching People and Samsung's commitment to improving people's lives through technology
Samsung has always been committed to enriching people's lives through technology, as demonstrated by its Be Fearless campaigns over the past two years, which have sought to help young people overcome anxieties and phobias that were holding them back.
VR is a new and exciting technology which is finally available as working, mainstream consumer product, yet its enormous potential is still vastly underestimated. In keeping with the wider trend we are seeing of using gamification for social good, there are a number of wide-ranging, surprising ways VR is being used to help people fulfil their potential and improve their health and wellbeing.
These include:
• Overcoming phobias such as fear of heights or public speaking
• Bringing far-apart families closer together for important events
• Making education more engaging and effective for young people
• Treating dementia in older people
• Helping autistic children build relationships and interact with others
This demonstrates why Samsung is so committed to driving innovation in this space. For more details on Launching People, visit https://www.samsung.com/hk_en/launchingpeople.
For more product information, please visit www.samsung.com/hk_en or contact Samsung customer service hotline at (+852) 3698-4698.
About Samsung Electronics Co., Ltd.
Samsung Electronics Co., Ltd. inspires the world and shapes the future with transformative ideas and technologies. The company is redefining the worlds of TVs, smartphones, wearable devices, tablets, cameras, digital appliances, medical equipment, network systems, and semiconductor and LED solutions. For the latest news, please visit Samsung Newsroom at http://news.samsung.com.
[1] Samsung Electronics H.K. Co., Ltd (Samsung) reserves the right to alter the campaign period.
[2] Selection process and criteria will be decided by Samsung.