Samsung Electronics Declares "Age of Experience" at CES 2020
Jan 13. 2020
Samsung showcases human-centered technologies and experiences – a personal care robot, AI-powered home of the future, and a smart city driven by IoT and 5G
Hong Kong – January 13, 2020 – Samsung Electronics Co., Ltd. announced the "Age of Experience" at the opening keynote at CES. As the featured keynote speaker, Samsung Consumer Electronics President and CEO H.S. Kim heralded a decade of human-centric innovation that seamlessly combines hardware and software to create personalized experiences that make life more convenient, more enjoyable, and more meaningful.
The Age of Experience will transform how we care for ourselves and our family, how we can customize our homes to meet our individual needs, and how we can build safer, more sustainable intelligent cities. By showcasing its latest advances in intelligent robotics, AI, 5G and edge computing, Samsung offered a glimpse into the not-so-distant future in which these technologies will come together to offer richer, more adaptive experiences for consumers.
"In the Age of Experience, we need to re-think the space we have to accommodate our diverse and evolving lifestyles," said H.S. Kim, President and CEO of Consumer Electronics Division, Samsung Electronics. "What makes Samsung's approach unique is the fact that we have a very clear philosophy built around human-centered innovation. We build and create to solve problems and enhance people's lives."
The Next Level of Personal Care
At the core of Samsung's human-centered vision is personalized care, enhancing the health and well-being of consumers by satisfying their individual needs. During his opening remarks, H.S. Kim unveiled Samsung's vision of robots as 'life companions,' and introduced Ballie, a small, rolling robot that understands you, supports you, and reacts to your needs to be actively helpful around the house.
Sebastian Seung, Executive Vice President and Chief Research Scientist at Samsung Electronics elaborated on Ballie, explaining that its On-Device AI capabilities enable it to be a fitness assistant and a mobile interface that seeks solutions for people's changing needs. It does all this while maintaining stringent data protection and privacy standards.
"We believe AI is the future of personalized care," stated Dr. Seung. "We see on-device AI as central to truly personalized experiences. On-device AI puts you in control of your information and protects your privacy, while still delivering the power of personalization."
Samsung is also showcasing advanced and personalized health solutions. For example, the company has collaborated with Kaiser Permanente to develop a home-based, virtual cardiac rehabilitation solution that pairs a Samsung smartwatch with a smartphone via Bluetooth. Samsung's HeartWise application sends reminders to the patient to exercise, collects activity data, and continuously displays the patient's heart rate during workouts. This data is automatically uploaded via the smartphone to the patient's chart so that clinicians, case managers and physical therapists can track the patient's progress and engage with them accordingly.
The program enables users to partake in cardiac rehabilitation at home without taking time out of their everyday lives to travel to a hospital or medical clinic. The positive results of the home-based cardiac rehabilitation program were published in the New England Journal of Medicine (NEJM) Catalyst last year. Going forward, Samsung will continue to develop human-centric healthcare solutions that cater to the unique needs of the individuals who rely on them.
Innovative lifestyle home appliances that set new standards
Samsung also showcased innovative lifestyle home appliances at CES 2020. With innovative technology, thoughtful design and connectivity, these smart home appliances reinvent daily tasks that will set the standard for the modern home.
"At Samsung, our goal is to develop home appliances designed for the way we live now—appliances that blend modern design with innovative new technologies," said Harry Choi, Senior Vice President, Digital Appliance Design Team & Lifestyle Labs, Samsung Electronics. "With these products, that's exactly what we're giving our consumers—the ability to choose from several home appliances that make their home lives more convenient, more connected, and more meaningful."
Samsung's expanded offerings reflect the new ways we're living our lives at home: No longer just a place to rest and relax, the home is now a gym, an office, and a place for entertainment. Based on these changing trends, Samsung has been driving innovative new designs and reimagining what appliances do for us with products that are flexible, multifunctional, and set a new standard for personal style.
An innovative and beautifully designed refrigerator, the BESPOKE refrigerator establishes a completely new category of customized home appliances. Through the creative use of materials and colors, you can put your personal stamp of style on your kitchen. You can even customize the functions of the refrigerator with Flex Zone, a compartment that can be used as either a fridge or a freezer.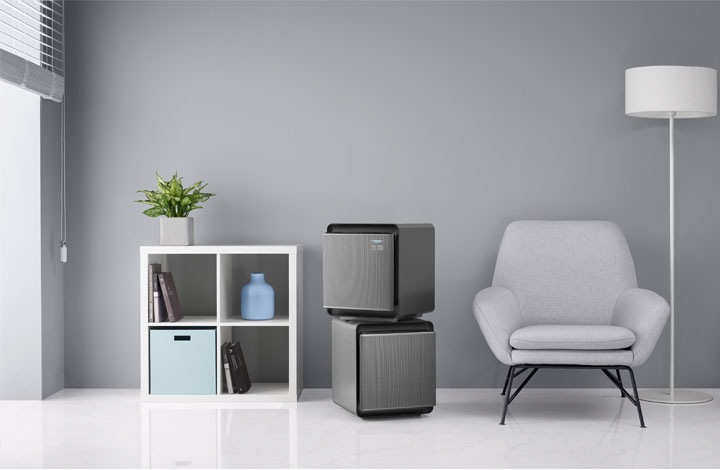 The new Cube air purifier comes in a modern, cube-style shape and metal finish that blends well with even the most stylish of contemporary interiors. Equipped with 3-layer filtration system, its efficient airflow and powerful air purification system can purify and deodorize air effectively. The Cube air purifier is also Wi-Fi-enabled, allowing you to monitor your indoor air pollution levels from anywhere, and conveniently control it remotely using the SmartThings app.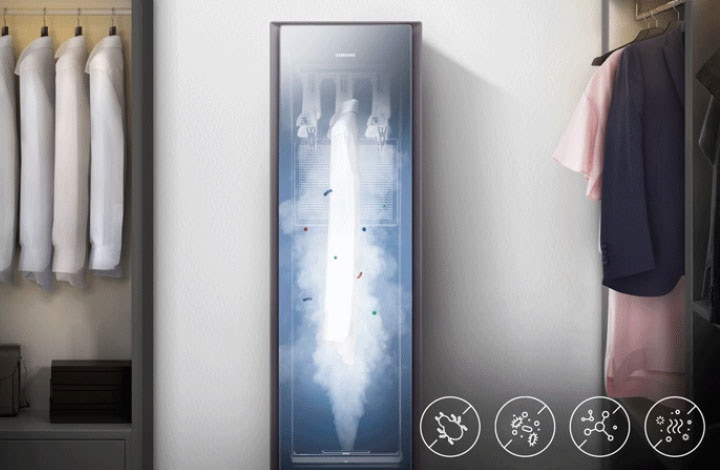 AirDresser introduces a new standard of clothing care that addresses unmet your needs for a more efficient method of refreshing and revitalizing your clothes on a daily basis. AirDresser freshens clothes with its Jet Air system and Air Hangers, using powerful jets of air to loosen and remove engrained dust, even from deep within the fabric. You can now quickly and conveniently freshen up your outfit at home to always look the best, while saving time and money; trips to the dry cleaners are no longer needed. And it stores user data, your preferences and usage patterns will suggest the most useful options for you to enjoy AI-powered laundry care and maintenance.
For more information on Samsung home appliances, please visit: http://www.samsung.com/hk_en, or contact Samsung customer service hotline at (+852) 3698-4698.
About Samsung Electronics Co., Ltd.
Samsung Electronics Co., Ltd. inspires the world and shapes the future with transformative ideas and technologies. The company is redefining the worlds of TVs, smartphones, wearable devices, tablets, digital appliances, network systems, and memory, system LSI and LED solutions. For the latest news, please visit Samsung Newsroom at http://news.samsung.com/.