Samsung Launches 2018 Brand New Notebook 9 Series
Jan 17. 2018
Notebook 9 Pen Impresses with Powerful Performance
Notebook 9 Always Offers Long Battery Life
Hong Kong – January 17, 2018 – Samsung Electronics H.K. Co. Ltd today announced the launch of 2018 brand new Notebook 9 series, including the powerful Notebook 9 Pen which comes with S Pen, as well as the 15-inch and 13.3-inch Notebook 9 Always, to address users' wide range of needs with lightweight design and high efficiency.
"As a leader in the consumer electronics sector, Samsung continually introduces state-of-the-art technology to elevate our products and deliver the most premium experience to users. The latest Notebook 9 Pen is equipped with 360-degree-rotatable screen and S Pen, enabling users to experience Samsung's advanced technology and thoughtfully refined design – as well as our indispensable role in their daily life," said Yiyin Zhao, the Vice President and Head of IT and Mobile Communication Business for Samsung Electronics H.K. Co. Ltd.
Convert Samsung Notebook 9 Pen to Tablet with Ease
The Notebook 9 Pen touchscreen features a 360-degree hinged design so that users may convert the notebook to a tablet according to their needs and activities. From completing clerical work to reading magazines, to watching videos and referencing recipes while cooking, users may adjust the convertible screen of Notebook 9 Pen to any angle for their convenience, redefining their mobile working experience.
Built-in and Battery-free S Pen: Always Ready to Use
Similar to Samsung's other S Pens, the built-in S Pen of Notebook 9 Pen never needs to be charged, nor does its batteries require replacement, therefore the S Pen can be used at anytime without the worry of running out of power. Users may also use other larger S Pens, such as the Staedtler Noris Digital S Pen, for a more comfortable experience. Notebook 9 Pen will immediately launch Air Command whenever users pull it out, allowing software selection within seconds.
In addition, Notebook 9 Pen users are eligible to use exclusive software pre-installed on the Samsung Notebook 9 Pen, such as Samsung Notes and Autodesk Sketchbook Pro, to work smoothly and unleash their creativity without any boundaries. Samsung S Pen features a fine tip of 0.7mm and tilt detection, and is able to recognize 4,096 levels of pressure, resulting in an extremely natural and smooth writing experience that is conducive to expressing the finest details flawlessly.
Unbeatable Battery Life of the Brand New Samsung Notebook 9 Always
Notebook 9 Always series is available in two sizes, 15-inch and 13.3-inch. Its largely extended battery life – thanks to doubled battery capacity – and powerful computing ability enable users to enjoy a smooth mobile working experience. Notebook 9 Pen and Notebook 9 Always inherit the unique feature of the series, which supports portable battery pack charging and fast charging. Notebook 9 Pen and Notebook 9 Always can operate for 7.2 hours and 14 hours respectively after charging for 60 minutes [1], thus users need not worry about battery life when working outdoors.
Enhanced Security with Newly-Added Facial Recognition and Privacy Folder
Notebook 9 Pen and Notebook 9 Always feature built-in fingerprint sensor for users to easily log on with a swipe. Windows Hello will assist users to log on, which is more convenient and secure than password authentication. On top of fingerprint authentication, Notebook 9 Pen offers a newly added facial recognition feature. Users only need to look at the front camera, and Windows Hello will help users log on to their device, providing best-in-class security and premium laptop user experience. Apart from the unlock features, Notebook 9 Pen and Notebook 9 Always also offer Privacy Folder, which enhances the security for storing sensitive personal information and data since such content is only displayed after users have logged on.
Voice Note Lifts Efficiency; Classy Specification Upgrades the Experience
Exclusive software Voice Note is pre-installed on Notebook 9 Pen and Notebook 9 Always. Users are not only able to record crystal-clear audio through the far-field mic, but also track, mark and take memos within the recorded audio file for later use. Both Notebook 9 Pen and Notebook 9 Always are equipped with Samsung RealView Display. Together with the wide 178-degree viewing angle and 95% of the sRGB color space, the UL-verified premium displays have a maximum brightness of 450nits and 500nits, delivering premium picture quality with accurate color and dynamic color layers. Meanwhile, both laptops come with the up-to-date 8th generation Intel ® CoreTM i7 processor with fast Samsung DDR4 Dual Channel Memory and Samsung NVMe SSD, setting the standard for the smoothest user experience by allowing multiple tasks to run simultaneously.
Durable and Ultra-light Design for Easy Carrying
The newly launched Notebook 9 Pen and Notebook 9 Always are made of ultralight magnesium alloy. Notebook 9 Pen and 13.3-inch Notebook 9 Always only weigh 995g while the 15-inch Notebook 9 Always weighs merely 1,250g or more, making them highly portable for users' outdoor engagement. The Single Shell Body design firmly ties the components together with the case, maximizing firmness and durability. Along with the deployment of Metal12TM and a ceramic-like coating created with Micro Arc Oxidation technology, the metal is more rigid and highly resistant to corrosion.
Wide Variety of Tools to Enhance Productivity
Notebook 9 Pen and Notebook 9 Always offer a number of pre-installed software for seamless connectivity, including Samsung Message for sending and receiving messages; Samsung Gallery for synchronizing pictures on Samsung smartphones and computers for easy photo-editing; teamPL (Team Play) for sharing user's screen with up to 5 people at the same time for improved work efficiceny; and Link Sharing for directly sending and receiving supported files on user's laptop to and from contacts in user's smartphone.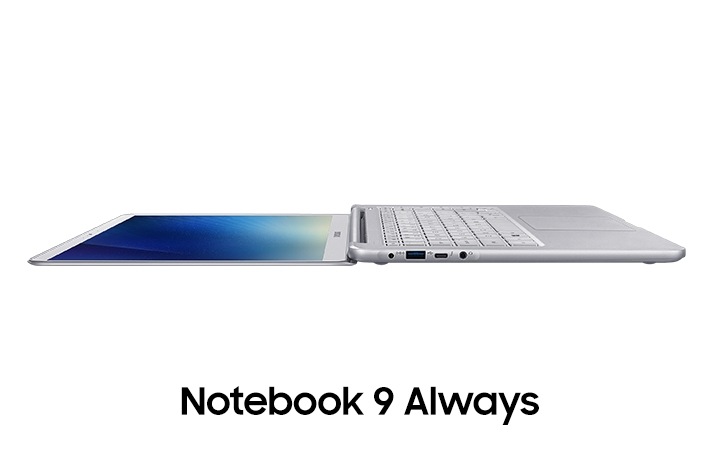 Availability and Suggested Retail Price
Notebook 9 Pen and Notebook 9 Always will be available on the following dates with the suggested retail prices as follows:
| | | | |
| --- | --- | --- | --- |
| Model | Color | Available Dates | Suggested Retail Prices |
| Samsung Notebook 9 Pen | Titan Silver | End of February | HKD13,880 up |
| Samsung Notebook 9 Always 13.3" | Titan Silver | End of January | HKD10,480 up |
| Samsung Notebook 9 Always 15" | Titan Silver | End of January | HKD10,980 up |
Notebook 9 Series Specifications:
Model

Samsung Notebook 9 Pen

Samsung Notebook 9 Always 13.3"

Samsung Notebook 9 Always 15"

Suggested Retail Price

$13,880 up

$10,480 up

$10,980 up

Display

13.3-inches, FHD, Touchscreen, 450nits

13.3-inches, FHD, 500nits

15-inches, FHD, 500nits

Weight

995g

995g

1.25kg up

Usage time

(up to)

9 hours (39Wh)

20.5 hours (75Wh)

19.5 hours (75Wh)

Material

Magnesium alloy

Color

Titan Silver

Titan Silver

Titan Silver

CPU

i7/i5 Intel 8th gen

Memory

Samsung 16GB / 8GB DDR4

Graphic Card

Intel® UHD Graphics 620

Intel® UHD Graphics 620

Intel® UHD Graphics 620 / NVIDIA® MX150 with GDDR5 2GB

HDD

Samsung 512GB / 256GB NVMe SSD

Warranty

2 years

Dimensions

310.5 x 206.6 x 14.6~16.5mm

309.4 x 208.0 x 14.9mm

347.9 x 229.4 x 15.4mm
For more product information, please visit http://www.samsung.com/hk_en or contact Samsung customer service hotline at (+852) 3698-4698.
* All functionality, features, specifications and other product information provided in this document including, but not limited to, the benefits, design, pricing, components, performance, availability, and capabilities of the product are subject to change without notice or obligation.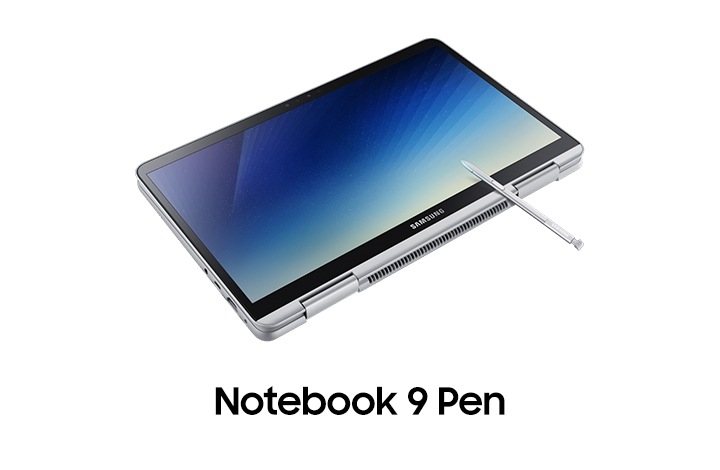 [1] According to MobileMark 14 standards.
About Samsung Electronics Co., Ltd.
Samsung inspires the world and shapes the future with transformative ideas and technologies. The company is redefining the worlds of TVs, smartphones, wearable devices, tablets, digital appliances, network systems, and memory, system LSI, foundry and LED solutions. For the latest news, please visit the Samsung Newsroom at http://news.samsung.com/.