Samsung Galaxy Pre-Installed with Different Mobile Services Caters to Every Customer's Needs in the 5G Era
Apr 21. 2020
Multi-layered protection to avoid data leakage
Unparalleled experience in communication, entertainment and gaming
Up to 4 months of YouTube Premium free trial for Galaxy users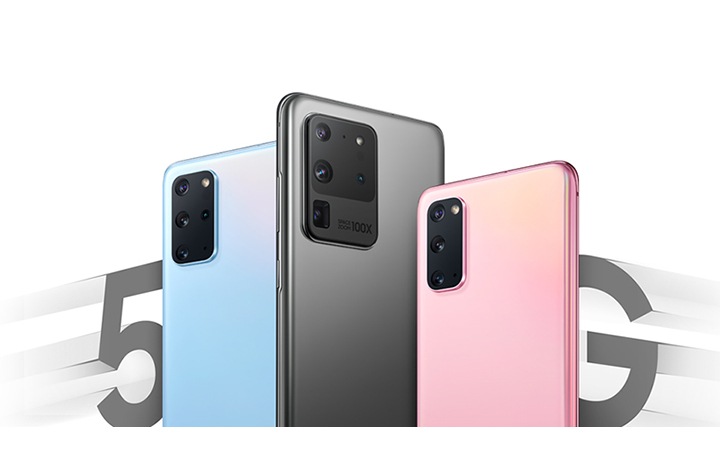 Hong Kong – April 20, 2020 – With the official launch of 5G network in Hong Kong, users' demands and requirements for communication, entertainment and mobile applications will continue to increase. As close partners, Samsung and Google deliver seamless cooperation, with Galaxy devices pre-installed with Google Mobile Service (GMS). Galaxy users can easily use common Google applications such as Google Maps, Gmail, YouTube, Google Play Store and more. Samsung Galaxy users can also download local and overseas applications with ease for communication, social media or entertainment purposes, which are inseparable from everyone's work and personal lives. More importantly, with Samsung Knox's multi-layered security solution, users can use devices with confidence, avoiding privacy leakage and reducing the risk of intrusion.
"Hong Kong has entered the new 5G network era. Samsung understands the increasingly higher requirement for mobile phones and all smart devices. Hence, we introduced the Galaxy S20 series, with 5G connectivity and pre-installed GMS services. Users are able to enjoy daily applications and the advantageous hyperfast and low-latency experience. Samsung also partnered with Google, Netflix, and Microsoft to make a more convenient and premium smartphone experience. We are committed to let users enjoy extraordinary mobile experiences in communication, entertainment or gaming," said Ms. Yiyin Zhao, Managing Director of Samsung Electronics H.K. Co. Ltd.
Samsung Galaxy S20 series, with 5G connectivity and pre-installed GMS services, let users enjoy extraordinary mobile experiences in communication, entertainment or gaming.
Keep Data Private Under Multi-Layered Security
The built-in Samsung Knox is in every Samsung Galaxy device. Offering multi-layered security from hardware to software, it defends your most sensitive information from intrusion, malware and more malicious threats. Samsung Knox isolates, encrypts and secures users' data, so that they don't need to worry about data leakage at all even if their device gets lost or stolen. With biometric authentication, all private data would be safely protected.
In addition, all Samsung Galaxy devices have been certified by Google Play Protect. Google Play Protect is Google's built-in malware protection for Android. Backed by the strength of Google's machine learning algorithms, that continuously works to keep the device, data and apps safe. Find My Device feature helps users locate misplaced or lost device; lock the device remotely or display a message on the lock screen; or even erase all the data remotely. Google Play Protect automatically scans apps on Android devices to make sure everything is safe, and will quickly alert and instruct users on how to remove the app from the device if they encounter the bad apps.
Extraordinary Mobile Experience in One Go: Communication, Entertainment and Gaming
Communication, entertainment and gaming have always been the most important parts of the mobile phone experience for users. Therefore, Samsung works with multiple partners to create better, more convenient and more considerate services, bringing users with more wonderful enjoyment.
Communication: Video calling has become an important channel to communicate during work and with family or friends. The pre-installed Google Duo gives Galaxy users simple, high quality video communication that just works on any device. Thanks to the low latency of 5G network, Google Duo can enable up to 12 people in one video call with quality visuals, including FHD (1,080p) wide angle, smooth video, clear voice quality, as well as the unique AR Emoji to add fun.
Entertainment: Samsung understands that users want to experience more unmatchable entertainment under the hyperfast 5G network; hence we have pre-installed a number of popular applications, including Netflix, which offers tons of great movies and shows. Users can easily search for or play Netflix content via Samsung Daily and Finder. As for music, Samsung partnered with music-streaming platform Spotify to let users enjoy personalized playlists at selected times by integrating Spotify with Bixby Routines.
Gaming: Forza Street, a game from Samsung's partner Microsoft, offers in-app game promotions. Thanks to the display with 120Hz refresh rate, a high-speed processor, 12GB RAM, sound by AKG and Game Booster, the Galaxy S20 series allows users to enjoy ultimate performance by optimizing in Settings. Coupled with hyperfast 5G network with low latency, users can instantly enjoy a powerful gaming experience.
Exclusive YouTube Premium Promotion for Galaxy Users
Samsung offers all Galaxy users a 4-month free trial YouTube Premium to experience ad-free videos, ad-free music, downloads and background play, simply by registering to YouTube Premium[1].
Up to HKD250 Samsung Pay Welcome Offer
Samsung understands that users value mobile security, therefore Samsung Pay has multiple strict security measures to provide users with a highly reliable, safe and easy-to-use electronic payment service. In addition, Samsung Knox will keep monitoring malicious programs and activities on Samsung Galaxy devices with Samsung Pay installed.
From April 9 to June 8, 2020, new users who have successfully added a Smart Octopus in Samsung Pay will be rewarded with up to HKD250 Octopus offer, including a HKD150 Octopus Top-up Value, and a rebate of up to HKD100 Octopus Top-up Value[2].
For more product information, please visit www.samsung.com or contact Samsung customer service hotline at (+852) 3698-4698.
** All functionality, features, specifications and other product information provided in this document including, but not limited to, the benefits, design, pricing, components, performance, availability, and capabilities of the product are subject to change without notice or obligation
[1] Users of Galaxy S20 series, Galaxy Z Flip and Galaxy Fold can enjoy 4-month free trial upon the registration of YouTube Premium. Users of other Galaxy devices can enjoy 2-month free trial. The promotion period ends on March 5, 2021.
[2] The offer applies to users who never joined Smart Octopus before the promotion period and designated devices only. Eligible devices include: S20 Ultra, S20+, S20, S10+, S10, S10e, S9+, S9, S9+, Note10+, Note10, Note9, Note8, Z Flip, Fold.
About Samsung Electronics Co., Ltd.
Samsung inspires the world and shapes the future with transformative ideas and technologies. The company is redefining the worlds of TVs, smartphones, wearable devices, tablets, digital appliances, network systems, and memory, system LSI, foundry and LED solutions. For the latest news, please visit the Samsung Newsroom at http://news.samsung.com.
List
No Prev Page
No Next Page