Samsung Gear Fit2 Pro Is the Best Companion of Sport Lovers
Sep 13. 2017
Brand New Upgraded Practical Features with Trendy Design
Analyze Workout Data Comprehensively and Set Tailor-made Training Plans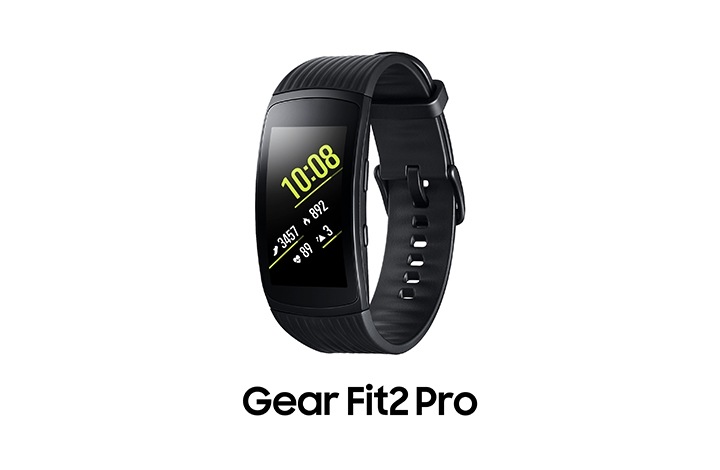 Hong Kong – Sept 13, 2017 – Samsung Electronics H.K. Co. Ltd. introduces the brand new GPS sports band Gear Fit2 Pro with advanced water resistant feature, which offers round-the-clock tracking under all weather conditions irrespective of the water or ground sports users doing. The brand new Gear Fit2 Pro is equipped with enhanced functions including 5ATM water resistance and continuous heart rate monitoring (HRM), providing more accurate personal workout data to help users establish a personal training programme.
"Samsung endeavors to offer marvelous user experience in wearable devices and help users to live healthily by setting a suitable training programme with advanced technology. With the sub-professional monitoring system, Gear Fit2 Pro could be able to offer accurate fitness monitoring and assessment so that users could enjoy a high quality fitness experience," said Yiyin Zhao, Vice President of IT and Mobile Business, Samsung Electronics H.K. Co. Ltd.
First ever join hands with Speedo Offering deeply swim analysis
Gear Fit2 Pro is able to be equipped with fitness apps, together with 5ATM water resistance designation[1], it can accuratly track users' swimming performance and heat rate data, user may therefore learn the overall efficiency and the intensity of a swimming workout. No matter it is in the pool or on the beach, users could enjoy the sophsicated activity tracking offered by Gear Fit2 Pro.
Moreover, Gear Fit2 Pro and Speedo make their collabration debut in Gear Fit2 Pro, making Gear Fit2 Pro the first ever sport band runs Speedo On[2]. Gear Fit2 Pro and Speedo On together upgrade users swim performance and training effiency by providing deeper analysis and personalised training plans.
Advanced work-out experience
Gear Fit2 Pro includes a built-in HRM to continuously track users hear rate and provides intuitive feedback. The automatic workout detection of Gear Fit2 Pro has been upgraded to recognize continuous, high-movement activities like tennis, soccer, dancing, or squash, in addition to walking, running, cycling, rowing machine and elliptical workout.
Gear Fit2 Pro also embedded GPS and accelerometer which could provide a split chart with a map on one side and a detailed analysis on the other, clearly showing the challenges you encountered on each leg of your journey. The diversified and leading features of Gear Fit2 Pro could help sport lovers set training plans and challenge their limits in different sports and condition.
Refined versatile design to upgrade user experience
Inheriting the "light" concept, Gear Fit2 Pro endeavors to be a light and comfortable wearable that suits for sport lovers. The all-black Gear Fit2 Pro strap features elegant patterns which make it suit any look. Also, the Gear Fit2 Pro strap has a buckle for a strong and secure fit so it can firmly attached to users' wrist even they are doing high-movement activities.
The curved part of Gear Fit2 Pro covers a wider area which enlarges the point of contact for the sensor that monitors users' heart rate, helping Gear Fit2 Pro to obtain more accurate heart rate data; meanwhile, the new watch faces provide information at a glance, users may know data exercise such as heart rate index, calorie burnt, running distance and instant data during workout.
Overwhelming fitness wearables' functions
Gear Fit2 Pro offers overwhelming fitness wearables devices, users can now disable notifications like incoming calls, messages, schedule when they want to focus on their workout with no interruptions, in addtion to keep connect with others during workout time. Users can also choose to enable instant fitness-related notifications only. The notification will take the form of unique vibrations so users would not have to stop exercising to look at their wrist for the exercising data instantly.
Samsung understands that vast amounts of users love to listen to music during workout so Gear Fit2 Pro embedded with a built-in music app. If users are using Spotify, users can download music so it's available everywhere they go, even without an internet connection. More than 3,000 third-party apps are available for the Gear Fit2 Pro to let users manage their health and life flexibly via the watch face.
Free premium version of Under Armour apps upon purchase of Gear Fit2 Pro
From now until December 31, 2018, upon purchase of Gear Fit2 Pro, users will be able to get 12-month of Under Armour Connected Fitness (UACF) Apps Premium Offer for free. With these tools, users will have more fitness options at ease to stay motivated and reach annual health goals.
*Users are required to download and activate app on Gear Fit2 Pro and Android phone. T&Cs apply.
Availability and Suggested Retail Prices
Samsung Galaxy Gear Fit2 Pro will be available on the following date with the suggested retail price as follows:
| | | | |
| --- | --- | --- | --- |
| Models | Colors | Available date | Suggested Retail Prices |
| Samsung Gear Fit2 Pro | Black and Red | Sep 29 | HKD1,898 |
Samsung Gear Fit2 Pro Specifications﹕
Chip Set

Dual Core (1 GHz Dual)

Display

1.5" Curved Super AMOLED (216 x 432)

Memory

RAM 512 MB / Storage 4 GB

Battery

200mAh (Up to 5 days)

Sensors

GPS, Heart Rate Monitor, Accelerometer, Gyro, Barometer

Water Resistance

5ATM (Water resistance up to 50 meters)

OS

TIZEN

Etc

Speedo, Under Armour (UA Record, MyFitness Pal, MayMyRun, Endomondo), Spotify, Golf Navi, S Health

Connectivity

BT 4.2 (BLE), WiFi 802.11 b/g/n 2.4GHz

Compatibility

Android OS 4.4 or later with at least 1.5 GB of RAM

iPhone 5 or later with iOS 9.0 and above

Colors

Black, Red

Set size

51.3(L) x 25(W) x 12.6(D)mm

Weight

34g

Length of Band

Hole-Band (L): 126mm
Buckle-Band (L): 70mm
Hole-Band (S): 102mm
Buckle-Band (S): 63mm
** All functionality, features, specifications and other product information provided in this document including, but not limited to, the benefits, design, pricing, components, performance, availability, and capabilities of the product are subject to change without notice or obligation.
For more product information, please visit www.samsung.com/hk_en or contact Samsung customer service hotline at (+852) 3698-4698.
[1] The Gear Fit2 Pro has a water resistance rating of 5ATM (50m) under ISO Standard 22810:2010 for water activities under shallow depths. However, the Gear Fit2 Pro should not be used for any activities involving high-velocity water or submersion below shallow depths.
[2] Speedo On is online training platform for swimmers. Member registration of Speedo is required to use Speedo On service.
About Samsung Electronics Co., Ltd.
Samsung inspires the world and shapes the future with transformative ideas and technologies. The company is redefining the worlds of TVs, smartphones, wearable devices, tablets, digital appliances, network systems, and memory, system LSI, foundry and LED solutions. For the latest news, please visit the Samsung Newsroom at http://news.samsung.com/.
List
No Prev Page
No Next Page