Samsung 2020 QLED 8K TV Lineup Exploits Unlimited Experience
Apr 08. 2020
New QLED TV lineups combine premium design, sophisticated picture quality, smart features and immersive sound experience
Lifestyle TVs accommodate evolving lifestyles while meeting the needs of modern living spaces
Hong Kong – April 8, 2020 – Samsung Electronics H.K. Co. Ltd. today announced the official launch of its latest lineups of QLED 8K, QLED, lifestyle TV and soundbar in Hong Kong. With the introduction of cutting-edge innovations, 8K AI upscaling capabilities and innovative display orientation technology, Samsung 2020 TV lineups redefine television aesthetics and revolutionize home integration, make consumer lifestyles more integrated to deliver the ultimate home entertainment experience.
"We continuously develop and expand prospective consumer electronic products to meet the evolving lifestyles. Consumers use different kind of screens every day to work, exercise, and even shop online. As part of our vision of 'Screens Everywhere,' we're thrilled to deliver a more vivid and smarter at-home viewing experience by incorporating AI-enabled features and 8K technology," said Ellen Fu, Vice President, CE & Enterprise Business, Samsung Electronics H.K. Co., Ltd. "The new QLED 8K lineup reflects Samsung's commitment to leading the industry. We are determined to bring unprecedented TV technology to the market, and desire to unlock more possibilities in the future. Together with our new Lifestyle TVs, we will unlock limitless freedom for customers to enjoy variety of content, from artwork around the world to fanatic content on social media. Lifestyle TVs will always be ready for you."
QLED Redefines TV Products
With cutting-edge technologies and reinvents TV design, Samsung transforms flat images into a deeper, more lifelike experience. By introducing the QLED 8K TVs to the market, Samsung will continue to give consumers the most innovative TV experience ever. Samsung 2020 introduces new Q950TS series, equipped with the Infinity Screen, which produces a screen-to-body ratio of 99 percent with 2.3mm ultra-thin sleek design. The new portfolio of Q950T provides consumers with an unprecedented viewing experience, creates a better use of space and focus more on the video content.
QLED 8K TV lineup equipped with Object Tracking Sound+ [1] , which match the movement of audio sound with the movement of objects on the screen, maximize immersive sound by delivering dimensional and dynamic audio that experiencing stunning 8K resolution and enjoy the ultimate surround-sound.
QLED TV Optimizes Perfect Picture Saturated with Color
Apart from 8K models, the latest QLED 4K lineup spans four models — Q95T, Q80T, Q70T and Q60T. The whole lineup equipped with Samsung's unique AI Quantum Processor[2], which is exclusive for QLED TV, such that low resolution content can be upscaled and optimized using AI. The AI Quantum Processor is also helping to power Samsung's open smart home platform, Tizen, enabling users to experience everything from enhanced picture quality to heightened usability to other connected home functions.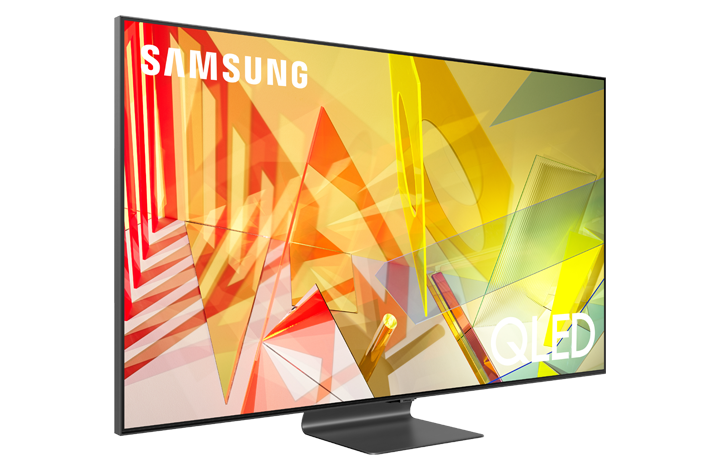 QLED TV Realizes True Color
With Samsung's exclusive Quantum Dot technology, QLED TV lineups express real colors at 100% color volume[3] .That means color doesn't fade, even in the brightest scenes. Consumers can experience rich, perfect colors that stay true, even when the brightest scenes would normally wash out color on other TVs.
Samsung QLED TV steps up to a whole new world of color. With Direct Full Array, Q95T and Q80T present fine control of the lighting zones behind the screen. Precisely controlled backlights intelligently adjust to deliver richer color, Q95T and Q80T deliver crisp details, razor-sharp clarity and striking contrast. Q70T and Q60T are equipped with Dual LED to deliver an extra set of backlight LEDs, which enables control of the color temperature. Dual LED with added warm LEDs help re-balancing the color and brightness. This brings more sophisticated color gradation, which in turn enhances the picture color tone, contrast and viewing angle.
The new QLED 4K lineup leverages the power of AI to ensure that nothing distracts viewers from their content. While traditional TV sensors can only adjust screen brightness based on the ambient light within the room, Adaptive Picture accounts for the distribution of light within the particular scene, ensuring that the TV can maintain a clear picture in bright rooms while still maintaining contrast.
Reinvigorates Sound Performance
Since audio as important as video when it comes to an immersive experience in home theater, the QLED TV delivers some of the best TV audio on the market. QLED TV is equipped with Object Tracking Sound1 delivering crisp and clear surround-sound experience. Additionally, Active Voice Amplifier[4] can detect noises and automatically enhancing voice clarity in response to common sounds like a blender or vacuum cleaner.
Streamlines Viewing Experience
More consumers are using their mobile devices while watching content on their TVs, it can be difficult to see everything happening on both devices. Multi-View[99] of QLED 8K and 4K TV ensure consumers won't miss a thing on either screen by projecting the screen of the mobile device onto the TV alongside a separate window for their TV content. Apart from mirroring mobile device, it also supports different input mode, such as video steaming platform or HDMI in different layouts, users can customize their viewing experience, from side-by-side viewing to picture-in-picture viewing along with several other options.
QLED TV offers novel ways of mirroring mobile device and controlling home devices conveniently. Tap View99 makes mirroring of phone screens to the TV just by touching the two devices together.
Lifestyle TVs Bring Personalization to Home
Samsung design-oriented Lifestyle TVs redefine the role of a screen and break away from traditional concepts, allowing users to show their unique personality. Samsung Lifestyle TV lineups including The Sero and The Frame 2020. The Sero displays content flexibly, users can playing their favorite social media content to express their unique personality by pivoting between horizontal and vertical orientations just like a smartphone. The Frame 2020 transforms the home into a gallery, users can customize the décor to create their own aesthetic. Fully integrates into everyday life perfectly, Samsung Lifestyle TV is designed to express space. Users can express their unique taste and style through customization of home décor, exponentially elevate quality of life to the new level.
The Sero Expands Display Possibilities
Samsung expanded its portfolio of Lifestyle TVs with the launch of The Sero. The Sero, which means "vertical" in Korean, has the ability to pivot between horizontal and vertical orientations – just like a smartphone or tablet. The Sero's display orientation technology[6] connects seamlessly with users' mobile devices to smoothly and naturally display content in traditional horizontal formats, as well as vertical formats designed for mobile consumption. Consumers can expect to enjoy a variety of content – including social media, YouTube and other personal videos – in whatever display orientation mirrors their mobile device. The Sero is also available on Wheels (sold separately), just in case users want to transport it from room to room, no matter watching an online workout class in the living room, or check player stats while watching a basketball game, viewing experience has become much more enjoyable and convenient.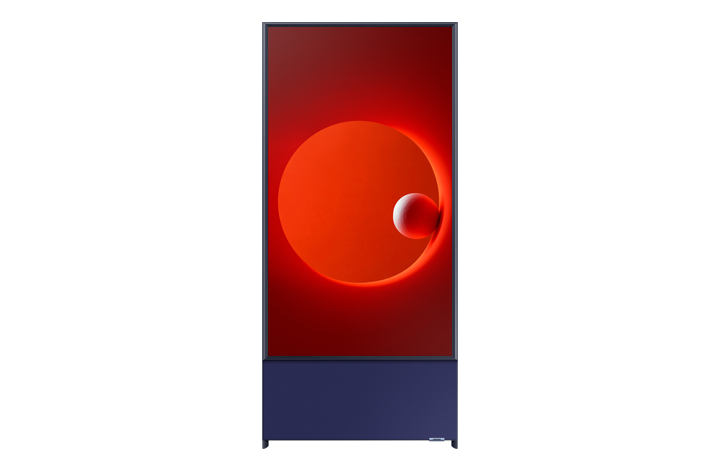 The Sero combines the cutting-edge functions of Samsung's top-level displays, equipped with 43-inch exclusive Quantum Dot technology display, stored a 4.1-channel speaker in the stand, create a whole new way to see entertainment in different formats. The Sero providing a new approach to home entertainment technology that meets the needs and habits of the growing mobile viewing audience.
The Frame 2020 Revitalizes Everyday Space With Art
Samsung also launched the new edition of another Lifestyle model – The Frame 2020. The new edition of The Frame pushes boundaries with the high-resolution picture quality of QLED when the TV is on, and stunning art when Art Mode is on. Every piece of content is displayed in stunning 4K resolution and accented by a customizable, stylish bezel that seamlessly complements home's décor.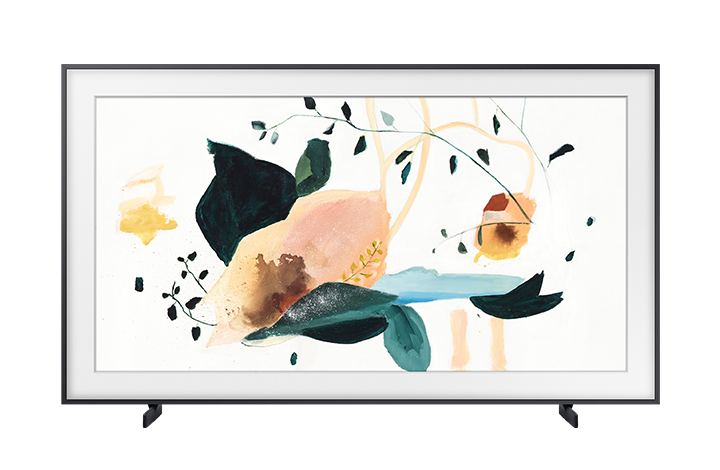 The Frame's Art Store bring world-class museums and galleries into home. It now offers more than 1,200 works by famous artists and photographers, including Cezanne, Monet, Bosch, Klimt, Van Gogh and many more; also artworks from world-renowned museums and galleries such as the Prado, the Albertina, the Tate, the Uffizi, the Victoria and Albert Museum, Magnum Photos, and LUMAS.
The Frame is gorgeous from all sides, it can be displayed with the ultra-chic Studio Stand to elevate style and interior décor, or hangs flush to the wall by Samsung's No Gap Wall-Mount[7] with One Invisible Connection. Together with QLED picture quality in 100% Color Volume and Quantum Dot Technology, The Frame delivers over a billion shades of color that stay true-to-life without washing out at any level of brightness.
2020 Q Series Soundbar Delivers Entertainment That Rivals
Samsung QLED TVs have met their perfect match, 2020 Q Series soundbars – HW-Q70T, HW-Q60T and HW-T450. Q Series supported Q-Symphony[6] provides immersive sound performance when work together with QLED TV serve as an additional audio channel and create a more dynamic, multi-dimensional soundscape and vastness surround-sound. Consumers will get swept up in the exhilaration of multidimensional cinematic audio, masterfully delivered above, behind and all around.
Incorporating of object-based audio formats with true 3.1.2-channel surround sound and support eARC, HW-Q70T creates immersive entertainment experience to users through incredibly captivating Dolby Atmos and DTS:X. HW-Q60T supported 5.1-channl surround sound with DTS Virtual:X. 2020 Q series Soundbar can connect any HDR 10+ video source to the QLED TV by HDR pass-through, makes it a perfect match with the incomparable picture quality of QLED TV, fills every corner of living room with a dynamic and rich sound that truly transforms the home.
Pre-order Promotion
- From April 24 to 30, pre-order customers of The Sero will receive a Sero Wheel and Samsung Galaxy Watch Active2 (Aluminum 44mm (Bluetooth)) for free. Users can keep track with videos on social media and workout at home.
[1]Object Tracking Sound + (OTS +) is compatible with Q950TS and Q800T series; Object Tracking Sound (OTS) is compatible with QLED 8K Q95T and Q80T series.
[2]AI Quantum Processor 2.0 4K is compatible with Q95T, Q80T and Q70T series; AI Quantum Processor Lite is compatible with Q60T series.
[3]QLED has received verification from Verband Deutscher Elektrotechniker (VDE), for its ability to produce 100 percent color volume under PCI-P3 standard.
[4]Active Voice Amplifier is compatible with Q950T, Q800T, Q95T, Q80T and Q70T series.
[5]Recommended mobile device with Android 10 or above, and support display orientation.
[6]Q-Symphony is compatible with Q950T, Q800T, Q95T and Q80T series, and pair up with Sound Bar HW-Q70T or HW-Q60T.
[7]The embedded wallmount minimizes the space between the wall and the suspended TV. The distance between the back of the TV and the wall may differ depending on the installation method and wall type.
[99]Service may not be launched at the same time as QLED, and the availability may vary by region.
Availability and Suggested Retail Price:
Model

Size

Suggested Retail Price

Availablility

Samsung QLED 8K Q950TS TV Series

QA85Q950TSJXZK

85"

HK$199,980

April

QA75Q950TSJXZK

75"

HK$129,980

April

Samsung QLED 8K Q800T TV Series

QA82Q800TAJXZK

82"

HK$149,980

April

QA75Q800TAJXZK

75"

HK$99,980

April

QA65Q800TAJXZK

65"

HK$49,980

April

Samsung QLED Q95T TV Series

QA65Q95TAJXZK

65"

HK$37,980

April

QA55Q95TAJXZK

55"

HK$27,980

April

Samsung QLED Q80T TV Series

QA55Q80TAJXZK

55"

HK$21,980

April

QA49Q80TAJXZK

49"

HK$13,980

April

Samsung QLED Q70T TV Series

QA85Q70TAJXZK

85"

HK$79,980

April

QA65Q70TAJXZK

65"

HK$29,980

April

QA55Q70TAJXZK

55"

HK$17,980

April

Samsung QLED Q60T TV Series

QA75Q60TAJXZK

75"

HK$39,980

Now Available

QA65Q60TAJXZK

65"

HK$23,980

Now Available

QA55Q60TAJXZK

55"

HK$14,980

Now Available

QA50Q60TAJXZK

50"

HK$9,980

Now Available

QA43Q60TAJXZK

43"

HK$7,980

Now Available

Samsung 2020 The Frame Series

QA65LS03TAJXZK

65"

HK$29,980

May

QA55LS03TAJXZK

55"

HK$18,980

May

Samsung The Sero TV Series

QA43LS05TAJXZK

43"

HK$14,980

Pre-order start from April 24

Samsung Crystal UHD TU8500 TV Series

UA55TU8500JXZK

55"

HK$10,980

Now Available

UA50TU8500JXZK

50"

HK$7,480

Now Available

UA43TU8500JXZK

43"

HK$5,980

Now Available

Samsung Crystal UHD TU8000 TV Series

UA65TU8000JXZK

65"

HK$17,980

Now Available

UA55TU8000JXZK

55"

HK$9,980

Now Available

UA50TU8000JXZK

50"

HK$6,580

Now Available

UA43TU8000JXZK

43"

HK$5,380

Now Available

Samsung Crystal UHD TU7000 TV Series

UA75TU7000JXZK

75"

HK$24,980

Now Available

UA70TU7000JXZK

70"

HK$19,980

Now Available

UA55TU7000JXZK

55"

HK$8,980

Now Available

UA50TU7000JXZK

50"

HK$5,980

Now Available

UA43TU7000JXZK

43"

HK$4,980

Now Available

Samsung 2020 Q Series Soundbar

HW-Q70T

N/A

HK$4,990

Q2 2020

HW-Q60T

N/A

HK$4,390

Q2 2020

HW-T450

N/A

HK$2,090

Q2 2020
For more information on Samsung home appliances, please visit: http://www.samsung.com/, or contact Samsung customer service hotline at (+852) 3698-4698.
About Samsung Electronics Co., Ltd.
Samsung inspires the world and shapes the future with transformative ideas and technologies. The company is redefining the worlds of TVs, smartphones, wearable devices, tablets, digital appliances, network systems, and memory, system LSI, foundry and LED solutions. For the latest news, please visit the Samsung Newsroom at http://news.samsung.com/.
List
No Prev Page
No Next Page