Samsung Galaxy Fit Kick-Starts a Healthy Lifestyle
May 30. 2019
A Sleek, Lightweight Wearable that Tracks Your Workout with Ease, Style and Comfort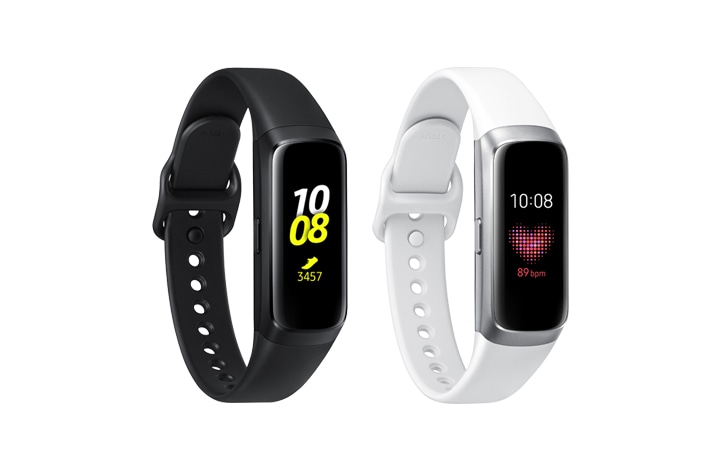 Hong Kong – May 30, 2019 – Samsung Electronics H.K. Co. Ltd. today announced the launch of Galaxy Fit, a new wearable device that provides essential health-monitoring features to help users attain their goals of living a healthier life. With a sleek and light body, the Galaxy Fit complements different styles and brings comfort to everyday life. The smartwatch allows users to choose from more than 90 kinds of exercises in the Samsung Health app and store all tracking data on the corresponding smartphone. It can also automatically track users' sleep, stress and heart rate levels to monitor health conditions anytime, paving the way for a healthy lifestyle.
"Samsung understands that consumers seek a well-balanced life. The sleek and stylish Galaxy Fit is suitable for different workout types and supports a positive lifestyle. Together with every step of users' way of life, the Galaxy Fit enables a convenient smart experience with a simple and easy-to-use interface," says Yiyin Zhao, Managing Director of Samsung Electronics H.K. Co. Ltd.
24/7 Life Tracker with Long-Lasting Battery Life
As the best practical accessory for both sportswear and daily outfits, the Galaxy Fit boasts a compact body that comes at only 23g and showcases personal styles with two attractive colors – black and silver. The Galaxy Fit features a full-color AMOLED screen, which graces the watch faces with clear and vibrant colors. The touch control function enables users to enjoy a refined screen that shows personal or workout information at a glance with a simple touch. Various colorful themes can be applied to the watch face, adding more color to everyday living and elevating the smart experience with even more fun and practicality.
To ensure users stay connected anytime and anywhere, the Galaxy Fit is equipped with a long-lasting battery which can last all week without any additional charging [1]. The wireless charging capabilities allow users to charge their phones conveniently, and facilitate their daily fitness training or tracking activities. Galaxy Fit alerts users of incoming calls and messages with the use of their smartphones' Bluetooth, following every step of their daily life to foster a healthier, more productive lifestyle. Military-grade durability [2] and a leading 5ATM water resistance rating [3] of the Galaxy Fit ensures peace of mind when it is used in different kinds of water sports and outdoor adventures.
Easy Tracking Functions
The Galaxy Fit can help monitor workout data, helping users stay motivated and reach their goals. It supports auto workout tracking for walking, running, cycling, and working out on a rowing machine or elliptical machine. It starts to track activities and workout duration automatically after 10 minutes of exercise. For more detailed tracking, more than 90 kinds of workout scenarios are available on the Galaxy Fit for manual exercise tracking. By simply pressing the side key for three seconds, users can choose their favorite preset workouts and start the exercise right away. The Galaxy Fit can display various statistics for different workout types, such as exercise time, calories burned and heart rate, enabling users to check their health conditions anytime.
Through the auto sleep tracking function of Galaxy Fit, users can track four different sleep stages, including REM sleep, then check out their sleep profile and monitor their sleep cycles. The Galaxy Fit can also gather data and analyze sleep quality, helping users form better sleep habits. With Goodnight mode, users can silence alerts for incoming messages and calls except for the morning alarm setting, ensuring undisturbed sleep. Furthermore, the Galaxy Fit can track users' stress levels and breathing frequency [4], and provide deep-breathing exercises to effectively adjust stress levels. The heart rate sensor [5] of the device ensures users stay healthy by sending an alert when a high heart rate is detected while resting.
Extraordinary Smart Experience
The excellent functions of the Galaxy Fit enable intelligent everyday applications. Users can easily check notifications, receive alarm alerts, dismiss incoming calls, and quickly send prewritten replies[6] via the Galaxy Fit without the need to take out their smartphones. The device also offers convenient features to support a wide variety of situations. It automatically detects different time zones and shows a roaming clock with the local time and the default time zone, allowing users to manage or arrange their schedules more easily. Water Lock mode of the Galaxy Fit prevents the force of water from inadvertently activating any functions when users are swimming.
With the Do Not Disturb (DND) Syncing feature, users can set DND mode on both their phones and their Galaxy Fit at the same time, which allows the smart device to automatically block notifications, helping users concentrate on their work.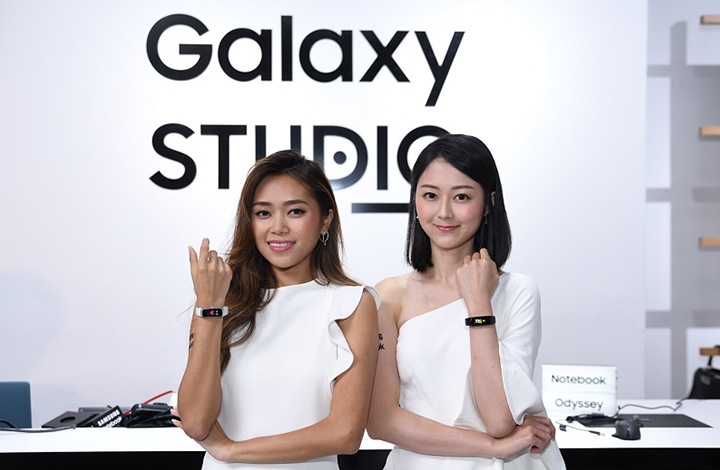 Availability and Suggested Retail Price
Samsung Galaxy Fit will be available on the following date with the suggested retail price:
| | | | |
| --- | --- | --- | --- |
| Model | Color | Available Date | Suggested Retail Price |
| Samsung Galaxy Fit | Black, Silver | May 31, 2019 | HKD898 |
Samsung Galaxy Fit Product Specifications:
Size/Weight

18.3 x 45.1 x 11.2 mm, 23 g (with strap)

Display

0.95" Full Color AMOLED
120 x 240, 282 ppi

Interactions

Full Touch / HW Key

Connectivity

Bluetooth

Sensors

HRM, Accelerometer, Gyroscope

Battery*

7 days* / 120 mAh

Charging

Wireless Charging

Durability

5ATM water resistance
MIL-STD-810G

Other Features

DND Sync, Goodnight Mode, Roaming Clock, Water Lock Mode

Compatibility

Android 5.0 or above with more than 1.5 GB RAM
iPhone: iPhone 7 and above, iOS 10.0 or above
* Actual battery life varies by features and widgets used, frequency of messages, number of times charged, and many other factors.
**All functionality, features, specifications and other product information provided in this document including, but not limited to, the benefits, design, pricing, components, performance, availability, and capabilities of the product are subject to change without notice.
For more product information, please visit http://www.samsung.com/hk_en or contact Samsung customer service hotline at (+852) 3698-4698.

[1] Actual battery life varies by features and widgets used, frequency of messages, number of times charged, and many other factors.
[2] MIL-STD 810G–compliant goods adhere to performance and manufacturing guidelines set by the US Department of Defense for military and commercial equipment.
[3] Galaxy Fit has an ISO 22810:2010 certification for 5 ATM rating of 50 meters. It may be used for shallow-water activities, but should not be used for high-velocity water activities or submersion below shallow depth.
[4] Non-default function - users need to turn on the auto tracking function via the Galaxy Wearable app.
[5] Non-default function - users need to turn on the auto tracking function or change the settings via the Galaxy Wearable app.
[6] The device comes with 10 default reply messages and up to 30 different replies can be added in total.

About Samsung Electronics Co., Ltd.
Samsung inspires the world and shapes the future with transformative ideas and technologies. The company is redefining the worlds of TVs, smartphones, wearable devices, tablets, digital appliances, network systems, and memory, system LSI, foundry and LED solutions. For the latest news, please visit the Samsung Newsroom at http://news.samsung.com/.
List
No Prev Page
No Next Page