Samsung Galaxy Studio Creates a Personalized World of Technology and Art: The All-New Interactive Digital Lights Experience Launches in Hong Kong
Apr 10. 2019
Creating Visually Stunning Motion Images Using User's Heart Rate and Eye Image
Experience the Innovative Technology Deployed in Samsung Galaxy S10
Samsung Galaxy Studio Details
Date: 12 April, 2019 to 12 May, 2019
Time: From 11:00am to 9:00pm, Monday to Sunday (opening hour on 12 April: 5:00pm to 9:00pm)
Place: G/F, Shop G05-6, Tower, 535 Jaffe Rd, Causeway Bay, Hong Kong
Website: www.samsung.com/hk_en/explore/event/galaxy-studio/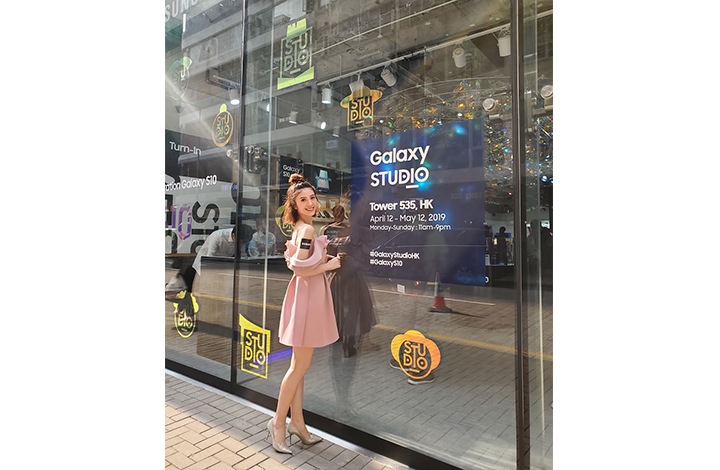 Hong Kong – April 10, 2019 – In order to let the public experience the Galaxy S series' 10th anniversary smartphone, Galaxy S10 series, Samsung Electronics H.K. Co. Ltd. announced today the launch of its revolutionary Galaxy Studio in Causeway Bay from the April 12 to May 12, 2019. The Galaxy Studio will showcase pioneering installations of interactive digital lights experience in Hong Kong, allowing participants to create visually stunning motion images through their own heart rates and eye image, and experience how the Galaxy S10 can take breathtaking photos in this tailored world of artistic and interactive lights. Every participant visiting the Galaxy Studio will be equipped with a Galaxy S10 smartphone to experience different zones, where they can personally try the phone's extensive functions. Participants will be awarded with limited prizes upon completion.
"Samsung has been upholding the belief of innovation for the past 10 years, bringing consumers an excellent smart mobile experience. At the same time, we understand how Millennials crave for an all-new experience, so we opened the all-new Galaxy Studio in Causeway Bay, where fashionistas gather. The Galaxy Studio brings an innovative, artistic and interactive digital lights space to Hong Kong. Together with 'Galaxy Buddy', a digital app that is installed in the Galaxy S10, it creates a unique, visually-appealing experience through an interactive style. In addition, through the close-interaction and communication with consumers, it lets them experience all the advanced functions of our flagship smartphone, Galaxy S10; allowing them to enjoy a new-generation of lifestyle and rhythm," says Ms. Yiyin Zhao, Managing Director of Samsung Electronics H.K. Co. Ltd.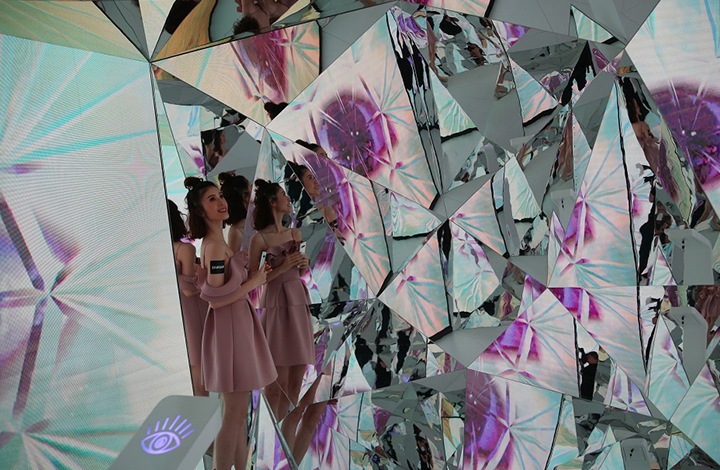 Experience the Advanced Functions Through an All-New Style – An Interactive Experience Exhibiting an Artistic Atmosphere
The Galaxy Studio is located on the ground floor of Tower 535 in downtown Causeway Bay. Using vivid colors as the main interior palette, the design embodies a contemporary style. Stepping into the Galaxy Studio, the three-dimensional artistic decorations hanging from the ceiling attract attention, complementing the Galaxy S10 series' prism colors. This pop-up Galaxy Studio breaks the existing boundaries, adding many creative and artistic elements. Whether it is the interactive experience zones or photo booths, Galaxy Studio has injected phenomenal visual artistic effects, allowing participants to gain an unforgettable experience whilst testing the Galaxy S10 that is equipped with professional cameras and advanced intelligence technology.
Firstly, visitors will register at the check-in counter to get a Galaxy S10 smartphone that has "Galaxy Buddy" app installed. It acts as the participant's partner, leading them through different experience zones. After completing an experience, participants will receive a digital stamp through the Galaxy S10's NFC tag function. Participants may redeem gifts after collecting 4 digital stamps.
Four Interactive Experience Zones
- Field of Hearts: Participants first use the "Galaxy S10" to measure their heart rates. After entering the room, they can enjoy a personal, interactive media art portrayal of their heart rates by just tagging their smartphones to the NFC stand. Participants can interact and share their heartbeats through a light field of different colors and frequency. The experience can be perfectly captured through Galaxy S10's F1.5 and F2.4 Dual Aperture lens, where it is able to capture the light-source in low-light environments. Together with the excellent performance of the 123 degrees Ultra-Wide angle lens, the captured scene is flawless.
- Ocular Odyssey: Participants take a selfie through their "Galaxy S10" to capture the image of their eyes before entering the experience zone. Once entered, participants tag their phones to the NFC stand and the interactive media art using the user's eye image will start. Images of participants' eyes will turn into a kaleidoscopic art on the screens that are reflected on all the fragmented mirrors. Participants can take photos with the Live Focus camera feature to capture the enchanting experience.
- Artist in Residence: The interior is decorated with photo backdrops and props by local famous illustrator b.wing, becoming the highlight of Galaxy Studio. Participants can try the Galaxy S10's ultra-wide angle camera to capture panoramic photos equivalent to what the naked eye observes. b.wing's works depict our own fantasy world using simple lines and vivid colors. It is quirky yet interesting, and is also known for characters with dark circles, expressing the meaning of life.
- Galaxy Studio provides a resting space within the busy city, placing many colorful bean bags to create a comfortable and relaxing living space to showcase the new Galaxy S10 series, Galaxy Watch Active and Galaxy Buds etc., allowing the public to try a variety of exceptional functions in a comfortable environment.
Exclusive Claw Machine to Win Souvenirs, Galaxy Users Are Entitled to a Customized Phone Case
Upon completion of the experiences, we encourage participants to upload wonderful photos to their social media, sharing every moment experienced in the Galaxy Studio with families and friends. Apart from delivering a whole new experience, Galaxy Studio has prepared lots of limited gifts for participants. From April 12 to May 12, participants will be awarded with a Galaxy Studio Token after collecting 4 digital stamps from any 4 experience zones in Galaxy Studio. If participants upload any images related to Galaxy Studio, participate in Galaxy Workshops or Influencer Sessions, they will be awarded with an extra token. Participants can use their tokens to pick their favorite gift from the claw machine designed by a British illustrator Hattie Stewart, including tote bag, stickers, PopSockets phone holder etc. Also, Samsung users[1] with 4 stamps can choose a customized unique phone case. Stocks are limited and available whilst it lasts.
Samsung has launched different workshops for users, including living application, travel application and photo-taking workshops etc., allowing users to further understand the elements of Samsung Galaxy S10 for a new lifestyle.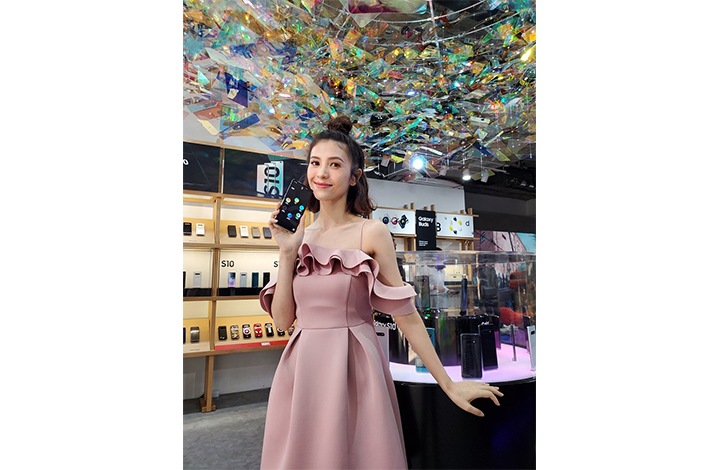 Studio Exclusive Privilege
During the period of Samsung Galaxy Studio, participants can get the Studio Exclusive Privilege Voucher after completion of the selected experience. They can register to redeem a Duo Port Fast Charge Battery Pack (10,000mAh) (valued at HK$298) upon the purchase of any Galaxy S10 series product.[2]
For more product information, please visit http://www.samsung.com/hk_en or contact Samsung customer service hotline at (+852) 3698-4698.
*All functionality, features, specifications and other product information provided in this document including, but not limited to, the benefits, design, pricing, components, performance, availability, and capabilities of the product are subject to change without notice.
[1] Only applicable for Galaxy S8, S8+, S9, S9+, S10, S10+, S10e, Note8 and Note9 users.
[2] Requires successful registration via the QR Code shows on the Studio Exclusive Privilege Voucher and purchase of any Galaxy S10 series smartphone to get the offer. Available while stocks last. For details please ask the venue staff.
About Samsung Electronics Co., Ltd.
Samsung inspires the world and shapes the future with transformative ideas and technologies. The company is redefining the worlds of TVs, smartphones, wearable devices, tablets, digital appliances, network systems, and memory, system LSI, foundry and LED solutions. For the latest news, please visit the Samsung Newsroom at http://news.samsung.com.
List
No Prev Page
No Next Page