Samsung New Curved Monitors with Ultra-Widescreens CJ791 and CJ89 Debut at Hong Kong Computer & Communications Festival
Aug 20. 2018
CJ791 as the world's first QLED curved monitor featuring Thunderbolt 3 connectivity
CJ89 provides supreme gaming experience and helps business users compile data with ease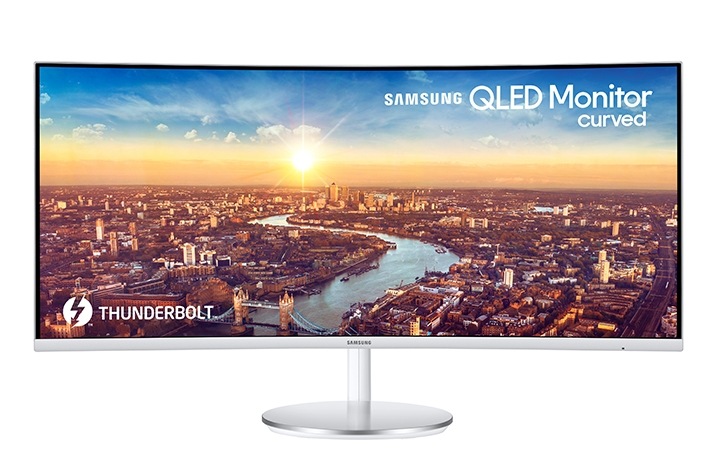 Hong Kong – 20 August, 2018 – Samsung Electronics H.K. Co. Ltd. announced today the launch of new curved monitors with ultra-widescreens, CJ791 and CJ89, which will debut at the Hong Kong Computer and Communications Festival between 24 and 27 August 2018. The brand new CJ791 is the world's first QLED curved monitor featuring Intel's Thunderbolt 3 connectivity, allowing users to connect different mobile devices and make use of its remarkably high processing speed to transfer information. Designed specifically for entertainment and business audiences, the 49-inch CJ89 has a screen size equivalent to that of two 27-inch monitors set against one another, offering users the most extensive and multi-purpose visual experience. Aside from letting users survey multiple windows and wide-ranging information simultaneously, other features of the CJ791 and CJ89, such as super ultra-widescreen and advanced connectivity, also help to create extraordinary entertainment experience and the most convenient work environment.
"Samsung has always been committed to catering for users comprehensively and bringing innovative products and accessories to the market continuously. In recent years, we have recognized the growing momentum of eSports in Hong Kong, which prompts the rise of eSports gamers' demand for quality monitors. We also realize that a number of our business users often need to look at multiple windows and pieces of information simultaneously, some of which originate from mobile devices. Therefore, with the launch of the CJ791 and CJ89, we hope that gamers can enjoy the best visual effects and premier entertainment experience, while business users can monitor data and information with ease and ultimately streamline their performance at work," said Ellen Fu, Vice President, CE & Enterprise Business, Samsung Electronics H.K. Co., Ltd.
CJ791 features Thunderbolt 3 connectivity to bring supreme visual experience
The 34-inch CJ791 model is the world's first QLED curved monitor with ultra-widescreen featuring Intel's Thunderbolt 3 connectivity. With a single Thunderbolt 3 cable, CJ791 users can connect and dock their monitors and laptops without extensive wiring. The connection provides a processing speed of up to 40 Gigabits per second (Gbps), which is nearly four times faster than USB alternatives. Users can enjoy such connectivity across a full ecosystem of docks, displays, and peripheral devices, including Macs, USB Type-C laptops, and other desktop accessories like storage drivers and external graphics cards. Moreover, Thunderbolt 3 enables the CJ791 to provide up to 85 watts (W) of laptop charging power. Coupled with the 21:9 aspect ratio and ultra-wide QHD resolution, this brand new model is absolutely multifaceted and beneficial to raising one's efficiency at work.
In support of Quantum Dot Technology, the CJ791 curved monitor perfectly reflects the most authentic colors across a 125 percent sRGB spectrum. Besides its 4ms response time, the 1,500R curvature of the monitor matches the natural shape of the human eye, and the ultra-wide 178-degree viewing angle are also noteworthy features of the model that provide users with a complete view of their surroundings as well as the most natural, comfortable, and quality visual experience.
49-inch ultra-widescreen monitor CJ89 supports simultaneous viewing of multiple windows with ease
The screen size of the 49-inch 32:9 curved monitor CJ89 equals that of two conventional 27-inch monitors placed side by side, allowing business users to view multiple windows or even images from other mobile devices simultaneously. The 1,800R curvature of the monitor, let users enjoy the widest display of images, aside from leveraging such an extensive display to create and arrange windows of various size showing a wide range of information. Moreover, the built-in KVM switch allows easy maneuvering of the "Picture-In-Picture (PIP) mode", which enables users to display images from other mobile devices and adjust their size and order, as well as the "Picture-by-Picture mode", which permits the display of windows derived from two different devices without affecting the quality of respective images. Using the USB Type-C connector, users can easily connect their monitors with a wide variety of devices, including computers, laptops, and mobile phones, in order to put up corresponding images and profit their productivity at work.
Other than building a better work environment, the CJ89 helps to create unparalleled eSports experience. The 32:9 monitor with ultra-widescreen features 3,849 x 1,080 high resolution to bring about the most realistic gaming views. The 144Hz refresh rate reduces disparities between images, flickering, and hence eye strain and pain effectively. In spite of the rapid changes of images, no perceivable lagging in the forms of blurring and ghosting would be observed. Instead, minute details are brilliantly showcased to provide gamers with smooth and efficient gaming experience. Furthermore, users can enjoy the stereo sound of games and gaming channels with the built-in 7-watt dual speakers. The CJ89 also offers the screen size of 43-inch for users' choosing.
CJG5 and UJ59 monitor series: Superb products and brilliant choices
Samsung also launched monitor CJG5 and UJ59 series to offer even more quality products to users. The curved monitor CJG5 series (27-inch and 32-inch) features WQHD (2,560 x 1,440) high resolution and a refresh rate of up to 144Hz that reduces disparities between images, flickering, and therefore exhaustion and harm caused to one's eyes. Coupled with the 3,000:1 contrast ratio, the monitor delivers deeper blacks, brighter whites, and richer colors for clear and more vibrant movie and game scenes. The 4K monitor UJ58 series (32-inch) supports a billion shades of color and the Game Mode which instantly optimizes screen contrast to deliver vivid images. Moreover, it features the "Picture-in-Picture" and "Picture-by-Picture" functions, which provide users with great flexibility to make use of different modes of the monitor to view information arising from multiple windows and devices.
Attractive pre-order rewards at the Hong Kong Computer and Communications Festival
Monitor CJ791, CJ89, CJG5 and UJ59 series will debut at the Hong Kong Computer and Communications Festival between 24 and 27 August 2018. Rewards will be given to customers who pre-order any model of the monitor series through authorized retailers at the festival.
Model

Suggested Retail Price

Pre-order Rewards

Samsung CJ791

34-inch 21:9 Theatre Screen Aspect Ratio Monitor C34J791

HK$9,080

Samsung Wireless Charger Stand (EP-N5100) and Logitech G402 Hyperion Fury Ultra-Fast FPS Gaming Mouse (valued at HK$792)

Samsung CJ89

43-inch 32:10 Super Ultra-widescreen Monitor C43J890

HK$11,980

Logitech G402 Hyperion Fury Ultra-Fast FPS Gaming Mouse and G512 Carbon RGB Mechanical Gaming Keyboard (valued at $1,398)

49-inch 32:9 Super Ultra-widescreen Monitor C49J890

HK$13,980
Samsung CJG5

27-inch WQHD Curved Gaming Monitor C27JG50

HK$3,588

Samsung 10200mAh Battery Pack (EB-PA710) (valued at HK$398)

32-inch WQHD Curved Gaming Monitor C32JG50

HK$4,288

Samsung UJ59

32" UHD HQ Flat Panel Monitor U32J590

HK$4,988

Samsung Wireless Charger Stand (EP-N5100) (valued at HK$398)
About Samsung Electronics Co., Ltd.
Samsung Electronics Co., Ltd. inspires the world and shapes the future with transformative ideas and technologies. The company is redefining the worlds of TVs, smartphones, wearable devices, tablets, digital appliances, network systems, and memory, system LSI and LED solutions. For the latest news, please visit Samsung Newsroom at http://news.samsung.com.
For more information about Samsung household appliances, please visit http://www.samsung.com/hk_en or dial (+852)3698-4698 for Samsung Customer Service Hotline.

*There will be no additional notice regarding or legal liability associated with any changes made to the functions, features, measures, and other information related to the products detailed in this news release, including their benefits, design, price, accessories, performance, launch dates, and any other product functions. Samsung reserves the right to amend this document and the product details without providing further notice.
**All images are for reference only.