Samsung QLED TV Series Integrate perfectly with diverse interior designs
Jun 22. 2017
The Next Innovation in TV Having your space with sense of artistic
Hong Kong – June 22, 2017 – The newest QLED TV series unveiled by Samsung Electronics H.K. Co. Ltd., including flat screen TV Q7F (55 and 65") and curved screen TV Q8C (55,65 and 75"), is reminiscent of artworks, with sleek and streamlined bodies that blend in with different interior designs and infuse an artistic ambience.
"Samsung takes consumer needs as the starting point of the design process, always coming up with new solutions for the marketplace. Addressing both design and functionality, the QLED TV series offers hassle-free modern living home. By unleashing new interior design possibilities in Hong Kong, the new TV series marks 'The Next Innovation in TV'," said Ellen Fu, Head of Consumer Electronics, Samsung Electronics H.K. Co., Ltd
In the context of Hong Kong's housing landscape, it is especially important to create a sense of spaciousness through thoughtful interior design. To make living environments visually spacious, home digital appliances should always fit in the apartment harmoniously. With Invisible Connection, No Gap Innovation and Clean Back, QLED TV exemplifies a minimalist beauty reminiscent of artworks, enhances spaciousness and perfectly integrates with different interior designs.
Mr. Antony Chan, Founder and Creative Director of architecture and interior design firm CREAM and former Chairman of Hong Kong Interior Design Association, said, "With minimalist design being popular in recent years, it is important to optimize usage of space and present a clean look. The design should not be bound by the available space, but focus on making the most of every inch of the apartment. With "No Gap" Wallmount* and the single transparent optical cable, QLED TV enables different flexible interior designs, brings a sense of spaciousness and perfectly redefines the new modern homes standard."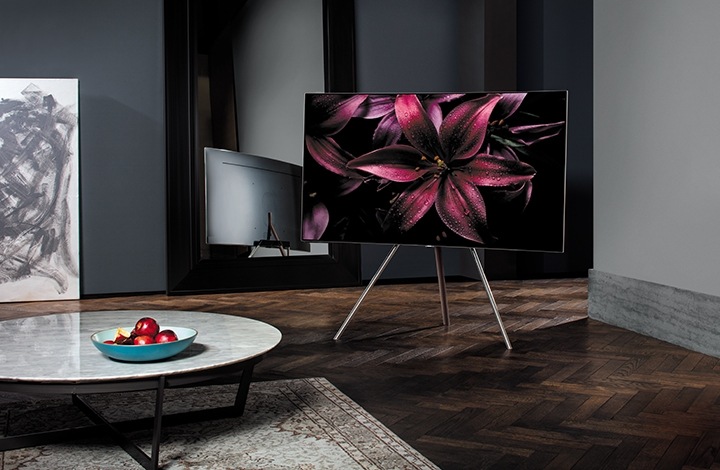 Transform Small Apartment Into Spacious Homes

Targeting the modest spaces in Hong Kong, QLED TV has transcended the limitations of household appliances through Q Style design, which transforms simple dwellings into home sweet homes.
Samsung's Invisible Connection uses a single transparent optical cable to connect multiple peripherals with no unsightly wires, thereby giving homes a cleaner and more spacious look. Having no need for a TV cabinet to keep messy digital devices and cables, households can save room to provide a more comfortable living environment for children and pets.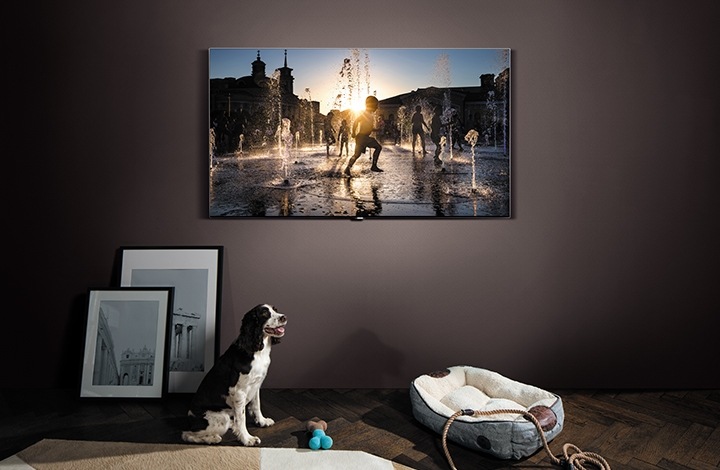 The Formation of Minimalist Aesthetics
Epitomizing the minimalist aesthetic, Samsung QLED TV is equally thoughtful when it comes to installation. The expertly engineered "No Gap" Wallmount* keeps the living room streamlined, elegant and contemporary while minimizing the space between the wall and the TV. It also allows up to 15 degrees of tilt to match different purposes and sightlines. Whether sitting on a sofa or on the floor, household can always get the immersive viewing experience throughout the room.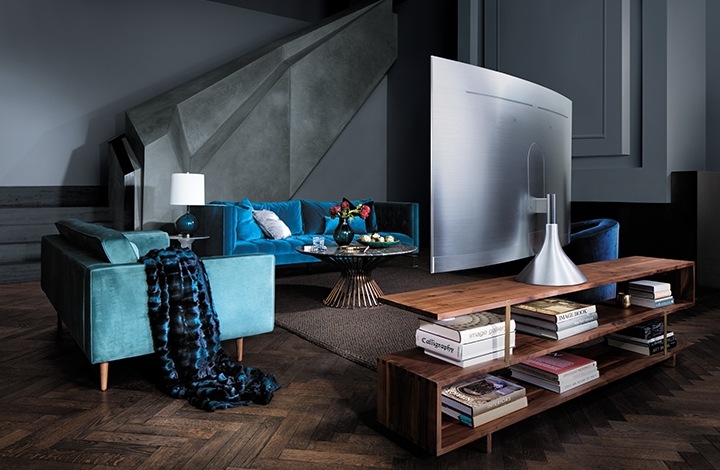 Designed to Fit Every Lifestyle
Samsung QLED TV's 360˚ frameless body presents a classic look that integrates harmoniously with different interior designs. With its understated edges and clean metallic back, QLED TV is reminiscent of a work of art, whether wall-mounted or on a stand. Placed anywhere in the living room, QLED TV appears elegant in all directions.
For style conscious users, Studio Stand can also be installed to turn QLED TV into a sophisticated art masterpiece, and to bring sense of artistic to homes. Gravity Stand can also be chosen to offer effortless swivelling for optimizing viewing experience from any angle.
Summer Surprise
Starting from 1st July, 2017 to August 31st, 2017, Samsung QLED TV customers who have registered as Q Club members can receive a "No Gap" Wallmount* for free.
*The embedded wallmount minimizes the space between the wall and the suspended TV. The distance between the back of the TV and the wall may differ depending on the installation method and wall type.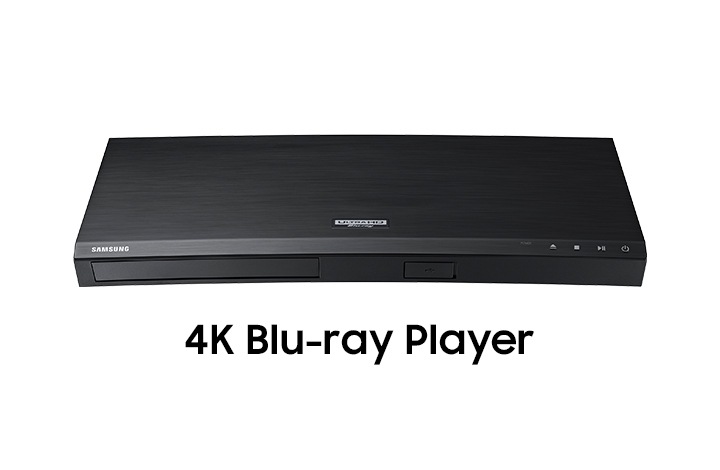 Spectacular Viewing Experience – 4K Blu-ray Player
The brand new Blu-ray Player UBD-M8500 supports 4K HDR standard, perfectly reproducing color contrast and brightness as if presenting the real scene. Engineered with UHD imaging technology, it enables a wider color range and sophisticated details on screen. Movies and shows come alive with stunning 4K detail on QLED TV. Compared with existing conventional Blu-ray players, UBD-M8500 offers twice the color range, thereby providing a more vivid and spectacular pictures.
4K Blu-ray Players UBD-M8500 recognizes HDR content and automatically optimizes your Samsung TV settings. Once successfully connected, viewers can immediately enjoy ultimate picture quality without worrying about setup. With convenient controls, users can preview and choose other application on screen, while showing the current video. Even after quitting from a video, UBD-M8500 will remember the exact point in time where the video was stopped and resume it next time. The curved UBD-M8500 design perfectly matches Samsung QLED TV, bringing an added artistic ambience to homes. The UBD-M8500 Blu-ray Player will be available for sale in late July.
Availability and Suggested Retail Price:
Model

Size

Suggested Retail Price

Availability

QLED TV Curved TV Q8C Series

QA75Q8CAMJXZK

75"

HKD 109,980

Now Available

QA65Q8CAMJXZK

65"

HKD 59,980

Now Available

QA55Q8CAMJXZK

55"

HKD 38,980

Now Available

QLED TV Flat TV Q7F Series

QA65Q7FAMJXZK

65"

HKD 53,980

Now Available

QA55Q7FAMJXZK

55"

HKD 35,980

Now Available
Model

Colour

Suggested Retail Price

Availability

4K Blu-ray Player

UBD-M8500/ZK

Black

HKD 3,290

Late July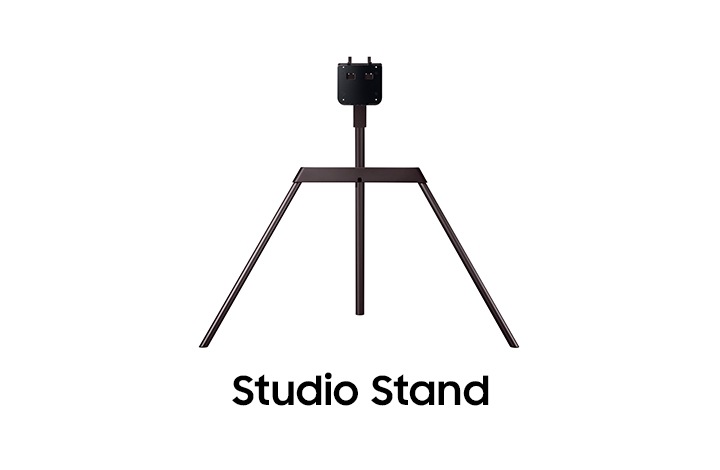 QLED TV Accessories Availability and Suggested Retail Price:
| | | |
| --- | --- | --- |
| Accessories | Suggested Retail Price | Availability |
| Studio Stand | HKD 5,890 | Now Available |
| Gravity Stand | HKD 7,320 | Now Available |
For more detailed information, please visit http://www.samsung.com/hk_en/ or contact Samsung customer service hotline at (+852) 3698 4698.
About Samsung Electronics Co., Ltd.
Samsung Electronics Co., Ltd. inspires the world and shapes the future with transformative ideas and technologies. The company is redefining the worlds of TVs, smartphones, wearable devices, tablets, digital appliances, network systems, and memory, system LSI and LED solutions. For the latest news, please visit Samsung Newsroom at http://news.samsung.com.