Samsung QLED TV Offers Lasting Image Quality
Jul 04. 2017
Q Color The Next Innovation in TV No more burn-in
Hong Kong - 04 July, 2017 - The newest QLED TV series unveiled by Samsung Electronics H.K. Co. Ltd., which includes Q7F and Q8C, has adopted their flagship Quantum Dot technology, which 100% color volume to DCI-PS3 100 standards. From viewing angle and color volume to brightness and contrast, QLED TV has all achieved perfection, showing viewers a vivid real world on screen.
"Samsung has always been setting the newest standards in the market through technological innovations. Our QLED TV has been accreditation by the world-leading Verband Deutscher Elektrotechniker (VDE) for its 100% color volume – the highest on the market today. Not only does the QLED TV's advanced functionality presents flawless viewing experience, it has solved the screen burn-in problem," said Ellen Fu, Head of Consumer Electronics, Samsung Electronics H.K. Co., Ltd.
TV That Lasts Long Time With No More Burn-in
Samsung QLED TV features the revolutionary Quantum Dot technology, which is superior to OLED technology as it is not plagued by screen burn-in[1] and short lifespan. Because of the loss of picture quality, screen burn-in can reduce the enjoyment level so as to ruin the viewing experience. Fortunately, Samsung QLED TV screen, which is made by incredibly small inorganic particles, which retain brightness even after extended use. The long-lasting screen can always keep its stunning performance just like brand new, with its enduring brightness and breath-taking color.
QLED means Quantum Dots Light Emitting Diode Display and are a form of light emitting technology and consist of nano-scale crystals. Quantum dots are microscopic molecules that, when hit by light, emit their own and create differently colored light, depends on the size of the quantum dot. Therefore, quantum dots can achieve higher peak brightness of red, blue and green color, offer wider color. Compared to OLED, QLED is inorganic which is much more stable and has longer life span.
According to Rtings.com's screen burn-in test[2], Samsung QLED TV has reached an excellent score which is the highest level can be given for Image retention, and is much higher than that of OLED TV models conducted in the test. The test shows Samsung QLED TV does not have burn-in issue, enables users to enjoy the best picture quality.
Screen burn-in can occur if a still image is present for a period of time, which is irreparable. Samsung QLED TV, with its stable Quantum Dot technology, gives you no worries about burn-in as it keeps its perfect and never-changing image quality even after long time usage.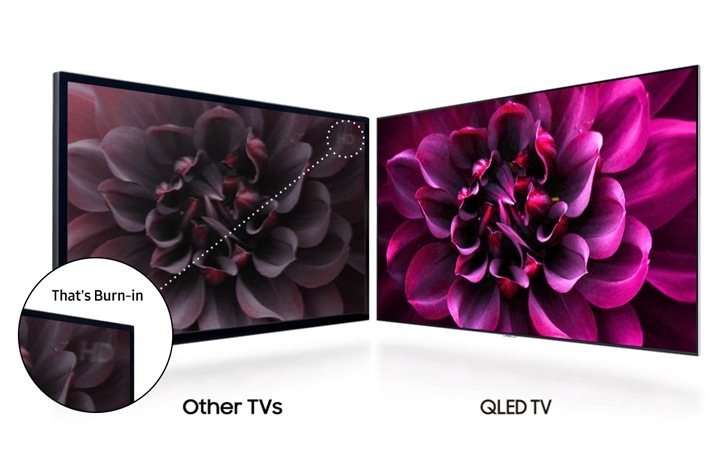 Q Color The Next Innovation in TV
The newly-announced QLED TV features flagship level Quantum Dot technology, which reproduces a wide colour spectrum with 100% colour volume. Having reached the level of DCI-PS3 100 standard, Q colour delivers 100% colour volume into a wide and vibrant range of colours that can be found in the real world. No matter how bright or dark your surroundings, you'll always see extreme depth with incomparably bold contrast.
With the most advanced Q HDR10+ technology, which lifts HDR to 1500 nits, QLED TV offers the ultimate viewing experience with exceptionally bold contrast, with no loss or distortion of colour. Apart from that, Ultra Black technology of QLED TV also minimizes light reflections on the TV surface throughout day and night, so users can focus on the movie in whatever lighting. Together with the Quantum Dot technology, Samsung QLED TV offers an optimal balance of its exceptional rendition of hues with no color difference. It also allows users to get the same detailed picture and the same stunning colors as when you're sitting dead center.
Summer Surprise
Starting from 1st July, 2017 to August 31st, 2017, Samsung QLED TV customers who have registered as Q Club members can receive a "No Gap" Wallmount* for free. To experience how QLED TV perfectly mounted on the wall in the sitting room and showing the elegance.
*The embedded wallmount minimizes the space between the wall and the suspended TV. The distance between the back of the TV and the wall may differ depending on the installation method and wall type.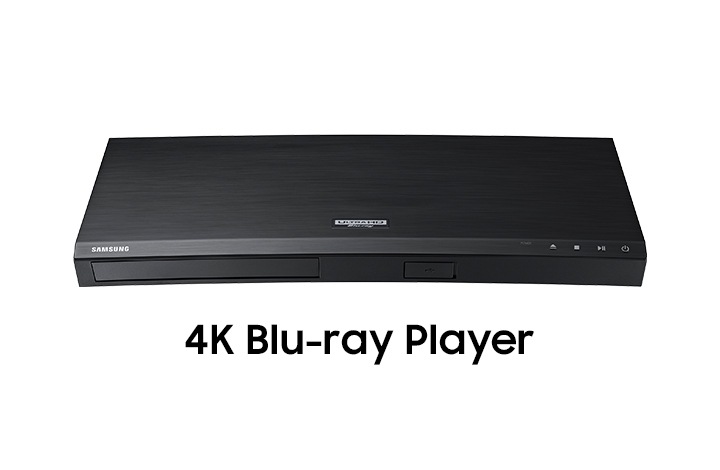 Spectacular Viewing Experience - Blu-ray Disc Player
The brand new Blu-ray Disc Player UBD-M8500 supports 4K HDR standard, perfectly reproducing color contrast and brightness as if presenting the real scene. Engineered with UHD imaging technology, it enables a wider color range and sophisticated details on screen. Movies and shows come alive with stunning 4K detail on QLED TV. Compared with existing conventional Blu-ray players, UBD-M8500 offers twice the color range, thereby providing a more vivid and spectacular pictures.
4K Blu-ray Disc Players UBD-M8500 recognizes HDR content and automatically optimizes your Samsung TV settings. Once successfully connected, viewers can immediately enjoy ultimate picture quality without worrying about setup. With convenient controls, users can preview and choose other application software on screen, while showing the current video. Even after quitting from a video, UBD-M8500 will remember the exact point in time where the video was stopped and resume it next time. The curved UBD-M8500 design perfectly matches Samsung QLED TV, bringing an added artistic ambience to homes. The UBD-M8500 Blu-ray Disc Player will be available for sale in late July.
Availability and Suggested Retail Price:
Model

Size

Suggested Retail Price

Availability

QLED TV Curved TV Q8C Series

QA75Q8CAMJXZK

75"

HKD 109,980

Now Available

QA65Q8CAMJXZK

65"

HKD 59,980

Now Available

QA55Q8CAMJXZK

55"

HKD 38,980

Now Available

QLED TV Flat TV Q7F Series

QA65Q7FAMJXZK

65"

HKD 53,980

Now Available

QA55Q7FAMJXZK

55"

HKD 35,980

Now Available
Model

Colour

Suggested Retail Price

Availability

QLED TV Curved TV Q8C Series

UBD-M8500/ZK

Black

HKD 3,290

Late July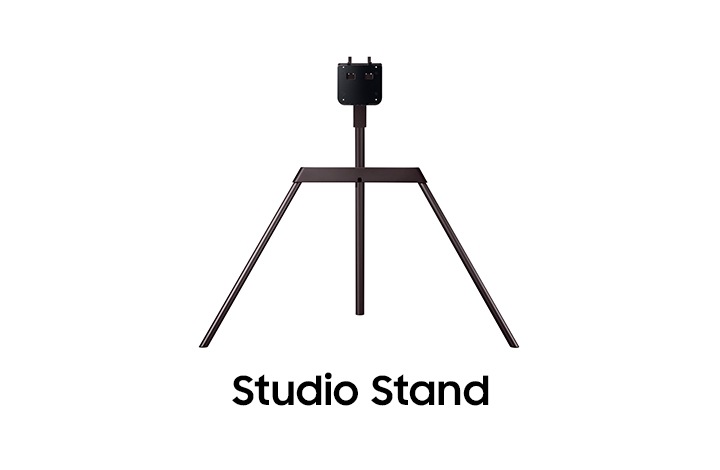 QLED TV Accessories Availability and Suggested Retail Price:
| | | |
| --- | --- | --- |
| Accessories | Suggested Retail Price | Availability |
| Studio Stand | HKD 5,890 | Now Available |
| Gravity Stand | HKD 7,320 | Now Available |
For more detailed information, please visit www.samsung.com/hk_en or contact Samsung customer service hotline at (+852) 3698 4698.
*All images are for reference only.
[1] Screen burn can occur if a still image is present for a period of time, causing the pixels to create a permanent ghost-like imprint that remains even after the on-screen content has changed or moved.
[2] For more details about the test, please visit http://www.rtings.com/tv/tests/picture-quality/image-retention-burn-in.
About Samsung Electronics Co., Ltd.
Samsung Electronics Co., Ltd. inspires the world and shapes the future with transformative ideas and technologies. The company is redefining the worlds of TVs, smartphones, wearable devices, tablets, digital appliances, network systems, and memory, system LSI and LED solutions. For the latest news, please visit Samsung Newsroom at http://news.samsung.com.
List
No Prev Page
No Next Page