Samsung Unveils Industry-leading 2019 QLED TV Series
Mar 25. 2019
Enabling Perfection in Picture, Design and Sound with Novel AI-based 8K Upscaling
Hong Kong – 25 March, 2019 – Samsung Electronics H.K. Co. Ltd announced today the launch of its 2019 QLED TV series, with the debut of Q900R 8K QLED TV in Hong Kong with three screen size options, 65 inches, 75 inches and 82 inches, to cater different needs of consumers. Powered by the leading Quantum AI Processor, it is the first-to-market TV that combines AI and 8K resolution. With the 8K AI Upscaling technology, the newly launched revolutionary Samsung 8K QLED TV series can upscale lower resolution content to stunning images with pristine contrast and impeccable picture quality, which takes the user experience to the next level.
"Samsung is committed to develop innovative technologies and products to stay ahead of the market, and establish new heights to the industry standard. Bringing to life a better entertainment experience, we deployed 8K resolution into QLED and equipped Samsung's proprietary AI technology to the newly introduced TV series for the first time this year," said Ellen Fu, Vice President, CE & Enterprise Business, Samsung Electronics H.K. Co., Ltd. "As large-screen TVs are getting popular, the QLED 8K TV series evolves and provides a revolutionary TV experience with true-to-life 8K HDR picture quality, and the experience of scene ambiance. We hope to bring a superior viewing experience to consumers around the world through the devotion on development of groundbreaking technology, at the same time, to show the brand's determination to break through the existing TV technology, and desire to explore more possibilities in the coming future."
Usher in New Era of QLED 8K AI TV
To achieve 8K-quality images, the Samsung QLED 8K Q900R TV features native 8K resolution of 7680 x 4320 pixels, which is four times higher than a 4K UHD TV, and 16 times higher than a full HD TV. The 8K resolution perfectly delivers ultra-deep black and vivid colors, enables astounding clarity of every detail in dark scenes, let users immersed in the true-to-life 8K viewing experience. Powered by HDR10+ technology with 4,000 nit peak brightness, QLED 8K Q900R TV optimizes the TV's brightness levels and produces pristine colors, so as to restore the original images that producers wanted to show bring vicarious pleasure to audience.
As a world leader in advanced semiconductor technology, Samsung has equipped its QLED 8K Q900R with the brand's exclusive 8K DDI that supports a high-speed 4Gbps intra-panel interface, which brings true-to-life 8K resolution to premium displays.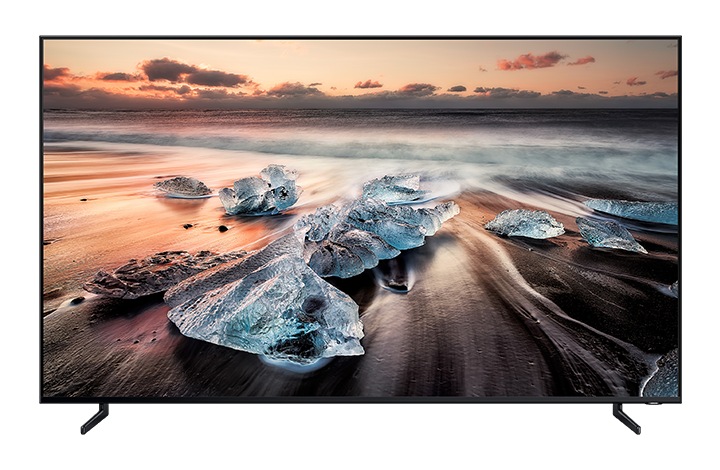 Enables Perfect Picture and Sound Quality with Cutting-edge 8K AI Upscaling Technology
Samsung's QLED 2019 lineup offers 8K models in a range of sizes to suit the needs of every household and every lifestyle. Apart from 8K models, the QLED 4K series spans four models—Q90R, Q80R, Q70R and Q60R. The whole series equipped with Samsung's unique AI Quantum Processor, which is exclusive for QLED TV, such that low resolution content can be upscaled and optimized using AI. Regardless of the original resolution of the content that a viewer is watching through different media such as streaming service, set-top box, HDMI, USB or mobile screen mirroring, the AI-based technology can analyses and upscale such content to nearly pristine quality. With enhanced contrast, color volume and precise backlighting control, users are enabled to witness billions of shades of color for the purest color accuracy to-date. The TV series has redefined industry standard with this cutting-edge technology.
In addition, the 2019 QLED TV series also optimizes audio and video to the specific content on the screen. The scenic intelligence technology helps to analyze and adjust the audio experience of each scene, for example, news, sports, games, and so on.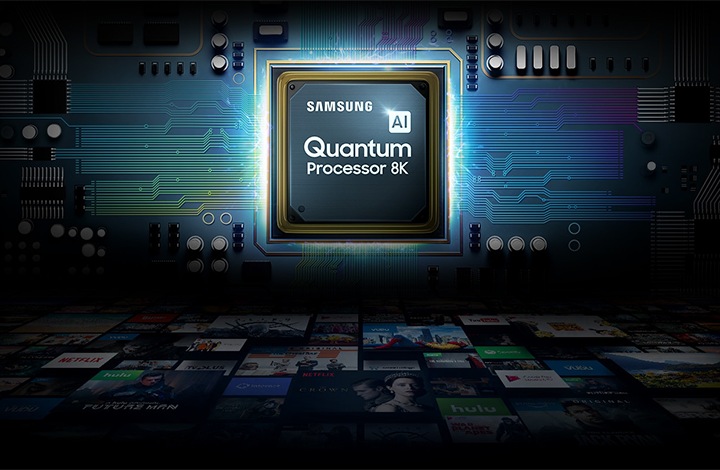 Extend to Household Usage and Connecting Lives
To further accelerate Internet of Things ecosystem and facilitate content searching process, the 'New Bixby' features on the Samsung QLED TVs gives users the ability to easily access to content they want through voice commands, which helps users search for content they might like based on previous watching habits and preferences. Users can easily find and control their favorite content on Samsung TVs, from weather information to webpages, or search music and video contents on live-streaming platforms such as Netflix and YouTube, with just their voice by using new Bixby and the AI Remote. In addition, Samsung QLED TVs can be easily connected via SmartThings to make your home 'smarter', allowing users to enjoy the greatest convenience of all.
In a move to deliver more entertainment options, value and open platform functionality to users, Samsung will offer Apple AirPlay 2 on 2019 Samsung Smart TV models, allowing users to stream movies, family videos, travelling photos, presentations and any other contents from mobile devices directly to Samsung TVs.
Availability and Suggested Retail Price:
Model

Size

Suggested Retail Price

Available Date

Samsung QLED 8K Q900R TV Series

QA82Q900RBJXZK

82"

HK$189,980

Now

QA75Q900RBJXZK

75"

HK$119,980

Now

QA65Q900RBJXZK

65"

HK$69,980

Now

Samsung QLED Q90R TV Series

QA75Q90RAJXZK

75"

HK$89,980

Now

QA65Q90RAJXZK

65"

HK$49,980

Now

Samsung QLED Q80R TV Series

QA65Q80RAJXZK

65"

HK$39,980

Now

QA55Q80RAJXZK

55"

HK$27,980

Now

Samsung QLED Q70R TV Series

QA65Q70RAJXZK

65"

HK$31,980

Now

QA55Q70RAJXZK

55"

HK$19,980

Now

QA49Q70RAJXZK

49"

To be announced

Mid of April

Samsung QLED Q60R TV Series

QA75Q60RAJXZK

75"

HK$59,980

Now

QA65Q60RAJXZK

65"

HK$24,980

Now

QA55Q60RAJXZK

55"

HK$15,980

Now

QA49Q60RAJXZK

49"

HK$11,980

Now

QA43Q60RAJXZK

43"

To be announced

Mid of April

Samsung UHD RU7400 TV Series

UA55RU7400JXZK

55"

HK$11,980

Now

UA50RU7400JXZK

50"

To be announced

Mid of April

UA43RU7400JXZK

43"

HK$6,080

Now

Samsung UHD RU7100 TV Series

UA75RU7100JXZK

75"

HK$39,980

Now

UA65RU7100JXZK

65"

HK$19,980

Now

UA55RU7100JXZK

55"

HK$9,980

Now

UA49RU7100JXZK

49"

HK$6,780

Now

UA43RU7100JXZK

43"

HK$5,680

Now

Samsung UHD RU7080 TV Series

UA49RU7080JXZK

49"

To be announced

Mid of April

UA43RU7080JXZK

43"

To be announced

Mid of April
For more information on Samsung home appliances, please visit: http://www.samsung.com/, or contact Samsung customer service hotline at (+852) 3698-4698.
About Samsung Electronics Co., Ltd.
Samsung Electronics Co., Ltd. inspires the world and shapes the future with transformative ideas and technologies. The company is redefining the worlds of TVs, smartphones, wearable devices, tablets, digital appliances, network systems, and memory, system LSI and LED solutions. For the latest news, please visit Samsung Newsroom at http://news.samsung.com.
List
No Prev Page
No Next Page