Samsung Partners with Cisco to Empower the Future of Work
Apr 03. 2020
Bring intelligence, convenience and inspiration to all conference spaces
Hong Kong – April 3, 2020 – Samsung Electronics H.K. Co. Ltd today announced strategic partnership with Cisco, the worldwide technology leader, to transform modern workplaces together. With the introduction of award-winning collaboration solution Cisco Webex on Flip, Samsung and Cisco expedite workplace transformation by providing users everything needed to easily set up any huddle space for video conferencing.
"The world is immersed in technology, work styles are changing and workplaces are transforming. There is a growing need for enhanced collaboration both offline and online.," said Ellen Fu, Vice President, CE & Enterprise Business, Samsung Electronics H.K. Co., Ltd. "Especially in the current environment, different companies and co-workers from different departments will use online resources to handle daily work and business. Samsung and Cisco have come together to provide businesses with an unprecedented seamless meeting experience with Webex on Flip, create an innovative and interactive real-time video conferencing solution for enterprises."
Aligns the finest in technology to transform digital workplace and improve collaboration for businesses, Samsung and Cisco together provide businesses with optimal meeting room solutions to create a connected and collaborative working experience like never before. The co-reacted Webex on Flip integrated the Samsung's innovative digital flip chart Flip 2 with Cisco Webex Room Kit Mini. Flip 2 allows users to write directly on the display with a smooth and natural pen-to-paper feel. The Webex on Flip solution gives users in different locations the ability to notate, co-create and collaborate instantly through the Webex cloud platform.
Built for real-time multi-way collaboration
Collaboration is the core focus of Webex on Flip, it allows multiple meeting participants to share the screen in real-time and create the most efficient meetings possible. Webex on Flip provides a smooth conference experience in crisp, clear clarity, and the ability to notate, co-create and collaborate instantly, giving every user a seamless, integrated meeting experience, thus fostering more productive and engaging collaboration.
Webex on Flip is built perfectly for multi-way collaboration, it enables real-time, 2-way white boarding, allowing meeting participants in different locations to share the same screen and make edits. Users can utilize the annotation tool, delete or add content, all at the same time creating more efficient and collaborative meetings.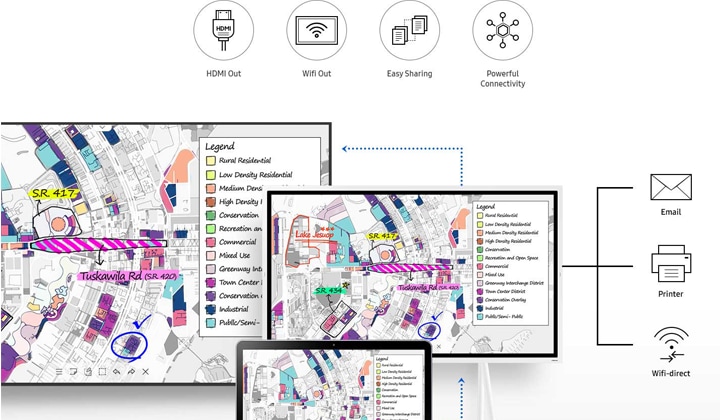 Seamless experience with easy access
With only a few touches, users of Webex on Flip can share screen wirelessly in both video conferencing and whiteboarding, minimizing friction on content sharing with an intuitive user experience. The 'One Button to Join' function allows users to set up a join button when there is a scheduled Webex video conference coming up soon. Participants can then join the meeting in one click, simplifying remote collaboration.
Webex on Flip allows users to share content with others through their own laptop or mobile with a wireless connection. The connection is an intuitive and convenient operation that gets rid of additional hardware or technical difficulties. It also features a touch-out functionality which allows users to sync their personal devices to the Samsung Flip 2 for real-time content sharing and control, which will mirror changes from the digital flip chart to the connected device, and vice versa.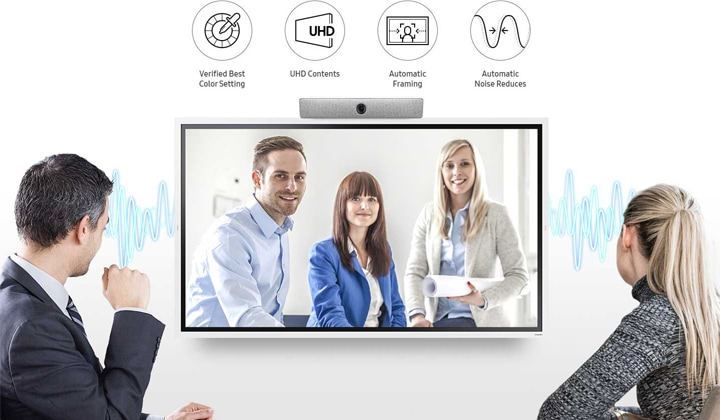 Perfect video conference experience
Samsung's advanced visual displays perfectly harmonized with Cisco's audio and video technologies that enable Webex on Flip to facilitate an intelligent meeting experience with crystal-clear and outstanding picture quality. AI-powered capabilities could mold to the environment of the meeting room by automatically positioning meeting participants' faces in the center of the screen and cancelling background noise. It also minimizes lag in video playback, eliminates echo and lip-syncing issues by optimized mode, creating a smooth video conference experience to foster efficiency and productivity. Webex on Flip is a solution perfectly suited for meeting room, and is designed to inspire ideation through transforming meeting space.
For more information on Samsung business solutions, please visit: http://www.samsung.com/, or contact Samsung customer service hotline at (+852) 3698-4698.
About Samsung Electronics Co., Ltd.
Samsung Electronics Co., Ltd. inspires the world and shapes the future with transformative ideas and technologies. The company is redefining the worlds of TVs, smartphones, wearable devices, tablets, digital appliances, network systems, and memory, system LSI and LED solutions. Samsung has maintained its position as the No.1 worldwide selling digital signage brand for 10 consecutive years according to the latest report of IHS Markit. For the latest news, please visit Samsung Newsroom at http://news.samsung.com/.
List
No Prev Page
No Next Page