VGA Adapter
A simple and stylish VGA Adapter that lets you quickly connect to an external display or projector. Just plug it into your Samsung VGA port and you are set to use an external display to extend your desktop. Or work in mirrored mode with a projector, so you share your view with others.
Extend your View with a VGA Adapter
Broaden your view with Samsung's VGA Adapter! Simply plug the dongle into your Samsung laptop to connect with other devices like monitors, projectors, TVs, etc.
View More and Do More
As well as taking advantage of larger screen displays, you can also benefit from dual display and work more efficiently! By configuring dual monitors with Samsung's mirroring technology, you can work from your PC, and simultaneously share the display with other people. And it's not just for work - use it for play too! By connecting your PC to TV, you can enjoy games, movies, etc. on a bigger screen.
※ D-SUB cable sold separately.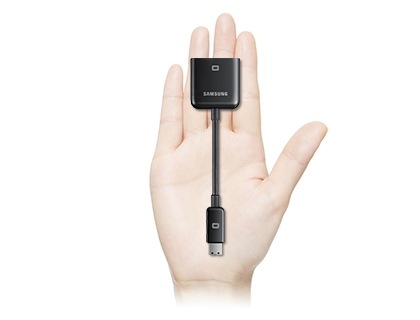 Compact and Portable
The Samsung VGA Adapter is compact enough for you to store and carry with ease, ready for immediate use in the home, the office or when travelling.
Simple and Stylish VGA Adapter
The compact and stylish VGA Adapter is specifically designed for Samsung notebook PCs. It is optimized to get the most from all your devices. Just plug in and get connected!
All images are for reference only